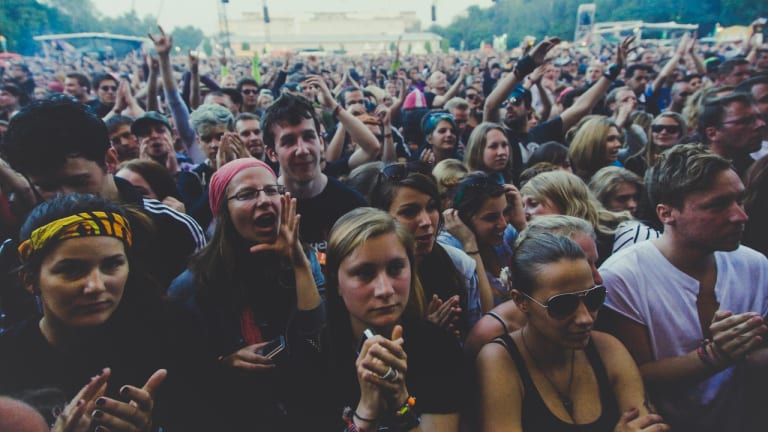 The Top 6 People You Try to Avoid at Every Music Festival
Hopefully this will prepare you for your next festival.
If you've ever been to a music festival you know that despite there being thousands of amazing people, there's always those few that make you want to run away in terror. 
In a perfect world, everyone would be as cool as that group who complimented your shirt and bought you a beer. Unfortunately, that is not the case. 
In light of this, we've curated the list of people you definitely want to avoid at festivals in order to better prepare you for your next trip.
The Gauntlet of Flow Artists
Oftentimes, due to the fact that mother nature is preemptively punishing us for the massive mounds of waste our festivals create, the weather will make for less-than-stellar ground conditions. Despite wading through flooded and muddy terrain, there is a far more treacherous obstacle traveling ravers must overcome: the gauntlet of flow artists. 
Between you and the optimal place in the crowd is a trial of rainbow lights and danger, because it's obviously better to swing hard plastic toys around in the middle of a crowd than a spacious area. The seemingly uncoordinated person you saw stumble over to their spot in the crowd is somehow granted the dexterity of a master martial artist who's only goal is to whack you in the face with an LED poi or whip. Proceed with caution, the last thing you need at a music festival is a concussion.
People Who Mosh at House Sets 
A swirling ball of aggression similar to the Tasmanian Devil on molly, this person inexplicably feels the need to swing their arms wildly with no regard to anyone around them. 
Look ,we get it, you used to listen to metalcore in high school and you totally owned those pits - but is a Chris Lake set really the time to show off your super sick roundhouse kicks?
The Drunk Person Magnetically Attracted to You
Seriously, how does this person keep ending up next to me in the crowd? It's almost as if someone put a giant magnet in that person's pocket that makes them gravitate towards you no matter where you are. 
Regardless of which stage you go to, this person is somehow always right next to you, bumping into you and generally being unpleasant to be around. The most amazing part is that while you're enjoying a nice set from one of your favorite artists, this person had enough White Claws to think that they're exploring Mars.
That Person with the Annoying Gimmick
The idea of spreading love and positivity with a "free hugs" sign is noble, but please don't pressure me into rubbing up against you on day three of a music festival. I don't even feel clean myself, and attempts at coercing me into pressing my body against your sweat, dirt, and mysterious, unidentified liquid covered body are very, very unwanted. 
The Person Too Cool to be There
This person somehow found a way to express extreme indifference while Porter Robinson drops "Shelter" during his set. They casually hand out Instagram likes to people they'd like to ghost in the future, all while the rest of the crowd bursts into pastel-tinged anime tears.
There's a near 100% chance that this person works in the music industry somehow. Let's face it, there's no bigger flex then spending $400 on tickets, $300 on airfare, and $200 on food and drink just to act like you don't even want to be there.
Oh My God, What is that Thing?!
With just one brief glance you immediately feel the need to call security, the cops, the military, and probably a priest just to be safe. What can only be described as some sort of Eldritch horror crossed with a gritty, overproduced, Hollywood reimagining of Swamp Thing is somehow wandering the festival grounds.
Although we know that this is just someone who has let their hygiene fall to the point that it's unsafe to breathe in the odor they emit, for a split second you might think that the festival is held on forgotten burial grounds and this is the monster they sent to exact their revenge.