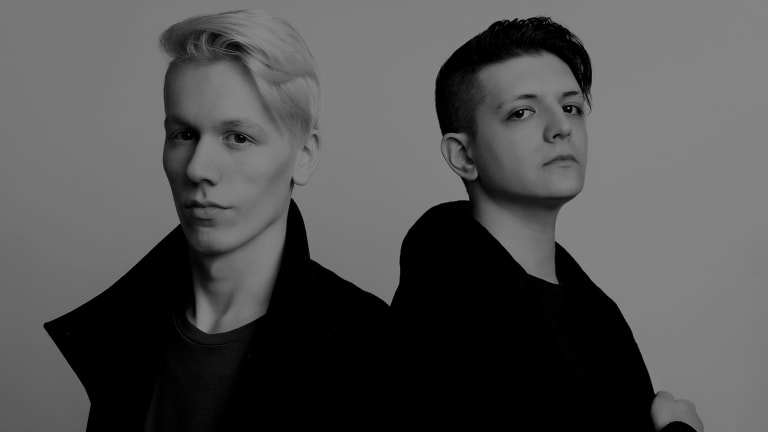 Go 'Under The Radar' With Rising Bass Duo Kuuro
A quickly up-and-coming household name, Kuuro, is making serious waves in the bass music scene.
This week's under the radar artist is Kuuro.
Their hard-hitting discography are sure to be a driving force as they continue to leave a flame trail in electronic music. You're going to wish every DJ has heard of them, just so they can drop a Kuuro smasher in their set and at festivals.
Kuuro (cure-oh), a duo made up of member Jordin Post and Luke Shipstad cleared the foggy air only just recently in October of 2016. They made their debut on the legendary Canadian electronic music label Monstercat with their single "Aamon." Monstercat fans from around the world hailed "Aamon" to be the strongest debut in Monstercat history. Moreover, "Aamon" raced to the Spotify Viral 50 in three countries and became a genre top 10 on Beatport, and for good reason. Kuuro have received support from dance music prodigies like David Guetta, Knife Party, Afrojack, Ephwurd, Apashe, Diskord, and many more. They've also officially remixed tunes for Galantis, Dillon Francis, NGHTMRE, What So Not, and BURNS.
"We were sharing music one day when Jordin mentioned he had been working on a few bass tunes. He sent them over, and turns out, I had been working on some similar tunes. I had known him for a while and always loved his stuff so it really made sense for us to work together." - Luke
"Kuuro encompasses a wide array of feelings and moods, so you can expect to hear not only high energy stuff from us, but more laid back and moody records as well. Instead of focusing on a specific genre or trend, we want to focus on honing in and creating a space within music that we identify with to form the KUURO sound." - Jordin
A few months after Kuuro's debut "Aamon" release on Monstercat, they released yet another relentless set smasher called "Savage." The sliding, bass heavy, and punchy song is most definitely a savage, and it's what every Kuuro and Monstercat fan can expect from the fast-rising duo. The astounding sound design, perfect mix and master, deep house bass, and dark vocals wrap this song into a tight bass ball and throw it right in your face.
On March 17th, 2017, Kuuro stole the speakers, stage, and well-deserved attention with their "Bandit" release on Monstercat. The gritty, slamming percussion, and cultural riffs throughout make this a paramount in Kuuro's sound. Let "Bandit" grab your attention for just a few short, epic minutes.
My personal favorite, and the Kuuro original that made me fall head over heels in love with them, was their release of "Possession." The orchestral beginning with epically played pads and a strong synth that bounces all over the spectrum quickly build into the heavily Skrillex-inspired drop. Kuuro took Skrillex's signature synth in his remix of GTA's "Red Lips" and gave it an entire new possession, if you will. "Possession" is the song that you can only hope gets played at every festival and concert.
Now, Kuuro has paired up with MC Mota to release "Rapture" - which features their signature sound, but also allows MC Mota's style to really shine through. Nonetheless, the duo continues to allow their sound to wreck havoc at 150 BPM. "Rapture" continues off hot and leaves a flame trail as it continues to play. "'Rapture' is actually one of the first Kuuro songs we ever made and has been sitting as an instrumental for a long while," said Shipstad. "We had been looking for a specific vocal style, and when we found MC Mota, we knew it was the perfect fit. [MC Mota] doesn't stray away from drum 'n' bass, but we were really excited when he said 'yes,'" added Post.
Kuuro is a duo and force that is yet to be reckoned with. Their current discography is more than proof of the destruction that they're fully capable of. Keep an eye out for these guys. They're going to be headlining major festivals soon.
Follow Kuuro: SoundCloud | Spotify | Facebook | Twitter | Instagram