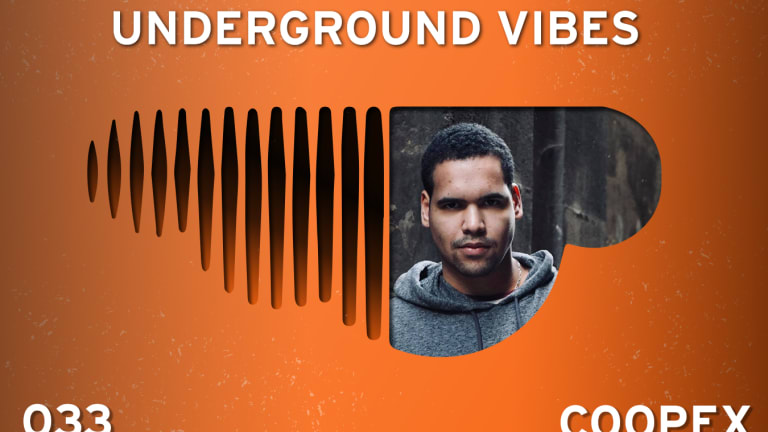 Underground Vibes / 033
Coopex, Rubayne, Rome In Silver and more featured in this latest installment.
SoundCloud is considered by many the go-to platform for sharing music independently, and connecting with fellow artists and fans. Its direct, artist-centric approach has enabled bedroom artists to find fanbases all over the world, as well as leverage their growth on the platform into years-long careers.
This series' aim is to showcase the best new music we discover on SoundCloud, music that oftentimes can't be found anywhere else. In addition, we shine the light on successful artists that are either now breaking through on the platform or have used it to attract an active following in the past.
This week's feature includes future bass-inspired vibes by Coopex and Rubayne, house gems by Skesa and BOBBY LOVE, late night bangers by Djrum, and more. 
"Falling Forever" - Coopex
French producer Coopex returns with impressive single "Falling Forever," marking his debut on LSTD Records. The single combines ominous atmospheres with a stellar vocal and hard bass on the drop to create an impactful result. 
"Have It All" ft. Colin Egan - Rubayne
Rubayne's latest single is an uplifting journey through multiple acoustic instruments, future bass saws, and inspiring vocal lines. 
"All 2 U" (Covex Remix) - Manila Killa 
Rising producer Covex gives the explosive future bass treatment to Manila Killa's "All 2 U" featuring Sara Skinner, breathing fresh life to the artist's progressive pop single.  
"Growing Pains" ft. Samuel Eisen-Meyers - Manatee Commune
Using ethereal guitars and subtle, organic production, Manatee Commune proves his abilities as a musician and producer once again. 
"Beam" - Rome in Silver
"Beam" marks Rome In Silver's second release on San Holo's bitbird label, and sees the young producer explore more uncharted territory, creating a weird, playful house gem.
"Mindset" ft. Eileen Sho Ji - Skesa
Using jazzy chords and subtle synth work, Skesa snaps on "Mindset," blending the production perfectly with Eileen Sho Ji's vocals. 
"Why" - BOBBY LOVE
BOBBY LOVE's "Why" is a downtempo vibe, driven by warm synths and ethereal vocals. 
"Elevate" - Night Tales
On "Elevate," Night Tales use catchy vocal lines and a signature baseline to create an instantly classic, house tune. 
"Start The Party" - George Smeddles
George Smeddles' latest single, "Start The Party," is made for the dance floor, bringing a tech house feeling to the table and flavoring it with catchy vocals. 
"Little Island" ft. Still Haze - Simba Andrews
Young Australian producer Simba Andrews is back with yet another collaboration with singer/songwriter still haze, combining guitars, ambient synths and subtle trap-inspired percussion to create a blissful result. 
"Better Now" ft. RickyAtoms - No Spirit & fika
Out on Absent Mind., No Spirit and fika shine on "Better Now," as their lo-fi hip-hop instrumental perfectly blends with RickyAtoms' vocals. 
"2 on" - lvusm
On "2 on" lvusm samples Tinashe's and ScHoolboy Q's 2014 homonymous single, making up for a groovy, short-but-sweet gem. 
"Passion" - Beshken 
Beshken's "Passion" is an eerie, left-field gem that is driven by washed out, distorted vocals, foley samples, and weird, harmonic elements. 
"Find Another Way" (Djrum Remix) - Morcheeba
With his latest remix, Djrum manages to turn Morcheeba's indie record "Find Another Way" into a psychedelic, bass-driven journey. 
"Top Shottas" - THRPY
THRPY's "Top Shottas" is a hollow yet explosive bass tune, combining thumpy kicks with wonky synths and effects. 
Underground Vibes of the Week / 032
Underground Vibes of the Week / 031
Underground Vibes of the Week / 030