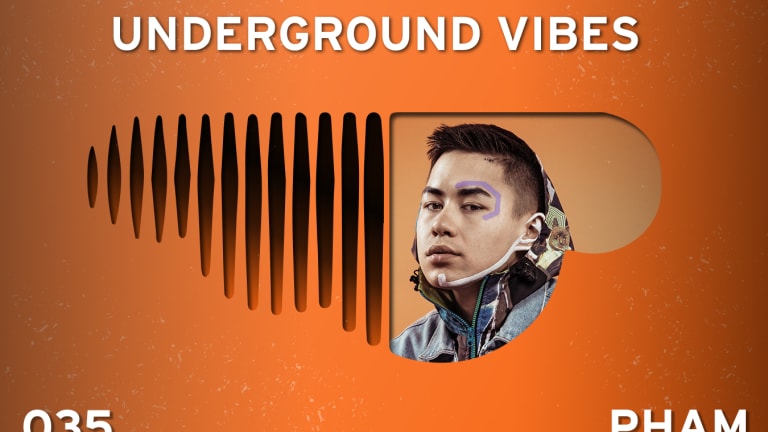 Underground Vibes / 035
Pham, sonn, Coopex and more featured on this latest installment.
Numerous artists, industry professionals, and fans consider SoundCloud the best platform for unsigned music to shine up to its true potential. Its direct, artist-centric approach has enabled bedroom artists to find fan bases all over the world, and emerging talents to turn their SoundCloud game into long-term careers.
In this series, our aim is to showcase the best new music we discover on the platform, music that oftentimes can't be found anywhere else. In addition, we shine the light on successful artists that are either now breaking through on the platform or have used it to attract an active following in the past. 
This week's feature includes forward-thinking vibes by Pham and Samuel Proffitt, house bangers by Wongo and Mathias and experimental tunes by shxde and Cuyo. 
"Golden State" ft. Ben Zaidi - Pham
Pham has been putting out quality music for some time now. His 2014 release "Movements", out via AIA's XXX imprint is now resting at over 50 million streams on Spotify, and it laid the foundation for his 2016 homonymous EP, as well as a years-long career. His latest EP Nostalgia sees him showcase a new kind of maturity while still keeping recognizable parts of his style, and "Golden State" featuring vocals from Ben Zaidi is a perfect example of this. Paired with a beautiful music video, the single bridges indie and electronic music in a way only Pham can pull off. 
"You [In Flames Reprise]" ft. Crywolf - Samuel Proffitt
Back in early 2015, Samuel Proffitt teamed up with Crywolf to release "In Flames", a deep cut off his debut Blue Notebook No. 10 EP. Now, the producer is releasing another version that's more atmospheric and washed out sure to captivate both new and older fans. 
"lonely" w/ eyukaliptus - sonn
sonn's mix of indie and electronic elements mixed over a general lo-fi leaning aesthetic has been catching the eye of many listeners lately, as his latest release "lonely" with eyukaliptus marks yet another well-produced gem.  
"Redemption" ft. Riell - Besomorph and Coopex
Out on NCS' Elevate compilation alongside names such as Diamond Eyes, Jim Yosef, Sara Skinner, Diviners and more, Besomorph's recent collaboration with Coopex is a banger. Riell's impressive vocals add a unique flavor to the track, as it moves from atmospheric breakdowns to epic drops. 
"My Problems" ft. Myko Bellin - Unread
Out on up-and-coming label Lacuna, "My Problems" truly bridges genres. Rapper Myko Bellin goes off over Unread's trap instrumentation before the song jumps into a messy hybrid drop. 
"Kids" ft. Essenger - Astrale
Astrale's cover of The Midnight's "Kids" is pure bliss. With the help of producer/vocalist Essenger, "Kids" is turned from synthwave vibe to an uplifting showcase of expert production.
"Every Day" (Covex Remix) - Hermitude 
Covex kills his rendition of Hermitude's "Every Day", infusing the tune with unique future bass energy, utilizing synths, effects and drums perfectly. 
"Tic Toc" ft. Blak Trash - Wongo
Wongo's latest single is a catchy, dance floor-ready vibe that utilizes minimal production and infectious vocals. 
"System Crashed" - Mathias
Out on Jendex Records, Mathias' latest release, "System Crashed," is a groovy, chord-driven house vibe that is sure to go off on any dance floor. 
"the laziest disco track you've ever heard" - laxcity
laxcity has been grinding it out lately, uploading a track a day to his second SoundCloud account- songs that can be downloaded for free by his Patreon supporters. "the laziest disco track you've ever heard" marks one of his many beats that see him explore other genres yet still maintain his specific style. 
"Rising" - capshun
Dallas-based producer capshun returns with yet another single, impressive "Rising." The instrumental builds up in a really energetic fashion, and the drop explodes into a minimal showcase of different sounds that get more and more complex. 
"Prism" - Divine and Floret Loret
For "Prism," producer Divine teamed up with talent Floret Loret to create a complex, atmospheric vibe that captivates the listener for every second of its 3:38 duration. 
"Embrace" - ALIGN
As up-and-comer ALIGN gears up for the release of his debut EP, he released the final teaser single "Embrace," which ironically enough is the intro track as well as a provoking and melancholic piece. 
Wake Up - shxde
After some months without releases, producer shxde returns with a melodic vibe "Wake Up", an expertly produced, impactful wave tune. 
"Ether Clear" - Cuyo
Out on Good Enuff, Mad Decent's "baby cuzzin," the song "Ether Clear" sees Cuyo showcase his production skills, playing with weird sounds, textures and rhythms. 
Underground Vibes of the Week / 034
Underground Vibes of the Week / 033
Underground Vibes of the Week / 032