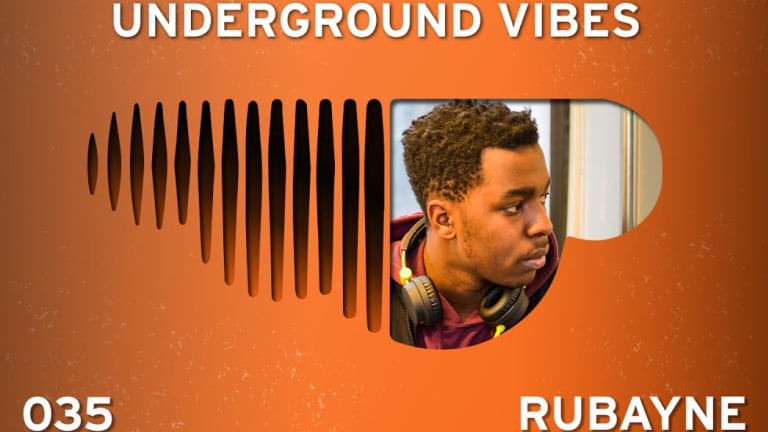 Underground Vibes / 036
Rubayne, Fossa Beats, Jaron and more featured on this latest installment.
Numerous artists, industry professionals, and fans consider SoundCloud the best platform for unsigned music to shine up to its true potential. Its direct, artist-centric approach has enabled bedroom artists to find fan bases all over the world, and emerging talents to turn their SoundCloud game into long-term careers.
In this series, our aim is to showcase the best new music we discover on the platform, music that oftentimes can't be found anywhere else. In addition, we shine a light on successful artists that are either now breaking through on the platform or have used it to attract an active following in the past.
This week's feature includes future bass vibes by Rubayne, funky gems by Sedric Perry and Napoleon Gold, and experimental tunes by Afrosamuraiist and Rad Hatter. 
"Desire" - Rubayne ft. JDOVE
"Desire" marks one of Rubayne's most exciting efforts. Featuring vocals from JDOVE, the vibrant single is backed up by an exciting guitar riff under the rapper's autotuned verses, before the drop arrives, exposing the listener to explosive supersaws and catchy rhythms. 
"Up In The Air" - Folden Dragons and Ian Kim
"Up In The Air" by producer Folded Dragons and singer/songwriter Ian Kim marks the first Korean song on independent label Lacuna, and it's one of their most exciting releases yet. The colorful production starts giving off ballad-like vibes, and evolves into explosive choruses, all under Ian Kim's Korean lyrics.
"Same Place" ft. Keelan Mak and Thomas White - Fossa Beats
Fossa Beats has really been putting out his best work lately. His latest single, "Same Place" - which follows collaborations with the likes of Trevor Daniel, FKi 1st and Allen Ritter - features vocals by Keelan Mak and previous collaborator Thomas White. It's a melodic, wonky vibe.
"Lucid" ft. Jalen Santoy and Madge - Napoleon Gold
Napoleon Gold has been keeping it really diverse with his recent releases, showcasing a variety of different styles. "Lucid" featuring Jalen Santoy and Madge is made for the dance floor; a funky showcase of chords, synths and groovy drum work. 
"Naked" - Sedric Perry
Out on tastemaker Manifesto, Sedric Perry's "Naked" is an ambitious effort, showcasing unique vocals as well as funky instrumentation and groovy drums.
"Tempo" ft. patches - JKuch
Teaming up with patches, up-and-coming producer JKuch creates a complex hip-hop tune that evolves into two maximalist drops, dominated by bright synths, chopped sounds and weird effects. 
"Catch" - Jaron
Jaron takes a step back aesthetically with his latest release, "Catch," yet still taking the listener on a journey. Compared to his regular explosive, future bass tunes this one is laid back and creates a soothing atmosphere that is driven by acoustic guitar and washed-out vocals.
"24 Hours." - Xander.
Xander.'s latest single is a real summer gem. Featuring laid-back vocals and smooth chords, it goes from atmospheric verses to catchy minimal choruses, making up for an impressive and engaging end result. 
"Wait" - Afrosamuraiist
"Wait" by Afrosamuraiist is an easy vibe, always progressing and changing with the help of complex drums, vocal chops and bright synth work. 
"Airwalk" - Rad Hatter
Rad Hatter keeps things diverse with his latest release, "Airwalk." An overall dark effort, it starts with a sinister atmosphere and trappy percussion before exploding into a glitchy, distorted drop towards the second half. 
Underground Vibes / 035
Underground Vibes / 034
Underground Vibes / 033