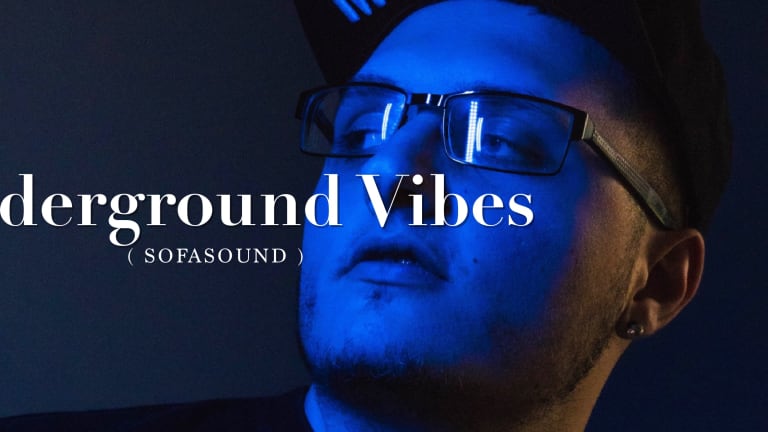 Underground Vibes / 040
Sofasound, chromonicci., yunji and more featured on this latest installment.
Numerous artists, industry professionals, and fans consider SoundCloud the best platform for unsigned music to shine up to its true potential. Its direct, artist-centric approach has enabled bedroom artists to find fan bases all over the world, and equipped emerging talents to turn their SoundCloud game into long-term careers.
In this series, our aim is to showcase the best new music we discover on the platform, music that oftentimes can't be found anywhere else. In addition, we shine a light on successful artists that are either now breaking through on the platform or have used it to attract an active following in the past.
This latest feature includes laid-back vibes by chromonicci. and michael mason, explosive cuts by Lost Identities X Onyra and JNTHN STEIN x DECAP and more. 
"Up High" - Sofasound
Sofasound just released his Surreal EP, featuring 10 tracks as diverse as it gets. "Up High" marks a highlight in the tracklist, immediately getting into action with a low-pitched vocal sample that leads into wonky madness, dominated by groovy synths and sharp drums. 
"Changes." - chromonicci.
Young artist chromonicci. also released his latest five-track EP Peaceful Places II recently, and "Changes" highlights its essence: laid-back, warm beats filled with groovy drums and jazzy chord progressions. 
"mariuh" - maxime. 
Not too long ago, maxime. ditched his old maxd alias, opting for a more indie, vocal-focused sound. It's working perfectly for him, and "mariuh" is a testament to that, as he kills the quirky, lo-fi instrumental with great vocal work and songwriting. 
"Another Round" - Lost Identities X Onyra
In a classy fashion, Lost Identities and Onyra manage to put together an explosive tune with "Another Round," out via Lacuna. The epic instrumental perfectly supports the vocals before saws and vocal chops take over for the drop.  
"Come to Life" ft. LoOF - Synergy Sound 
KUMO Collective has continuously provided the SoundCloud space with amazing music, and "Come to Life" by Synergy Sound is a perfect example. Featuring vocals from LoOF, it's a massive, glitchy showcase of sound design and atmospheres.   
"Trees" - Knyvez
Characterized by stellar sound design, Knyvez' "Trees" is a perfect mixture between chill vibes and energetic drops. 
"Hollywood" ft. Cal Maro - michael mason
With the help of Cal Maro, michael mason manages to create a stellar, piano-driven R&B vibe on "Hollywood". 
"for your eyes only (for cashy)" - yunji
For her latest release, Seoul-based producer yunji creates an amazing, quirky vibe by flipping "FOR YOUR EYES ONLY" off Cashmere Cat's recent album PRINCESS CATGIRL.
"Which Planet R U From?" - JNTHN STEIN x DECAP 
Producers JNTHN STEIN and DECAP created a low-key banger titled "Which Planet R U From?" combining swaggy vocals with a wonky, bass-driven beat. 
"In The Light Of Day" - Azido 88 
Out on Artist Intelligence Agency's sub-label chinchilla, "In The Light Of Day" by Azido 88 is a vibe dominated by heavy analogue-sounding synths and cute vocal chops. 
Underground Vibes / 039
Underground Vibes / 038
Underground Vibes / 037