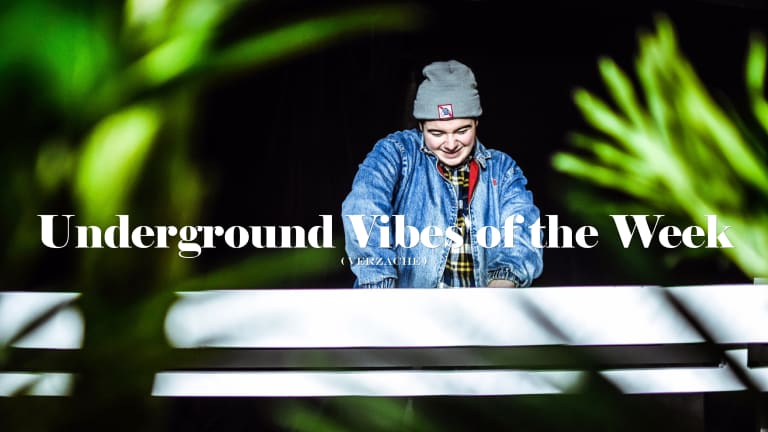 Underground Vibes Of The Week / 001
Verzache, Valentine, still haze, and more featured on this week's installment.
Welcome to "Underground Vibes Of The Week", the place to discover new music. No matter if it's Trap, House, or Ambient, heavy and dark or bright and bouncy; if it's a vibe it belongs here. 
verzache - No More
Young Toronto-native Zach Farache has time and time impressed us with his colorful productions. This time he lets his voice shine over a groovy and minimalistic beat; sounds stripped down but perfectly produced at the same time.
San Holo ft. Taska Black - Right Here, Right Now (Fytch Remix)  
Young bitbird signee Fytch outdid himself on this one. Putting his touch on San Holo's and Taska Black's "Right Here, Right Now", he turned the chill single into one of the most interesting Future Bass bangers we've heard this year. 
Valentine & Halpe - Falling (feat. Chuck Sutton)
Soundcloud phenomenon Valentine never fails to impress. With his debut album coming out soon via Majestic Casual, and the first single being "Falling" featuring Chuck Sutton epic sonic adventure, the future is certainly bright for the young producer.
Hoodboi - Glide (feat. Tkay Maidza)
Not even a month has passed ever since Hoodboi dropped his latest 7-track EP on Fool's Gold. Breathing Room is full of groovy and interesting tunes, and "Glide" featuring Tkay Maidza is one of the highlights. 
Justice Skolnik - Seventeen (feat. Nevve)
On this one, Justice Skolnick teams up with singer Nevve to create the perfect summer anthem. "Seventeen" is a certified feel-good banger, that blends Nevve's beautiful vocals with bouncy drops.   
ANTRA - Wasted Times
Up-and-coming producer ANTRA has once again come out with a banger. Sampling The Weeknd's "Wasted Times", he manages to blend groovy saws, epic atmospheres and huge brass hits into a pretty interesting result. 
Red Hatter - Dangerous w/ still haze  
With this one, producer Red Hatter teamed up with talented vocalist still haze, and the combination of their respective styles works wonders; a minimal RnB atmosphere, dominated by electric guitars, piano chords, and classy drums.