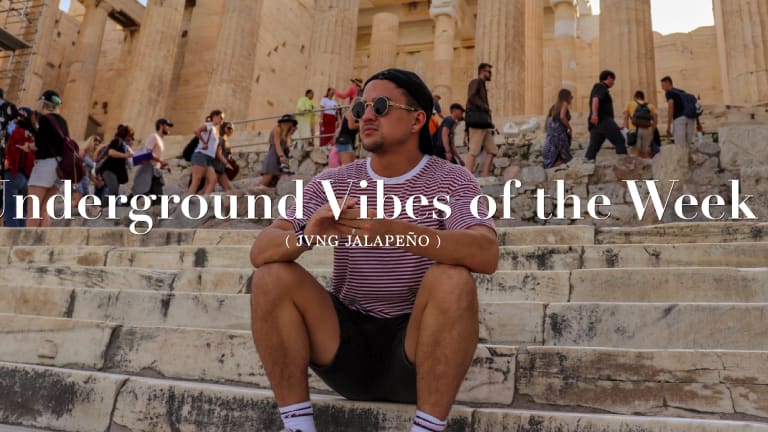 Underground Vibes of the Week / 013
Yvng Jalapeño, Kayloo, still haze and more featured on this week's installment.
Welcome to Underground Vibes Of The Week, the place to discover new music. No matter if it's trap, house or ambient, heavy and dark or bright and bouncy - if it's a vibe, it belongs here.
DMA'S - The End (Yvng Jalapeño Remix)
Yvng Jalapeño, who has been killing it lately with his remix of Fisher's "Losing It," switches things up with his latest vibe: a house remix of "The End" by DMA'S. 
Jethro Heston - Only Girl Ft. Adam Engle
Jethro Heston showcases the entirety of his skills with this deep, after-hours vibe.  
a l l i e & The Kount - Camino
Talented producer The Kount recently teamed up with a l l i e for a joint EP, and the result was mind blowing. Their lead single, "Camino," is a masterfully produced and soul-inspired gem. 
max fry + still haze - nightmares
It's not the first time max fry and still haze have released music together, and each time they only get better. 
VALENTINE & west1ne - Backpack (feat. Naji & Rob Araujo)
VALENTINE's long-awaited debut album was recently released, and "Backpack" with west1ne, Naji and Rob Araujo is definitely one of the standout singles. 
Rayless - illusion//delusion
Talented producer Rayless unlocks his full artistic potential with his latest EP, Parallels. 
IYES & Ryan Riback - This Feeling
IYES & Ryan Riback hit the mark with this one and offer up a bright house anthem.