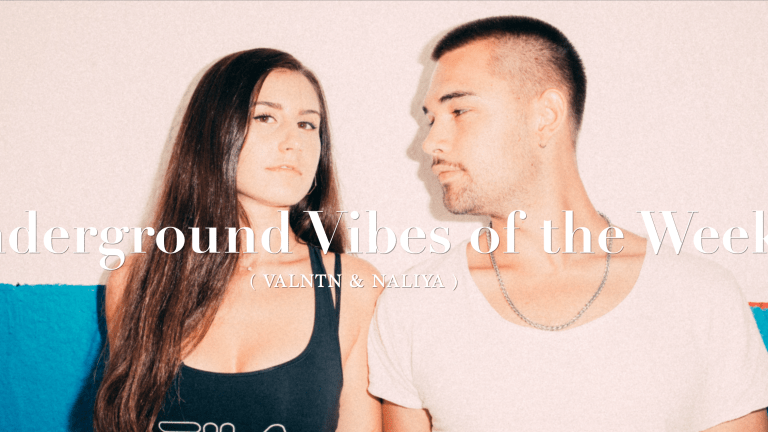 Underground Vibes of the Week / 019
VALNTN & Naliya, Alex lustig, Julian Wassermann and more featured on this week's installment.
Welcome to Underground Vibes Of The Week, the place to discover new music. No matter if it's trap, house or ambient, heavy and dark or bright and bouncy - if it's a vibe it belongs here.
This week's feature includes dancefloor bangers such as "No Sleep" by Wade and Kyle Kinch"Sunday Love" - VALNTN and Naliya's "Do It To Me," as well as laid-back masterpieces by alex lustig, shortfatty and Krs. 
"Sunday Love" ft. Naliya - VALNTN
"Sunday Love" is all about good vibes. Funky guitars and playful synths dance around Naliya's smooth vocals, making up for a magical, groovy tune.
"Japanese Hotel" - Blasko
Blasko's inspiration for writing "Japanese Hotel " came from an impactful dream he had, something that is reflected in the track's mystical bounce and hypnotic vocals. 
"This Feeling" ft. Kelsea Ballerini (Kharfi Remix) - The Chainsmokers
Italian producer Kharfi takes it easy with his latest remix for The Chainsmokers, infusing pop song "This Feeling" with a dose of extra catchiness. 
"Deep End" ft. Makk Mikkael - alex lustig
alex lustig is back with yet another eclectic EP, and "Deep End" with vocals from Makk Mikkael stands out as one of the producer's most interesting releases yet.
"Painfully" - Julian Wassermann
The German producer returns with a carefully crafted melodic techno vibe; a 7-minute journey driven by emotional vocals and evolving synths. 
"Vibe" with Noden - Chuck Mercer
Synth-driven "Vibe" by Chuck Mercer is a perfect party starter, combining a sexy groove with infectious vocals.
"Do It To Me" - Kyle Kinch
Worldly flavor is sprinkled all over Kyle Kinch's "Do It To Me," a minimal dancefloor vibe out on Gorgon City's Realm Records. 
"Rear End" - David Berrie
Taken out of his latest 3-track Revolution EP, David Berrie's "Rear End" perfectly displays his unique taste for masterfully blending house and techno. 
"No Sleep" - Wade
Wade goes crazy on "No Sleep" an after-hours banger dominated by distorted bass, ominous synths, and aggressive vocal samples. 
"taste" Ft. Offset (gravez remix) - Tyga
gravez's debut project is dropping soon, and the beatmaker decided to flip Tyga's and Offset's "Taste" on its head, turning the club-oriented single into a laid-back, smooth bop. 
"I Never Sleep" - KAYLOO
Producer KAYLOO goes extra hard on 2006-released "I Never Sleep" by Rich Boy, backing up the acapella with ear-catching melodies and thumping kicks.  
In The Sun - Krs.
Krs. samples "Belong In The Sun" by ¿Téo? and Lido, creating an organic, guitar-driven vibe. 
real w/ chirashe - pandi
While "real" starts off with crazy arpeggios, synth stabs and 808 glides, it quickly turns into a late-night R&B gem. 
shackles (whereisalex remix) - mary mary
whereisalex really plays it minimal with his latest remix, really letting the acapella really control. 
islander. - shortfatty
Sharp percussion work, bright keys and distorted bass slides make up the short-but-sweet "islander." by shortfatty.