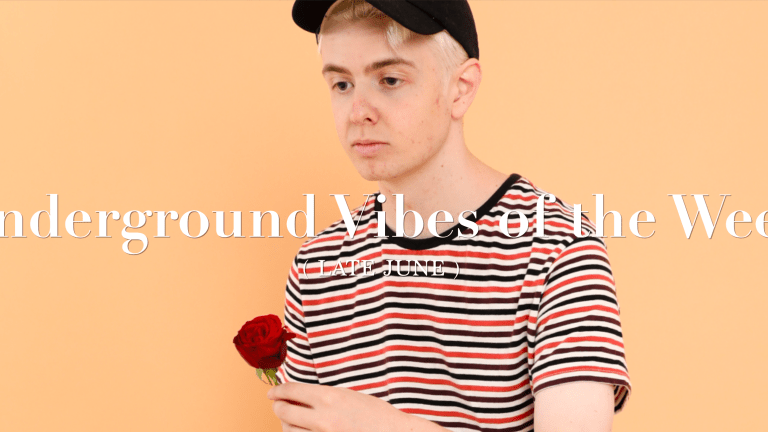 Underground Vibes of the Week / 020
Late June, monte booker, Manila Killa and more featured on this week's installment.
Welcome to Underground Vibes Of The Week, the place to discover new music. No matter if it's trap, house or ambient, heavy and dark or bright and bouncy - if it's a vibe it belongs here.
SoundCloud is considered by many artists and fans alike to be the best platform for unsigned music to shine. Its direct approach and lack of a need for distributors has enabled bedroom artists to reach fanbases all over the world, and emerging talents to turn their SoundCloud game into yearlong careers. 
In this series, our aim is to showcase the best new music we discover on the platform; it's music that often can't be found anywhere else. We will also shine the light on successful artists that encapsulate everything SoundCloud is about, some of whom have built their careers on the platform. 
"Like It Was Yesterday" - Late June
Late June is back with another soothing, emotional tune driven by piano melodies and smooth drums. In recent years, the laid-back ambient artist has been one of the most prominent figures on SoundCloud, consistently uploading at least a track a month. 
"Wake Up Call" ft. Mansionair - Manila Killa 
Manila Killa has had a huge 2018 touring with Whethan and Petit Biscuit, and his latest mysterious single "Wake Up Call" proves he is here to stay. The artist has founded the label Moving Castle along with fellow artists AOBeats and Robokid, helping shine the light on numerous talented artists over the years. 
"western cape" - monte booker
monte booker was one of the first artists showcased by tastemaker label Soulection, a brand that gave birth to an entire wave of artists, and inspired dozens more. The talent has always been forward-thinking, and "western cape" shows he's still a master at his craft. 
"Revive" - Moods
Moods recently released his debut album Zoom Out. The 14 R&B and dance-infused vibes are driven by bright synths, playful drum work and excellent songwriting. 
"Zewada" - Rohaan
Despite putting out some of the most interesting bangers found on SoundCloud over the past years, Rohaan decided to switch things up in his latest single. "Zewada" is an expressive vibe that as he says is "the start of a journey."
"Modulation" - Mo Vibez 
Producer Mo Vibez let his heavier side out on his latest EP. "Modulation," in which he goes completely crazy with arps, saws and weird effects, is definitely a standout track from the effort. 
"come over" - ilo ilo
ilo ilo's "come over" is a masterfully written and produced tune - but the electric guitar solo in the second half of the arrangement really ties everything together, enabling the track to stand out. 
"Feel Ya" - Ehiorobo & Tomggg
American singer/songwriter Ehiorobo and Japanese producer Tomggg really snap together in this playful cut that came out on Secret Songs. 
"TOUCH MY BODY" - K, Le Maestro
K, Le Maestro drops another laid-back yet majestic flip with "TOUCH MY BODY," this time taking on Mariah Carey's 2008 single of the same name. 
"SECRETS" - HXRY
In contrast to his latest single, "IMBECILE," on "SECRETS" HXRY goes really smooth, coming up with a vibe reminiscent of classic R&B gems. 
"honest" - danny dwyer
"honest" marks danny dwyer's third release - and judging by the major vibes the artist is already bringing to the table, his future is definitely bright. 
"memory lane" - Mitch Geist
On "memory lane" Mitch Geist once again proves he can easily create memorable, wonky beats. 
"I Guess" - Afrosamuraiist 
Afrosamuraiist goes insane on "I Guess," showcasing his sound design skills and having his synths interplay with playful rhythms and vocal chops. 
"Groovers" - Jake Milliner
Jake Milliner's latest beat is fairly short, yet its atmosphere and vibes make up for the perfect afternoon jam. 
"nobody there!" - weird inside
weird inside's "nobody there!" is a dark masterpiece that constantly evolves and keeps listeners on their toes with gritty bass and ambient melodies.