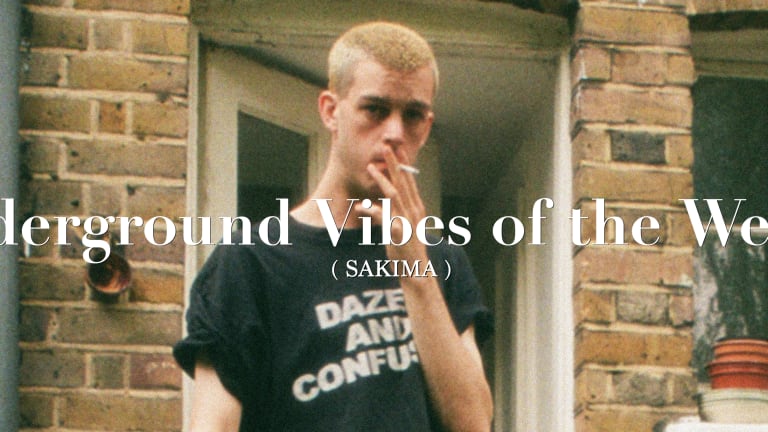 Underground Vibes of the Week / 021
SAKIMA, quickly, quickly, DELAY and more featured on this week's installment.
Welcome to Underground Vibes Of The Week, the place to discover new music. No matter if it's trap, house or ambient, heavy and dark or bright and bouncy - if it's a vibe it belongs here.
SoundCloud is considered by many artists and fans alike to be the best platform for unsigned music to shine. Its direct approach and lack of a need for distributors has enabled bedroom artists to reach fanbases all over the world, and emerging talents to turn their SoundCloud game into yearlong careers.
In this series, our aim is to showcase the best new music we discover on the platform; it's music that often can't be found anywhere else. We will also shine the light on successful artists that encapsulate everything SoundCloud is about, some of whom have built their careers on the platform.
"Apps" ft. Robokid - SAKIMA
"Apps" is one of SAKIMA's most aggressive tunes yet. The artist, that produced the track along with Easyfun, goes crazy over gritty bass lines and percussion with vocal contribution from Robokid. SAKIMA started quickly getting his name out there some years back before getting picked up by the label Manifesto and went on to release numerous times with tastemaker Moving Castle - one of the most prominent platforms for indie artists breaking out of SoundCloud into major success. 
"Departure" ft. Beau Nelson - Jeevs
Supported by one of the most respected underground platforms on SoundCloud, Phuture Collective, Jeevs has started leaving his mark over the past year.
"Plato's Dub" - 黒 KURO
In "Plato's Dub," 黒 KURO samples reggae artist Bitty McLean, and the result is a psychedelic, all-over-the-place vibe.
"Stress Dreams" - ARDENCY
On "Stress Dreams,' duo ARDENCY keep showcasing their tasteful electronic sound infused with indie and alternative elements.
"Sleepless Nights" ft. Aleana Redd - Fadent
19-year-old producer Fadent comes out with one of his most mature-sounding singles yet, an ambient gem with vocalist Aleana Redd.
"Amphetamine+" - zodivk
Mysterious beatmaker zodivk returns with another soothing flip. The producer has mainly used SoundCloud as the medium for showcasing his work, and after a couple of viral remixes for Alina Baraz and Goldlink, it's safe to say he's made a lasting impression.
"Bedtime" - JNTHN STEIN & KRANE
JNTHN STEIN's latest three-track EP features a huge collaboration with none other than KRANE, a track where both producers go as funky and laid-back as they've never done before.
Somebody New ft. ShezAr - Sonny Fodera
U.K. producer Sonny Fodera is back with "Somebody New" featuring ShezAr, an uplifting, minimal dance floor killer.
"6am In Oakland" - Jethro Heston
"6am In Oakland" marks Jethro Heston's latest effort, and as always the producer delivers some really colorful and animated deep house.
"Out of this world" - DELAY
DELAY is going to be putting out a handful of remixes soon, as he's gearing up for the release of his highly anticipated new album. This time he flipped A$AP Rocky's "Out of This World," inflicting on it his signature production style.
"Prophecy" ft. Hannah Jenkins - narou
Producer and engineer narou has been showcasing his eclectic productions for some time now, and "Prophecy" featuring Hannah Jenkins perfectly displays his skills.
"Looking For Your Love" (Dark Heart Remix) - DallasK
Dark Heart succeeds in turning DallasK's "Looking For Your Love" from four-on-the-floor vibe to a blissful future bass anthem.
"Without Me" (Rad Hatter Rework) - Halsey
Rad Hatter has made it known that he is not confined by genres. Whether it's wonky trap bangers or ambient gems, the producer always hits the mark - something he achieved with his latest impactful remix of Halsey's "Without Me."
"praisethelord [rmx]" - quickly, quickly
quickly, quickly has been gaining massive traction lately, captivating the world with complex and mature productions. His remix of A$AP Rocky's and Skepta's "Praise The Lord" perfectly showcases his style: lo-fi vibes with soft keys and organic-sounding drums.
"ICE TRAY (w/ mikuda)" - STU
ICE TRAY" is yet another banger in STU's catalog. The French producer likes to experiment, and has already collaborated with artists such as otxhello, verzache and DILIP.