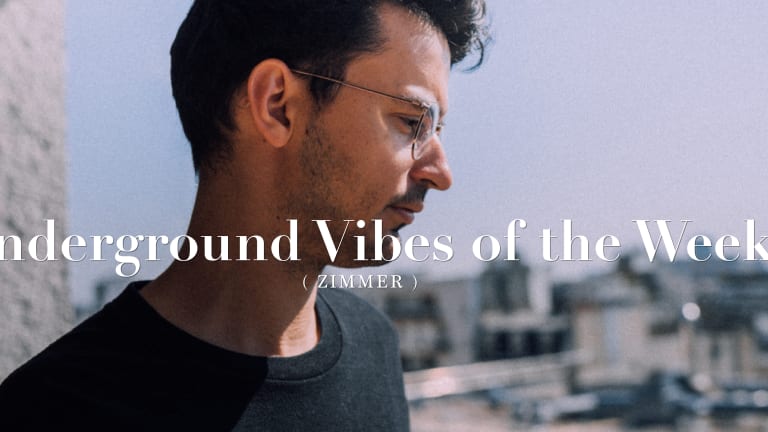 Underground Vibes Of The Week / 017
Zimmer, Tails, DEFFIE and more featured on this week's installment.
Welcome to Underground Vibes Of The Week, the place to discover new music. No matter if it's trap, house or ambient, heavy and dark or bright and bouncy; if it's a vibe it belongs here. 
This week's feature includes gems like forward-thinking "Skeleton" by Tails & inverness, funky house work by the likes of Mad Rey and Aerial Boy, explosive bangers by DOJO! and Kantor, and much more. 
"Wildflowers" ft. Panama - Zimmer
Right before he brought his live tour to the US and Canada, French producer Zimmer released his latest single, "Wildflowers," with vocal support from Panama, a laid-back jam driven by analog synths and minimal drums. 
"7Hills" (Mad Rey Remix) - Black Loops
Premiered by Chase The Compass, producer Mad Rey gives his take on "7Hills" by Black Loops, taking the soulful dance floor gem to the next level. 
"Come Alive" (Hood Rich Remix) - Double Agent
Hood Rich turns Double Agent's uplifting track "Come Alive" into a late-night, ominous vibe. 
"Faith" - Aerial Boy
With his debut EP AB 01, Aerial Boy really showcased his ability to make atmospheric, groovy house gems that are short yet super sweet. 
"Lafayette" - Cassian
Analog vibes are sprinkled all over this track by Cassian, who recently embarked on his first-ever live tour supporting RÜFÜS DU SOL in the U.S. and Canada. 
"Skeleton" ft. Nevve - Tails & inverness 
Tails & inverness nailed this bouncy tune with help from vocalist Nevve. It cut through the noise and caught the attention of the legendary RL Grime, who featured the track in his Halloween VII mix. 
"Bad For You" ft. Trove - Jinco
Jinco's latest release on Elysian Records is pure R&B vibes until things switch up on the drop, which is dominated by sharp saws and wonky drums. 
"I Can't" ft. lulunah - Chris Siegel
Chris Siegel and vocalist lulunah really put in the effort to make "I Can't" as cute as possible. Clicky drums, bright synths and playful leads go crazy around lulunah's vocals, making for a super fun tune. 
"ANTHEM" ft. Lukrative, hyperforms, COSMIC, NightGrind, noax, SYNC, vowl., & NOIXES
"ANTHEM" is one of the most exciting collaborative efforts to come out of the SoundCloud scene in a long time, having some of the most promising talents go back to back for an epic six minutes.
"Breakdown" ft. Axel Folie - DEFFIE 
DEFFIE's latest offering is a simple yet effective beat, with an unexpected switch up in the second half. 
"ELYTRA" - DOJO! 
"ELYTRA" is one of DOJO!'s most experimental tunes yet, going through various transitions that reinforce its psychedelic feel. 
"Sonic" - Kantor
Up-and-comer Kantor doesn't hold anything back in this explosive tune that phases between trap, future bass and drum and bass. 
"Ghost Of A Friend" ft. Koo - Trivecta
"Ghost Of A Friend" definitely marks a new direction for Trivecta as he is known for his unmistakable dubstep releases. The artist confessed that his good friend Nicolas Varien Kaelar (known better in the electronic music world simply as Varien) really loved the song and pushed him to release it. 
"Listerine" ft. Emmett McCleary - Fla.mingo
Fla.mingo really hit the mark with his latest release, a quirky, soulful gem with vocals by Emmett McCleary. 
"6th" - homework  
"6th" slowly builds up the atmosphere before fully transitioning into a laid-back, lo-fi beat.