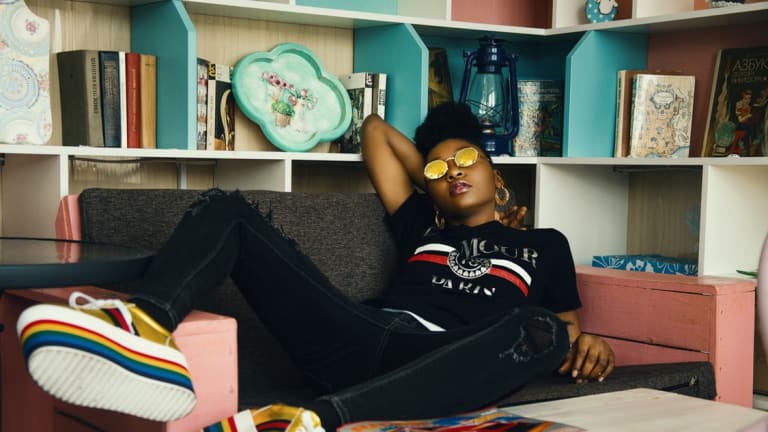 6 Ridiculous Ways to Get the Real Music Festival Experience Out of  Livestreams
Who knew it could be so simple!
Festival season is finally here. If you're like most of us and can barely afford your bar tab at the end of the night, you'll probably be enjoying this year's music festival festivities from the comfort of your couch. 
But don't worry, EDM.com has your back. I've compiled the perfect guide to help you get the true music festival experience at home. All you'll need to pull this off is your imagination and your neighbor's wi-fi password. 
Put on your rave gear
Surely you wouldn't go to a festival in pajama pants and a sweatshirt, so in order to get the full experience, you're going to have to look the part as well. This may lead to some awkward encounters with your roommates or parents, but that's the sacrifice you must be willing to make. 
If you're skeptical, consider that this idea backed by science. Similar to how you feel more confident when you put on your dress clothes, putting on your rave gear will help you feel ready for the fun... or something like that. I'm a blogger, not a scientist. 
Set a timer to use the bathroom
Have you ever been at a festival where you were able to walk right up to the bathroom and go right in without waiting in line? Me neither. This means in order to get the true music festival experience, you can't just walk right up to the bathroom whenever you feel like it. 
I suggest setting a timer on your phone for about 45 minutes as that seems to be the average time it takes to make it to a bathroom at a typical festival.
Venmo a friend every time you go to the fridge
It's not really a music festival if you haven't spent $75 on two beers right? To simulate the amazing experience of paying close to one hundred dollars on a microwaved hot dog, two warm beers, and a bottle of water you'll end up taking two sips out of, just use your favorite wire transfer app to send your friend $10 each time you open the fridge or pantry door. If you're not one for banks, you can also just put dollar bills through a paper shredder... that should work just fine.
Invite a drunk friend over and babysit them
Everyone knows that half of the fun at any festival is trying to find your drunkest friend, who can't seem to stick with the group. No matter what festival you go to, every festival group will have that one guy or girl whose eyes are bigger than their liver. They will need constant attention, care, and regular food/bathroom breaks. They'll essentially turn into a toddler who can somewhat function in society, but not really.
This step is quite simple to perform. All you need to do is invite your best friend over after a long night at the bars. They'll certainly find ways to almost burn down your house while simultaneously breaking all of your valuable possessions. 
Rent a fog machine to simulate the sick clouds from the horde of vapers
This suggestion brings up an interesting question. Why do festivals rent CO2 cannons when the sickest clouds are in the crowd? 
I suggest renting the Chauvet Hurricane 1800 Flex, as that is a top-of-the-line fog machine capable of producing clouds similar to those of a festival goer's totally sick vape pen and naked vape juice. Fitted with a box mod, upgraded tank, and an expensive coil, this pen will produce clouds that are rivaled only by the Mt. St. Helen eruption.
Don't shower or wear deodorant for a week prior to the festival
People tend to forget that your neck, liver, and ears, aren't the only body parts that take a beating at music festivals. Your nose is under attack just as often as the others. 
If you've somehow managed to avoid this experience, let me help you understand the struggle. Imagine the worst smell you can possibly think of. Now imagine someone took that smell and put it in an aerosol can. Finally, imagine that someone took the can and sprayed it all over the guy who's dancing way to close to you and your friends.
To simulate this, all you have to do is skip showering and deodorant use for about a week. That should give you enough time to develop that wonderful music festival musk made famous by unkempt festival goers.