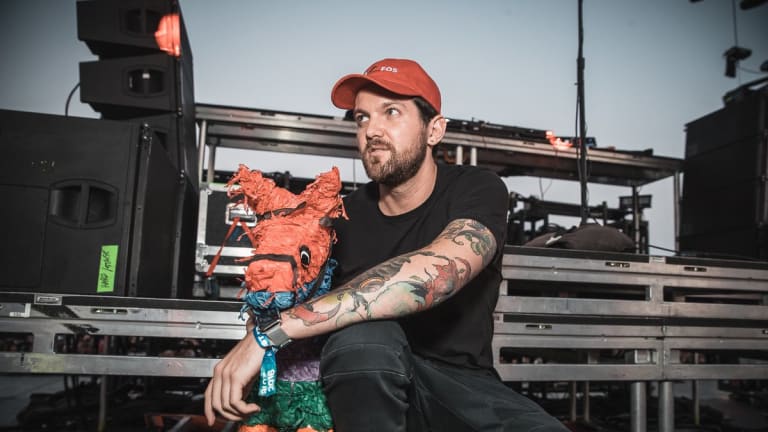 Take a Peek Inside Dillon Francis' Mystery Box in His New Video Series
Dillon Francis launched a new weekly show called What's In Dillon's Box. Episode One features the Vector Robot.
Dillon Francis is well known for his humorous antics and carefree attitude, both of which were exemplified in his 2011 breakout hit single "I.D.G.A.F.O.S." (I Don't Give A Fuck Or Shit), which also happens to be the name of his very own label imprint. In line with his carefully curated prankster persona, the master producer and viral EDM phenomenon has launched a weekly YouTube video series appropriately titled What's In Dillon's Box??!
As part of the new show, Dillon Francis will review an array of random stuff that "he buys off Amazon when he's drunk," and each week someone will win a prize from his magical mystery box.
For the first episode, Francis reviews the Vector Robot by ANKI. According to Francis, the Vector cries, listens in on all of your conversations, and has a built-in camera that is directly connected to cloud storage. If this seems creepy to you, make sure you listen to Francis' colorful feedback 44 seconds into the video... it seems that he has very real concerns about what types of activities the Vector Robot is spying on.
We don't want to reveal too much of Francis' thoughts on Vector, but suffice it to say that he gives the creepy little robot a piece of his mind in his typical comedic fashion. If you're a fan of Dillon Francis, or simply like to watch funny YouTube videos, this new video series certainly gives you something to look forward to.

Also, keep in mind that commenting on the video enters you for a chance to win the Vector Robot - if you're looking to turn your home into a surveillance state, this is your once-in-a-lifetime opportunity.
Subscribe to Dillon Francis' YouTube to keep up with the latest episodes.
FOLLOW DILLON FRANCIS:
Website: dillonfrancis.com
Facebook: facebook.com/dillonfrancismusic
Twitter: twitter.com/DillonFrancis
Instagram: instagram.com/dillonfrancis
SoundCloud: soundcloud.com/dillonfrancis