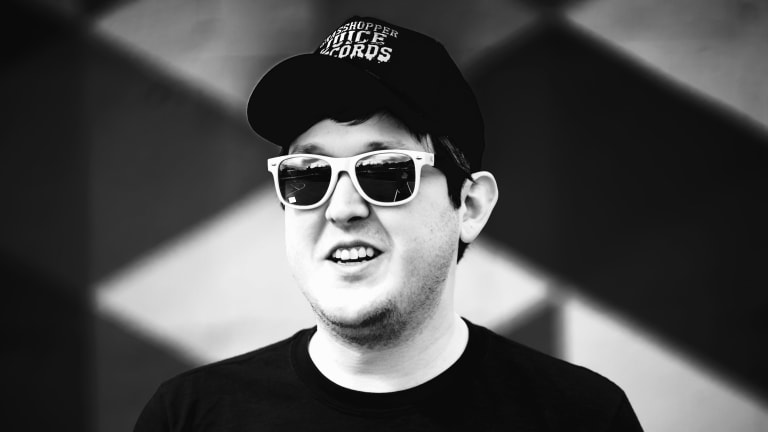 With EDM Infused Hip-Hop, Grasshopper Juice Records Is America's Future.
Breaking Through is a conversational series highlighting the stories of rising dance music artists.
Author Note: I switch gears with this chapter of Breaking Through to highlight a recording label.
Historically, a company's niche is the end result of a business model that provides staple products to a consumer. The diversity in today's music industry is more than most can or care to grasp made evident with products presented by mainstream, streamlined marketing models which in turn has arguably made the music industry the most stagnant in history with no other genre of music disliking the word genre more than the genre that just said it.  
But record labels are generally genre based meant to keep the ear of the consumer focused on their branding. With one label, Cincinnati, Ohio based Grasshopper Juice Records - their formula, while still hip-hop focused - is providing an element that others are slow to catch up with - EDM. 
And that's the problem, and it seems to only be an American one. "Hip-hop is all about the culture and taking it back to the tradition," said Juan Cosby, owner of Grasshopper Juice Records (GJR). "Hip-hop just wants to do what is there instead of incorporating new sounds into their music and the US is the only place where the genre is like this. So many artists are not making it about the music but rather their clique and traditions," Cosby adamantly said.  
Cosby isn't wrong, tradition glues rappers. When you think of hip-hop, one mainly considers the rapper, not the entire production saying, "Music is funny in how people want to paint themselves inside a box instead of appreciating a different type of texture or color to make that song, and as long as you're doing that you're pulling yourself backward, whether it's EDM or anything else."
"I'm not saying everyone has to play every genre of music, just don't worry about painting yourself into a box. Your music will paint you into your own box if its original. There needs to be a focus on making great songs and music is what gives the songs identity. Outside of that, it's just bars, man."  
Anymore, recordings are a commercial for live shows and artists today want The Roots effect and bring a live band in but that's been done before, "You're never going to be The Roots!" Cosby exclaimed. "It should be about the music and electronic music has an influence on everybody."
Taking a page from UK based High Focus Records, GJR regularly showcases artists crossing EDM into hip-hop. "All these guys are rapping over drum and bass," Cosby said. "There's a lot of crossovers over there and the UK hip-hop scene is utilizing new sounds that American artists are either too stubborn to get with or don't have a strong enough appreciation for musicianship to properly utilize it."
So, is EDM intimidating? Are American rappers having a hard time securing good beats by not allowing themselves exposure to other genres or, quite frankly, help? Undoubtedly, hip-hop is ego driven and the sustainable artists surround themselves with people outside of their realm in and out of the industry.
"Everyone feels they have the business sensibility - what screws people is arrogance," Cosby proclaimed. "Ultimately people feel that their music will speak for itself, but with social media oversaturated with artists, no one is going to find your shit just because you think you have an awesome song. People need the exposure, sure, but it's not going to come on their own."  
Cosby exclaimed, "The most talented people I know are horrible at social media! You're screwing yourself without realizing it. Meanwhile, guys who aren't nearly as talented crush it on social media and are getting all the opportunities."
Launched in 2008, with the name coming from a summer 2007 recording session where cricket or grasshopper chirps were coming through the headphones of vocal tracks Cosby and friends were recording. Playfully saying, "It sounds like grasshopper juice coming through the earphones!" GJR created an umbrella with any sort of work that Cosby put in "couldn't be taken away from me."
In the beginning, GJR owned a CD duplicator with most artists wanting to duplicate their product and utilize their friends' recording studios. Now, an industry focused online distribution method and with artists making music on their own, the business model changes as often as the industry and some of those changes are concerning to Cosby. "You can't force it," described Cosby. "but the labels that are doing this are the ones that are going to succeed. It's the natural influences and the progression music is heading."
"We do one album deals," Cosby plainly said. "We keep it simple. A lot of the people making my label successful are rappers working EDM into their music," as Cosby proudly sites signees future bass inspired and co-founder, Meiosis. Vusive, who is dubstep based and produces beats for rappers. Yateveo is on the other side of the spectrum completely utilizing analog synthesizers and breaking away from electronic traditions and Haskell, GJR's artist providing the biggest waves at the moment. "It's important to mend these two cross cultures together," said Cosby. "I mend them because it comes naturally."  
Natural from when Cosby was involved with high school chorus and when his friends were putting bands together, he started rapping. "I also enjoyed playing keyboards," he reflected. Recalling his former band The Terrors, Cosby reflected, "We were on a label and it stressed us out. They wanted a say in our creative process so much that it broke us up. It was heartbreaking to see all that hard work fall apart. I had been making a lot of the moves behind the scenes over something I had no control over."
The beat production and rapping came naturally to Cosby as he now, at 34, is as open as one can be when signing new talent to his label. "Grasshopper is making music, Cosby proudly said. "That's what we do. We're doing it ourselves and I love promoting my circle of friends."