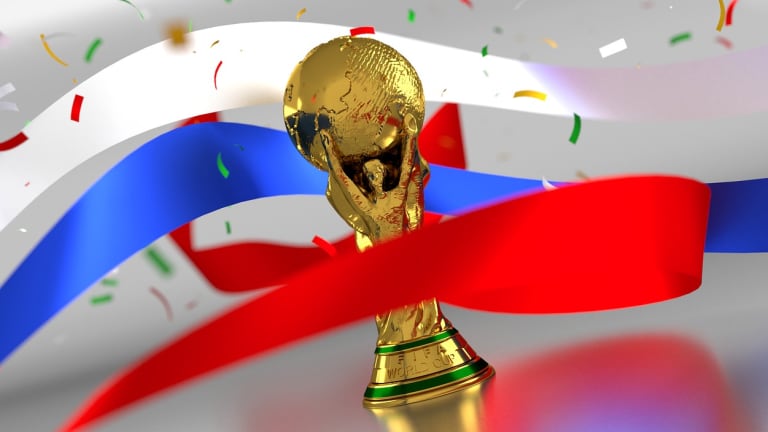 The 2018 EDM World Cup Team Managers and Anthems [Part 1]
How far will your squad go?
The biggest sporting event in the world is back! While millions of people around the world are partying in the street and cheering on their team, us Americans have to write World Cup inspired articles to feel included.
Let's suspend reality for a moment and imagine that instead of jumping up and down and yelling into the mic, our favorite EDM artists decided to become soccer (football) players and coaches.
We chose one influential artist from each country to lead their country's squad as well as one song released in 2018 from each country to serve as their team anthem. 
Introducing your 2018 World Cup team managers and anthems! 
France
Managers - Daft Punk
Do you think FIFA would have a problem with a team having two managers? How about two robot managers? Either way, this is the obvious choice. No one could lead a team of dance music artists better than the duo that helped make dance music the unstoppable force that it is today. 
Plus having two well-dressed robots on the sideline would look really cool in all the team pictures... 
Anthem -  Kurupt by Tchami & Malaa 
A hard-hitting song from one of France's hottest artists. The perfect track to keep the team laser-focused on defeating their opponents. 
Argentina 
Manager - Hernán Cattáneo
An undisputable legend in Argentinan dance music, Hernán Cattáneo helped the Argentinan dance music scene become what it is today. With major club residencies and festival bookings, Hernán Cattáneo helped show the world how Argentina gets down. 
Anthem - Supersaw by Heatbeat
With an unstoppable and pounding bassline, Heatbeat's newest track will keep the team and fans pumped until the early morning.
Portugal 
Manager - Kura
One of the most recognized dance music artists in Portugal, KURA has the knowledge and expertise to lead his team to victory. Alongside his major releases on Spinnin' Records, KURA was the highest-ranking Portuguese-speaking DJ on DJ Mag's Top 100. 
Anthem - Someone Like You by Diego Miranda Ft. Mikkel Solnado
An uplifting song perfect for bringing the team and fans together. The Portugese legend will have the crowd dancing all night with this one. 
Uruguay 
Manager - Tania Vulcano
Since the 90's Tania Vulcano has been at the forefront of Uruguayan dance music. Her experience of ruling the underground helped her become the owner and operator of her very own record label. 
Anthem - In Da House by DJ PP & Jack Mood
There's no better way to celebrate making it into the knockout round than getting down to some funky house. This one's perfect for the after-game club nights. 
Brazil 
Manager - Gui Boratto 
Gui Boratto is not simply an excellent producer, he is a true renaissance man. More than just a leading Brazilian producer, he is even a skilled architect. Why settle for a manager who can just play clubs when you can get one who can design one! 
Anthem - Loko (Ft. MC Kevinho & Busy Signal) by Major Lazer and Tropkillaz
Tropkillaz teamed up with Major Lazer to show the world that Brazil means business both on and off the field. 
Mexico
Managers - 3BALLMTY
Although they may be young, 3BALLMTY has become one of the most notable names in modern-day Latin music. They have seamlessly integrated the traditional Latin music sound with infectious dance beats. With more awards than you can count, this massive group is an easy choice to lead their country's team. 
Anthem - Let's Get It by Jessica Audiffred
One of Mexico's leaders in bass music, Jessica Audiffred has the perfect song to match the incredible energy of her team and their fans. Plus, bass music is always a good choice for an intense workout. 
Belgium 
Manager - Amelie Lens
Need we say more? Amelie Lens is one of the biggest names in Belgian dance music and is quickly becoming one of techno's all-time greats. Her incredible production capabilities and undeniable talent make her an easy choice to lead her country. 
Anthem - Hold Me Back by Eptic 
The Belgian dubstep prodigy, Eptic has accomplished more before the age of 25 than most artists ever will. His most recent track will take his team on a destructive rampage all the way to the final.
Japan 
Manager - Satoshi Tomiie 
Satoshi Tomiie is not just an iconic Japanese producer, he is a dance music pioneer who helped dance music become a worldwide sensation. He was an important player in the very beginning of house music and because of his contributions, house music became a global phenomenon.
Anthem - Favorite Mistake (Ft. Sidnie Tipton) by KSUKE
Japanese artist KSUKE created the perfect anthem for his fans to sing along to while cheering on their team. The dramatic build-up into a massive bassline will have the entire stadium on their feet.