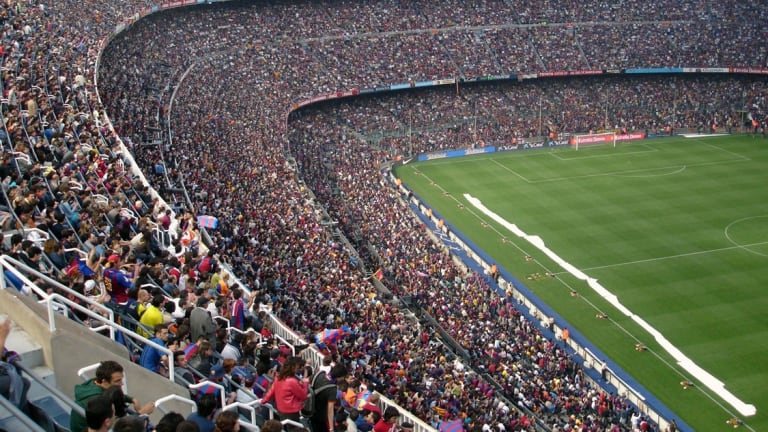 The 2018 EDM World Cup Team Managers and Anthems [PART 2]
Who's going to the final?
The biggest sporting event in the world is back! While millions of people around the world are partying in the street and cheering on their team, us Americans have to write World Cup inspired articles to feel included.
Let's suspend reality for a moment and imagine that instead of jumping up and down and yelling into the mic, our favorite EDM artists decided to become soccer (football) players and coaches.
We chose one influential artist from each country to lead their country's squad as well as one song released in 2018 from each country to serve as their team anthem.
Introducing your 2018 World Cup team managers and anthems!
Part 1 available here. 
Spain
Manager - Paco Osuna 
For more than 20 years Paco Osuna has been an important player in the Spanish dance music world. From starting a record label to opening a club, he has helped set the stage for dance music to grow. His knowledge and expertise make him the perfect to lead La Furia Roja.
Anthem - Infinite Pledge by Uner 
With its pulsating energy, this track will make the stadium, the locker room, or anywhere feel like Ibiza. 
Russia
Manager - Nina Kraviz 
An obvious choice to lead her country. Despite having a doctorate and working as a dentist, she became an instant techno sensation. The fact that she can master both dental health and dance music makes it pretty reasonable to assume that she could coach a soccer team to victory if she put her mind to it.  
Anthem - Couldn't Be Better by Arty
Close your eyes and listen to this one and imagine it playing through the speakers in an arena. The grandiose of this track makes it seem like it was created to be played on the biggest stage of them all.
Croatia
Manager - Petar Dundov
His passion for techno music and his other-worldly ability to create intricate melodies are apparent in Petar Dundov release. When he takes the stage he has the ability to lead crowds on a journey to faraway lands with his sound. His intelligence and abilities make him the ideal candidate to lead Croatia. 
Anthem - Fallin Apart by Insolate 
This is one of those tracks that you put on during a workout and get so hyped that you end up sore for three days. Listening to this at least once a day will help you win any sporting event. 
Denmark 
Manager - MØ
There are few synthpop artists who will accomplish even 1% of what MØ has. Alongside an amazing solo career, her collaboration with Major Lazer for "Lean On" is the fourth-highest streamed song of all time on Spotify. Her incredible accomplishments and talents make it pretty hard to consider anyone else for Denmark. 
Anthem - Party Freaks (Ft. Anna Yvette) by Pegboard Nerds
This heater was created for a video game that is essentially soccer with cars. So it's safe to assume it would be appropriate for soccer without cars...right?
Sweden 
Manager - AVICII 
Need we say more? Attempting to list all the reasons why Avicii would lead his country would take weeks. An all-time dance music great who will continue to influence dance music for decades. He has paved the way for so many of our favorite artists to succeed and we can't think of anyone better to lead over a massive dance music country. 
Anthem - Spaceship (Ft. Uffie) by Galantis
The perfect representation of the uplifting dance music that has made Sweden one of the most important countries in EDM. 
Switzerland
Manager - EDX
Most people dream of being a successful artist, record label founder, or radio host. EDX didn't just settle for one, he decided to become all three... at the same time. With hundreds of releases under his belt and one of SiriusXM's best dance music shows, EDX will be able to apply his leadership and bring the Swiss to victory. 
Anthem - Café Brasil by Croatia Squad 
Despite Brazil and Croatia both being included on this list, Switzerland's Croatia Squad has the perfect deep house track to help his team focus on the cup.
Colombia 
Manager - Adriana Lopez 
An important figure in the growing Colombian dance music world, Adriana Lopez has taken her talents global and played in some of the most iconic nightclubs in the world (yes, even Berghain). Her leadership skills have been made apparent by the success of her record label and therefore choosing the manager of Los Cafeteros is quite easy. 
Anthem - Ode To You by Merino
An intense, yet, calculated melody to help give his team the ability to become world champions. Perfect when you need to tune out the rest of the world and focus. 
England
Manager - Carl Cox
If there was a Mount Rushmore of dance music, Carl Cox would most definitely be included. Over the past three decades, he has gone from underground sensation to the host of his very own stages in major music festivals all around the world. He is a natural born leader and the clear choice to lead England. 
Anthem - Look Out by Rusko 
An instant classic from one of the don of dubstep. Showcasing the signature wobbles and hard-hitting bass of his country, this track will help his team bring the cup home.