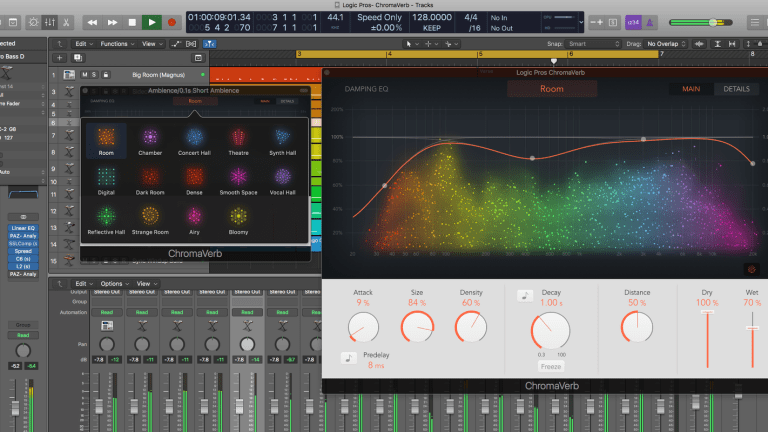 Audio FX 101: Using Reverb to Your Advantage
Using the right kind of effects can make any track stand out. For many producers, using the right amount of effects can be the difference between a banger or a complete bore of a track. Today, we'll discuss one of the most commonly used effects and what it can do to help your productions.
When you learn how to produce music, the last thing you probably want to think about is how much the audio effects can alter the sound of track. We all just want what's in our head to be jotted down and completed in the DAW as fast as possible. While it would be nice to have instant gratification for creating a track, creating the next great banger isn't always that easy. 
Understanding the different production tools available to you can make a world of difference in how your track comes to life. A big aspect of how your track shapes up is the audio effects that you use on your track. For those of you that are new to producing, audio effects are plugins that you place on a track to add a specific sound effect to that given track. 
For example, if you wanted to have a piano sound like it was playing in a hallway, you could add a reverb plugin in to help reach your desired effect. With that said, our audio effect of focus today will be Reverb and how it can positively (or negatively) alter the outcome of your track. 
How it Works 
Reverb (short for Reverberation) is an effect that's present in our every day lives. Any sort of movement that you make can has reverb. Let's say you're walking down a hallway by yourself. The sound of your footsteps will bounce off of the walls and result in a deep, echo type sound. That is an example of reverb effecting the natural sound of a movement. 
Reverb is essentially the amount of space used between the initial impact of the sound and the final result we hear in our ears. Depending on where you're at, the amount of reverb could drastically change. Just because one movement sounds a certain way in a hallway doesn't mean it'll sound the same on a sidewalk. Due to the varying type of reverb, not every reverb effect will result in the same outcomes. Here are some of the most popular types of reverb and what they do to your sound. 
Types of Reverb
Hall Reverb: This type of reverb is designed to give a lush, spacious sound that would be heard during a performance at a concert hall. With its crisp and accurate interpretation of the original sound, hall reverb serves as that complimentary piece to help that sound stand out in front of the crowd. 
Room Reverb: The most straightforward of the reverb types, room reverb is the sound you would get from your typical, run of the mill room build with no acoustic treatment.  What you hear is the natural echo bouncing off of the walls and that's it. While the type of rooms will differ on the building you're currently in, room reverb will provide a very similar effect to any space that isn't built for these purposes. If you want an intimate, no-frills reverb that feels natural to you, room reverb may be your best bet.
Plate Reverb: Of the different reverb types, plate reverb may give off the smoothest and richest effect of them all. Based off of the reverberation from a sheet of metal, plate reverb tends to give off a greater density of the effect and is known for having the best taper of any reverb.  Plate reverb is a great effect to use with other reverb types because of its balanced tails at the end of each reverberation.
Spring Reverb: The last type of reverb I'll discuss today is spring reverb. This type of reverb is used on mostly individual instrument tracks and not a bus or a return/send channel. The reason for this is spring reverb was initially intended to give a bounce or a type of character to the instrument it's being used on. Unlike other types of effects, spring reverb tends to be Lo-Fi (Low Fidelity) and gives more of a natural feedback.  For synths that are modeled after acoustic instruments, spring reverb could provide that ounce of life in the instrument that would normally be found in the instrument it's based on. 
Popular Reverb Plugins
While the native plugins in your DAW may handle all of your needs, here's a few popular reverb plugins that you can add to your arsenal in the near future. The plugins listed below are for reverb only. Plugins with multi FX functionality are not included in this list. Details about these particular plugins can be found in the price links below. 
Valhalla Room Reverb
 Creator: Valhalla DSP 
Price: $50
FabFilter Pro-R 
Creator: Fab Filter 
Price: $199
Renaissance Reverb
Creator: Waves Audio
Price: $39 (current sale price)
RC-48
Creator: Native Instruments
Price: $149
Conclusion
There we have it!  A summary of what reverb can do to your track and how the different types of reverb can make a world of difference when you're working on new material. I hope you've found this article helpful! There will be more overviews of other audio effects coming in the future, so stay tuned!