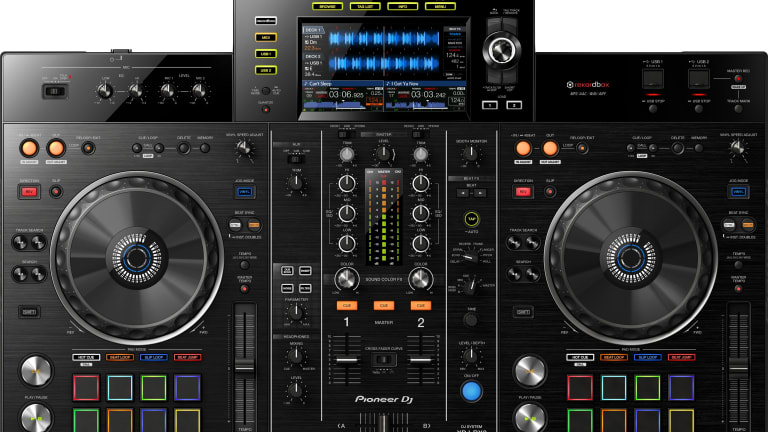 12 Pieces of the Best Beginner DJ Gear
Because everyone has to start somewhere.
It starts gradually enough... First, top 40 music becomes even more unbearable than before. Then, your Spotify playlists shed all that normie music you learned from your dad and college girlfriend. You try to get your fix by going to music festivals and surrounding yourself with it, bathing in it — alas! That, too, is not enough. Your hunger for electronic music simply cannot be sated by listening alone. You have transcended (Or perhaps been cursed?)! Now it's time to shop for your first pieces of DJ equipment.
Read on to discover some of the best beginner DJ gear. Each category is split into a budget-friendly vs higher-end alternative. Whatever the choices, picking one item from each category will create a full package that will carry any DJ through their early years of mixing and producing.
DJ Controllers
In days of yore, the primary way for DJs to spin their music was by connecting two turntables stacked with vinyls to a central mixer. These days, DJ controllers fuse these independent pieces of gear into a single board and interface directly with a computer and software.
1. Pioneer DDJ-200 - $149
The Pioneer DDJ-200 is the only exclusively-beginner item on this list. It is a compact controller aimed at those who are taking their first half-step into the world of DJing. The DDJ-200 has a plethora of tutorial features, and it interfaces directly with many streaming platforms, which means no local music is necessary to mix a set.
2. Serato DDJ-SB3 / Rekordbox DDJ-400 - $249
The DDJ-SB3 and DDJ-400 are two of the most fully fledged, beginner-friendly DJ controllers. They offer all of the basic functions necessary to DJ at the professional level and quite a few bonus features as well (pre-programmed scratching, fading, etc.). Both controllers are very similar, with the biggest difference being their use of Serato versus rekordbox software.
3. XDJ-RX2 - $1,699
At the pro level, the standard hardware is two to four CDJs connected to a central mixer, with each individual piece costing north of $2,000. The XDJ-XZ inhabits the middle ground between the DDJ and CDJ models. It's an all-in-one device that's more complex than its smaller brethren, but won't require a small loan to acquire.
Headphones
A DJ without headphones might as well be a DJ without ears, but shelve those Bose, Beats, and silly looking Skullcandy headphones. Anyone serious about their music should have cans that are analytical and precise.
1. Audio Technica ATH-M50x - $129
Audio Technica is an company known for making high-quality, versatile gear that won't break the bank. Their ATH-M50x headphones are no different. These headphones are professional monitors with a flat response that can be used for all types of music and mixing. 
2. V-Moda Crossfade m100 - $245
V-Moda Crossfades are known in the industry as some of the best DJ headphones out there. They have garnered universal praise for over a decade and are incredibly stylish and well designed. What more is there to say?
Studio Monitors
In the music world, mixing skills can only be honed if they can be heard. Anyone looking to DJ seriously should turn to studio monitors. Unlike computer speakers or bookshelf monitors, studio monitors are designed to have a flat tone curve, so the music that comes out of them isn't colored in any way. 
1. JBL 305P MkII - $150 each
JBL is another mainstay in audio equipment, and their 305P is an excellent entry-level studio monitor at a good price point. They are relatively small five-inch monitors, and have the versatility to be used with any kind of music. Savvy shoppers can find them at greatly discounted prices during certain times of year.
2. KRK RP5 Rokit G4 - $180 each
KRK Rokits are akin to the name brand for DJ speakers. Many will recognize their signature yellow kevlar speaker cones. Notable features include an on-board LED panel on back to control EQ (very cool!), balanced inputs, and an on-board power amp. The entry-level RP5 is 5.25 inches. 
MIDI controller
MIDI, or Musical Instrument Digital Interface, is an industry standard that allows for the direct communication between an instrument/controller and a computer. Yes, that means a DJ controller is a type of MIDI controller. The gear in this category is like a single snowflake on the tip of an iceberg, but either would be an excellent first step towards more advanced DJing and producing.
1. Akai Professional MPK Mini MKII - $99
A MIDI controller can have literally any configuration thought of by man. That being said, one with piano keys should probably be a beginner's first controller style, as its layout is instantly familiar and understandable. The Akai MPK Mini comes with 25 keys and eight drum pads (all of which are velocity sensitive), eight programmable knobs, octave keys, and a thumbstick for various other functions. As a huge bonus, the MPK Mini is also packaged with a whole library of free software and sounds. It is an excellent piece of kit no matter the price. 
2. Novation Launchpad MKII - $150
For those looking to delve into a branch of the music where there are no rules, look no further than the Novation Launchpad. The Launchpad features 64 programmable drum pads for DJs to put samples, functions, or other effects into. If that weren't daunting enough, Launchpads also have a top and side row of buttons that allow one to page up, page down, or change overlays entirely. With this device, there is seriously no limit. 
Some readers might also recognize the Launchpad as the instrument that catapulted Madeon to fame. They would be correct.
DAC
A Digital to Analog Converter (DAC) is an invisible but ubiquitous piece of technology that is in every single digital device with a headphone jack. As its name denotes, it converts the digital audio of a device into an analog signal that can actually be recognized by headphones and speakers. This means that the sound quality being pushed from a device can only be as good as its DAC can provide.
While not a strictly necessary piece of DJ gear, most devices out there (like smartphones) have utter trash for their internal DACs. Thus, any DJ serious about their music should consider buying an external DAC for listening to their music.
1. FiiO K1 DAC - $40
In the world of high-fidelity audio where there is apparently no upper limit to cost, FiiO delivers consistent performance at truly budget prices. The FiiO K1 is an excellent jumping point for those thinking about descending into hi-fi madness. It's a tiny device similar to a flash drive, and can be used across most devices - just plug and play. 
2. Audioquest Dragonfly Cobalt - $300 
Audioquest's Dragonfly devices have been regarded among the best portable DACs for nearly a decade. With a similar footprint to the FiiO K1, the Audioquest Dragonfly is no bigger than a thumb drive. It plays all audio files, from the average to the esoteric. Most audiophiles agree that the Dragonfly rounds out the low frequencies, accentuates detail in the mid tones, and adds airiness to the highs, all while expanding the soundstage drastically. 
Brian Baker is a writer and photographer based out of St. Louis. You can find his portfolio here.