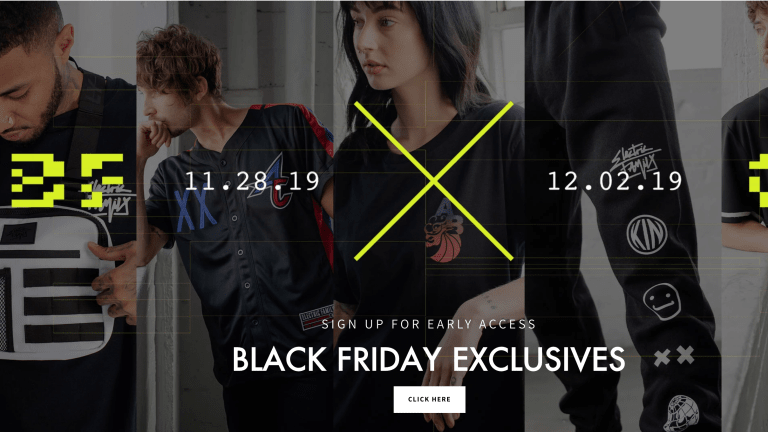 The Top 5 Black Friday Deals for Your Favorite Music Lover
Don't miss out on these incredible Black Friday sales designed specifically for music lovers.
With the holiday season right around the corner, it's time to start planning out the gifts you plan to give your loved ones - and maybe even a little something for yourself.
We know how expensive this time of the year can get, so we scoured the internet to find some of the hottest deals coming out this Black Friday and Cyber Monday for the music lover in all of us:
1. ELECTRIC FAMILY
The first place to start shopping for a music fanatic should be Electric Family.
"Electric Family is a brand that demonstrates authenticity and transparency, seeking to reach new audiences through a mixture of our unifying philosophy and edifying street culture. We are committed to our mission and are certain that we can leverage the influence of our brand and artist collaborators to make an immense global impact."
Deals kick off November 28th at 9:00 PM PST
Free (US) Priority Shipping on Orders $80+
10+ LTD Edition - Artist Collaborations
12+ LTD Edition - Black Friday/Cyber Monday Products
Our Favorite Products:
They will also be having a HUGE Cyber Monday surprise collab. Check their socials Sunday, December 1st at 6:00 PM PST for the announcement.
2. DIFF Eyewear
DIFF Eyewear has donated over 1 million pairs of reading glasses to individuals in need around the world. For each pair purchased, a pair is donated. Socially conscious and charitable at heart, the DIFF Eyewear family strive for the perfect pair of sunglasses - don't miss out on their massive Black Friday sale.
Considering that DIFF makes some of the hottest eyewear available, their sales are truly to die for (offer available now).
Buy 1, Get 1 Free
Buy 2, Get 3 Free
3. GenZ - RaveRunner Hydration Pack
Makers of the industry-leading anti-theft hydration pack, the GenZ RaveRunner Festival Hydration Pack is constructed with slash-proof nylon so you don't have to worry about it getting cut open to access your valuables. This also makes it extremely durable.
Already a leader in keeping festivalgoers healthy and hydrated, the GenZ Black Friday sale makes it too good to pass up.
Free 'Underglow' with any Hydration Pack Purchase
The GenZ Underglow is a light-up disco ball that attaches to the bottom of your RaveRunner Hydration Pack
Transforming your surroundings into a mobile dance floor that we like to call the "instant friend magnet"
4. Festival Tickets
Some of your favorite festivals also host special sales for Black Friday. If you've been holding off on attending one of these festivals because of the price, this is the perfect time to get in while you can; sometimes experiences are the best gift of all.
Dancefestopia 2020
Bonnaroo 2020
Electric Zoo 2020
This will be your ONLY shot at paying the cheapest price possible⠀
Loyalty fans will be sent an individual discount code that they'll be able to use
5. Production Software
If you or a loved one are a producer, this is the best time to hop on sales. Make sure to head over to these sites to pocket a major bargain on music software, hardware, sample packs, VST plugins and more:
These are just some of the great Black Friday deals that music lovers can take advantage of during the 2019 holiday season. Go take advantage of all the great sales taking place this weekend, and have a safe and happy holiday.