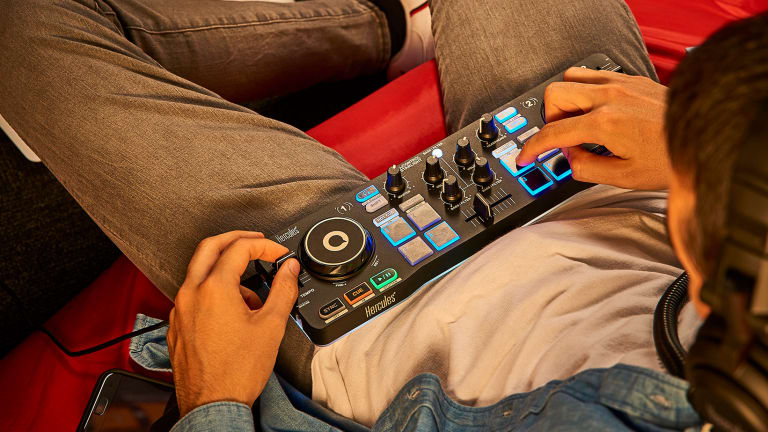 Hercules' DJControl Starlight Is An Essential Companion For Serato DJs
Scratch and Go: What's the best compact Serato controller for traveling DJs?
Whether you want to maximize your travel time or prep for a gig, the Hercules DJControl Starlight is an essential companion.
"Being able to work on-the-fly, on the plane, while waiting for our flight, is a big must for me," said S.P. Entertainment's Rob Awtkazt, who DJs events nationwide and runs a popular product review YouTube channel. "It kills time, keeps me busy, it keeps me creative, and allows me to focus on some work during my downtime."
The Starlight is great for working on a set wherever you are, but it's also a good backup controller to have on hand - and it's small enough that it's never a pain to pack. 
PDot, the man behind the popular DJ gear vlog, notes:
"This is going to stay in my bag from now on, because if I ever run into any issues, I can just pull it out of my bag with my aux cable and get to work without having to miss a beat. Being able to just plug it into one channel in the mixer and getting two-deck control is a huge is plus." 
Along with its size and portability, the DJControl Starlight addresses a major pain point in compact controllers: scratchability. "In the terms of old school DJs: I should be able to just scratch and let go and it'll continue playing," Awtkazt explains. "That's my definition of being able to scratch." Rather than needing to pause and hit play again, the DJControl Starlight mimics the responsiveness of vinyl, allowing proficient DJs to scratch more naturally.
Scratchability is great, but controllers also need to work with the software suites where most of your sets live. Many DJs have been using Serato for years and need their controller to play well with it. "Serato has been my go-to software since the early 2000s," Rob Awtkazt agrees. "I have all the plug-ins, I'm so efficient and effective with the workflow, I'm not comfortable with using anything else." With the DJControl Starlight, experienced DJs don't have to learn the ins and outs of a new interface. They can just grab their controller and go.
Rob Awtkazt concludes: "This is the game-changer that I've been looking for. It's compact, it's Serato-compatible, and it's scratchable."
FOLLOW HERCULES:
Website: hercules.com/en-us/dj/
Twitter: twitter.com/herculesdjmix
Instagram: instagram.com/hercules_djmixroom
Facebook: facebook.com/HerculesDJMixRoom
YouTube: youtube.com/user/HerculesDJmixroom