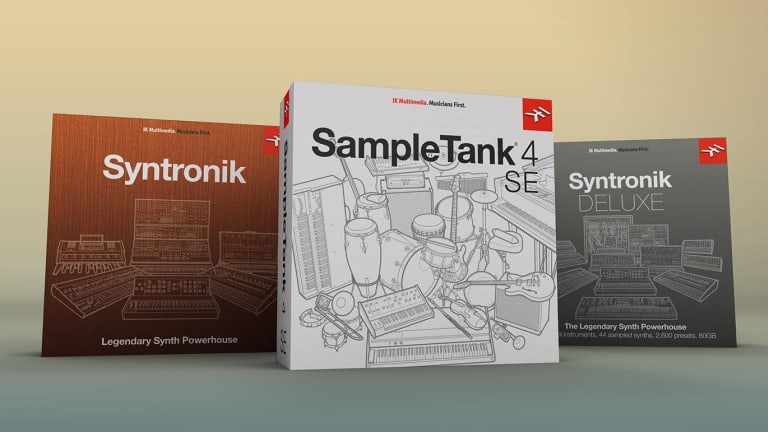 Enter To Win! The Ultimate Producer's Bundle
Our good friends from IK Media called us. They want to hook up a follower with some gear!
Launched in 1996 in Modeno Italy, IK Multimedia set out with the mission of bringing the high-quality sound of classic analog gear fully into the digital realm. Their core objective was to find a solution to the question, can we "emulate electronic circuits using DSP algorithms" that will "feed an audio signal through the computer and get the same sound?" 
Ultimate, the answer to this question was a resounding "Yes!" IK Multimedia's first piece of gear emulated a vintage Abbey Road console – a nod to their longstanding goal of bringing the power of classic, legendary products to musicians in a way that is simple, inspirational and incredibly affordable.
The IK Multimedia company motto "Musicians First" is a perfect illustration of their mission manifest. The IK Multimedia team were musicians first and foremost. From the engineers and software designers to the marketing and sales team, every product is designed from the perspective of a musician, "Would we use this ourselves?" This means that they only design and create products created from the perspective of musicians, with the objective of making each product easy-to-use and accessible for musicians of all stages and styles. 
In order to enter, follow the instructions in the widget below. The winner will be contacted by email, and bonus entries will be awarded to entrants who complete the bonus actions.
From synths, drums, and mobile apps to hardware, software, andadditional accessory products designed to amplify, improve, and accelerate the music creation and recording process, IK Multimedia is world renowned for partnering with many of the biggest music companies in the world. By bring unique and innovative digital solutions to the music marketplace, iconic brands such as Fender®, MESA/Boogie®, Ampeg®, Orange® Soldano® Gallien Kruger®, Seymour Duncan® are able to bring their years of experience and product development fully into the digital space.
Perhaps most importantly for producers in the world of electronic music, IK Multimedia focuses on creating products that musicians can use to create music whenever and wherever the inspiration strikes them. As a hands-down industry leader in the space, IK has pioneered the mobile music segment of the market with a range of over 50 accessories and apps for the iPhone/iPod/iPad. IK was even first company to introduce the wonderful world of mobile guitar tone (AmpliTube and AmpliTube Fender® for iPhone/iPod touch/iPad), all in a cost-effective and easy-to-use way.
FOLLOW IK MULTIMEDIA:
Website: ikmultimedia.com
Facebook: facebook.com/ikmultimedia
Twitter: twitter.com/ikmultimedia
Instagram: instagram.com/ikmultimedia
SoundCloud: soundcloud.com/ikmultimedia