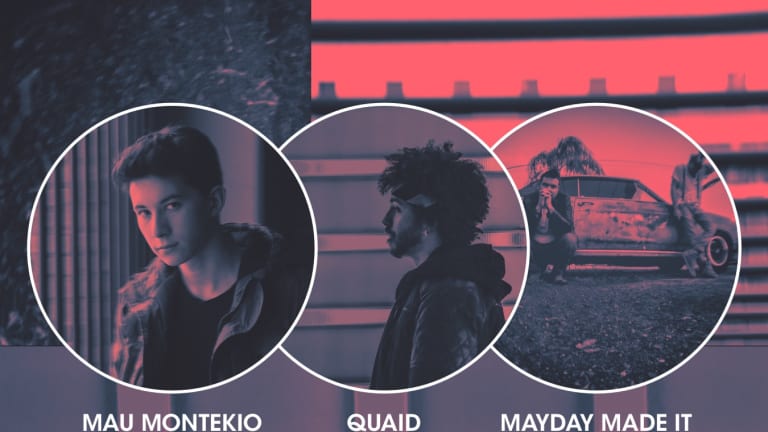 Mixed In Key Announces #TwoGenres Music Production Contest Winners
Expert judges Kaskade, Nicky Romero, Morgan Page, Dzeko and more selected the winners of Mixed In Key's #TwoGenres production contest.
In early November, Mixed In Key launched the widely acclaimed and professionally judged #TwoGenres contest, an innovative competition offering music producers the opportunity to show off their skills and win fabulous prizes. 
Talented producers from around the world were challenged to submit an original song that combines elements from two different musical genres. The submissions were then judged by a panel of industry experts including Kaskade, Nicky Romero, Morgan Page and Dzeko as well as label executives Alex Soifer of Warner Music Group and Lorne Padman of Steve Aoki's Dim Mak.

The winning submissions for the contest have been chosen by the all-star judging panel, and we're excited to share them with you! 
Grand Prize
Mau Montekio won the Grand Prize in Mixed In Key's Music Production contest with "LoveBlind" ft. Paolla Nicolau. This innovative track is written in a 3/4 time signature and combines waltz, acoustic, pop and electronic music.
On the topic of "LoveBlind," Montekio said:

"Every time I start a project I like to think that genres do not exist, that music is a blank canvas where stereotypes have not been established yet. In that way, I can always create something unique.

For 'LoveBlind' I ended up creating an emotional trap ballad with cinematic drums, piano, guitar, trance airy pads that fly around your head, a huge wall-of-sound lead for the drop, and all this in a 3/4 waltz time signature. See what I mean? For me it's always a surprise what the result is going to be, and I always enjoy it a lot."
Check out Mau's awesome video teaser:
Best Hook Prize
Quaid won the Best Hook prize with "FRKYWLDGRLZ," a track that combines surf-rock and trap. On the topic of the single, he said:
"To pull this off it needed an authentic surf rock feel, something reminiscent of The Beach Boys, but at the same time I didn't want to go completely vintage so I went with an urban beat that to me feels reminiscent of Outkast but with the familiar trap drums as well that we all are accustomed to today... so basically surf rock and urban/trap."
Crazy Combination Prize
Mayday Made It won the Crazy Combination Prize with "Gimme One More Time." He mixed together doo-wop and pop, and gave these genres a fresh take by combining them together with modern production techniques. 
Speaking on "Gimme One More Time," Mayday Made It said:
"It definitely has that doo-wop, barbershop style at the core. The whole song is based off of 'radio ina one time.' It created the bass line, upon which the piano and the horns and vocals were built. Then you add in a little swing, a touch of rhythm and blues — with some deep southern soul? I don't know it's so hard to say now days. My joke always is I produce "EDM" — I write it electronically, you can dance to it, and it's music. I'm a better musician than I am a comedian, though."
CONNECT WITH MIXED IN KEY:
Website: mixedinkey.com
Facebook: facebook.com/mixedinkey
Twitter: twitter.com/MixedInKey
Instagram: instagram.com/mixedinkey
YouTube: youtube.com/user/mixedinkey1