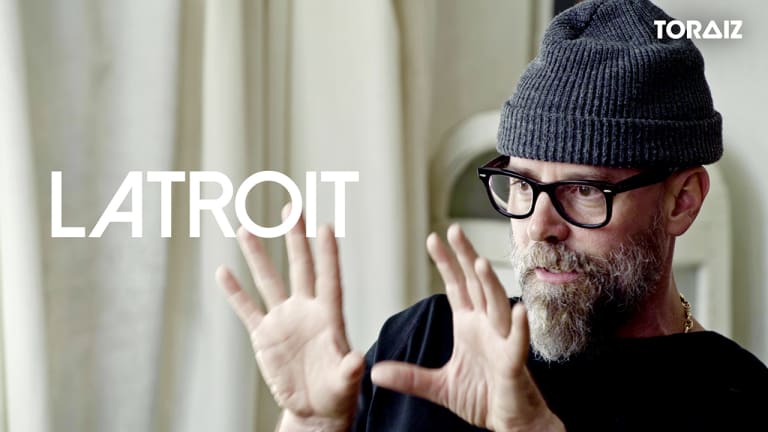 Pioneer DJ's TORAIZ Explores the Process of Turning Vision into Music with Grammy Winner Latroit
Pioneer DJ also showcases L.A.-based producer Latroit about the making of his new single, "Four On The Floor," and his use of the Pioneer DJ TORAIZ music production line
As the world leader in DJ performance equipment, Pioneer DJ has maintained a position at the very forefront of the electronic music industry. In order to strengthen this reputation and provide value to artists and fans alike, Pioneer DJ also focuses on shining a spotlight on unique and intriguing pieces of music culture, from the mainstream to the underground.
In line with this strategy of unifying product with culture, Pioneer DJ just released an artist profile documentary featuring the creative process and visionary musical approach of L.A.-based, Grammy Award-winning producer Latroit (real name Dennis White). With the goal of achieving deeper integration within the electronic music community, Pioneer DJ couldn't have picked a better artist. 
From his start as a member of the influential Detroit techno group Inner City to his release of his hit record "Happy People" (charted by Fatboy Slim as one of the top ten songs of the decade), White is an undisputed music industry veteran with a hard-earned reputation as a true pioneer of house music. A Producer, Composer, and Performer with ARIA and BPI certified gold, platinum, and double platinum-selling records, as well as over twenty top 10 Billboard Club Chart tracks and dozens of TV and Film placements, White has done it all, and is now focused on channeling his passion into discovering and promoting emerging musical talent from around the world. To put it simply, Latroit's music holds history in one hand and the future in the other. 
The short film included below highlights Latroit's use of visual art and imagery as a source of inspiration in his productions, while also exploring how he escapes his comfort zone of relying on software and VST plug-ins in order to create his new single, "Four On The Floor." In the video, Latroit demonstrates how "Four On The Floor" was instead created largely on external hardware, synths, and sequencers from Pioneer DJ's 'TORAIZ' line.
Learn more about the TORAIZ line of musical instruments.
In case you missed it, "Four on the Floor" is the latest single from Latroit's spring/summer collection, and it's already blowing up dance floors worldwide with the backing of fellow electronic music legends Kaskade, David Guetta, Paul van Dyk, Oliver Heldens and many more.
Stream or Download "Four On The Floor" today.
FOLLOW LATROIT:
Website: latroit.com
Facebook: facebook.com/latroit
Twitter: twitter.com/latroit
Instagram: instagram.com/latroit
FOLLOW PIONEER DJ:
Website: pioneerdj.com
Facebook: facebook.com/pioneer.dj.global
Twitter: twitter.com/PioneerDJglobal
Instagram: instagram.com/pioneerdjglobal
YouTube: youtube.com/user/pioneerdjglobal
FOLLOW PIONEER DJ TORAIZ:
Facebook: facebook.com/TORAIZglobal
Twitter: twitter.com/PioneerDJglobal
Instagram: instagram.com/toraizglobal