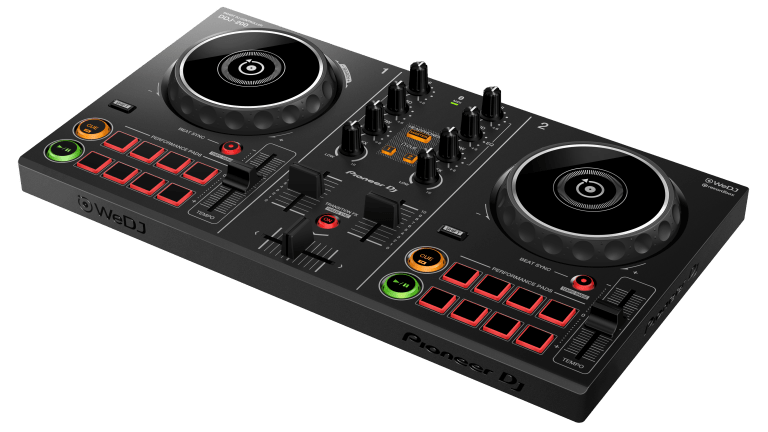 Pioneer Releases Entry-Level DDJ-200 with Streaming Service Music Control via Smartphone
The beginner-friendly Pioneer DDJ-200 can import music from Spotify, Soundcloud, Beatport and Deezer.
The legendary Pioneer DJ has just released its most beginner-friendly mixer yet, the DDJ-200. The DDJ-200 is a compact mixer aimed at beginners looking to step their game up from casual song selection and playlist creation. The DDJ-200 is the first mixer of its kind to span the gap between smartphones and DJ controllers.
Though the DDJ-200 is aimed at beginners, it features all the essentials (jog wheels, three EQ knobs, faders, large tempo fader, etc.) that pros and enthusiasts are used to. Anyone familiar with DJ controllers will be more than comfortable with the DDJ-200 layout.
In addition to the the classic controls, the DDJ-200 also hosts features aimed directly at beginners. Pioneer DJ has created Tutorial Mode, a Pop-Hint feature that gives tool tips for controls, tempo sync and phrase sync, and Transition FX, among other things. All these features are touted to help those will little or no experience learn to beat match and DJ in no time.
What really sets the DDJ-200 apart from all other mixers, however, is its ability to play music solely from streaming services. No local music is required to mix a set. Depending on the hardware-software combination used, the DDJ-200 can mix music streamed from services like Spotify, Beatport LINK, Soundcloud GO+, and Deezer.
The Pioneer DDJ-200 is priced at an easy $149. More information can be found here.
Follow Pioneer DJ
Facebook: facebook.com/PioneerDJusa/
Instagram: instagram.com/pioneerdjglobal/:
Twitter: twitter.com/PioneerDJ