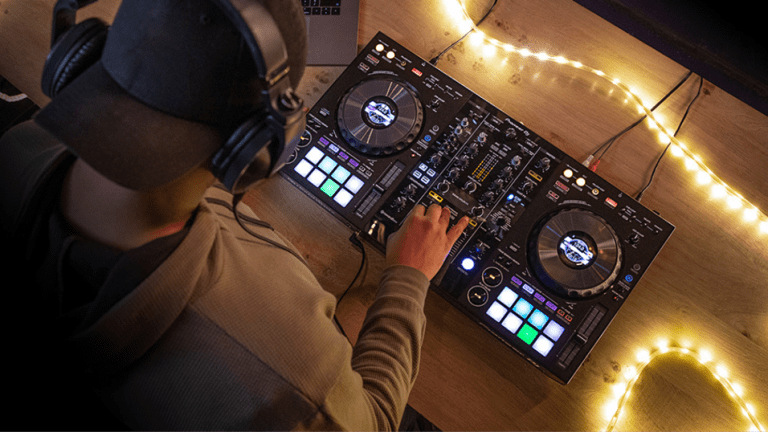 Pioneer DJ Welcomes the Next Generation of DJs with Their Latest Controllers
From entry level DJ controllers to festival ready CDJs, Pioneer DJ is focused on helping DJs at all experience levels.
Pioneer DJ have been in the electronic dance music game since they released the first CDJs back in 1994. Since then they've strived to continue creating innovative and high quality products that keep up with the growth of the EDM industry. Their latest DJ controller, the DDJ-200, is a testament to their efforts and is the final piece in inspiring a new generation of DJs to go, what they call, "Beyond the Music."
DDJ-200 - Beginner
For those interested in diving into their passion for EDM, this beginner level DJ controller is the first step in learning how to mix music. As a simpler version of their more intermediate level controllers, the setup is pretty much the same, but with less controls and buttons. 
However, what makes this the ultimate learning tool, is its compatibility with free apps like WeDJ for iPhone, Algoriddim's djay, edjing Mix and rekordbox dj. Once you master one, you can easily transition to rekordbox dj, which is a standard with other Pioneer DJ controllers.
Although the other free apps offer tutorials that walk you through the DDJ-200, Pioneer DJ has an additional 12 tutorials on YouTube that'll help you navigate WeDJ. The reason for this is that WeDJ is every beginner's dream. The app offers its users a variety of easy-to-use creative controls with transitions and effects that'll have your mixes sounding smoother.
For example, when the controller's Transition FX button is on, you can pick from more than a handful of cool transitions like a filter mix or echo out cut. Then, you simply move the crossfader and it'll apply that transition automatically to your mixes, given both tracks are playing. 
The DDJ-200's size is another reason why it's perfect for beginners. When you're finally confident enough in your mixing and you're ready to start deejaying at your friends' house parties, you won't have a problem bringing your DJ equipment along. The controller is lightweight, slim and is a little over a foot in height, so it'll fit in your backpack with no problem. 
With WeDJ and other free apps being right on your phone or tablet, there's no need to bring a laptop either (unless of course you're more comfortable with that). And depending on whether you use your phone or laptop you can access your music from your iTunes or rekordbox library or from Beatport LINK, SoundCloud Go+, Deezer or Spotify.
For a little motivation, here's a mix the online DJ school, Crossfader, did using the DDJ-200 and WeDJ:
DDJ-400 - Intermediate Lower
If you want to get better at playing at house parties and maybe even venture into DJng weddings, the DDJ-400 is the second step in the learning process. Quite similar to the DDJ-200, this intermediate DJ controller has some of the same features that will help you master the basics. On the other hand, it also shares a similar layout to club standard players like the DDJ-1000 and CDJ-2000NXS2 with its buttons and knobs. When it comes down to it, it's the best of both worlds.
Offering DJs even more creative freedom, the controller has Beat FX, Sound Color FX and CDJ-style looping controls. And with all of these cool features, Pioneer DJ has six tutorials with Australian DJ, DJ Ravine, to show you how to effectively use them. 
Unlike the beginner controller, the DDJ-400 isn't compatible with as many free apps. Made for rekordbox dj, the only free app option available would be djay for iOS and djay Pro for your laptop. Both of those apps will also let you pull music from Spotify Premium.
To interact with your audience and hype them up, the intermediate controller also has its own mic input that produces crystal-clear sound. You won't hear any distortion even at high input levels.
DDJ-1000SRT - Intermediate Upper
The closest you can get to the industry standard CDJ and DJM setup is with this intermediate controller. It comes in two options, the DDJ-1000 for rekordbox dj and the DDJ-1000SRT for Serato DJ Pro. If at this point you've mastered rekordbox dj, it's safe to say you're more than ready to tackle Serato. It's one of the most popular professional DJ software and it'd be good to know moving forward. 
On the topic of professional DJ equipment, the DDJ-1000 has a great combination of features from the CDJ-2000NXS2 DJ player and DJM-900NXS2 DJ mixer. It has four channels, full-size jog wheels with LED screen jog displays, four Sound Color FX and 14 Beat FX.
With more performance pads you can do hot cues, rolls, slicer, sampler and pitch play. And you can be even more creative with these features than you could before. For example, you can change the parameters for slicer to make sliced-up beats more quickly. Serato also has their own feature called "Pitch 'n Time DJ" where you can experiment with key shifts and syncs. 
All of these endless creative possibilities may seem a bit overwhelming, but Pioneer DJ also has six tutorials on YouTube for the rekordbox dj version of the controller that goes over everything you need to know to get started.
If the DDJ-1000 is still not enough for your preferred setup, it has quite a few inputs and outputs so that you can connect CDJs, analog turntables, standalone DJ mixers, PA speakers and microphones.
CDJ-2000NXS2 - Advanced Upper
The top rung of the skills ladder is finally graduating from a DJ controller to a DJ player. At this point you've honed your craft, have lots of experience and you're ready for the big leagues. Pioneer DJ's cream of the crop, the CDJ-2000NXS2, is what most of your favorite DJs like Hardwell, Kaskade, Alison Wonderland, Alesso, Martin Garrix and Steve Aoki use at big festivals and clubs. Paired with the DJM-900NXS2 DJ mixer, it's the ultimate DJ tool.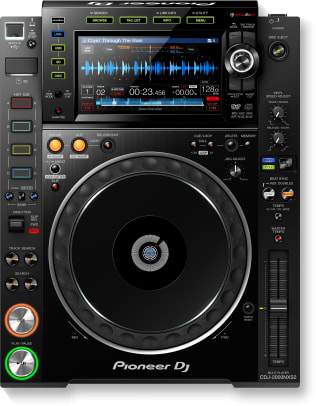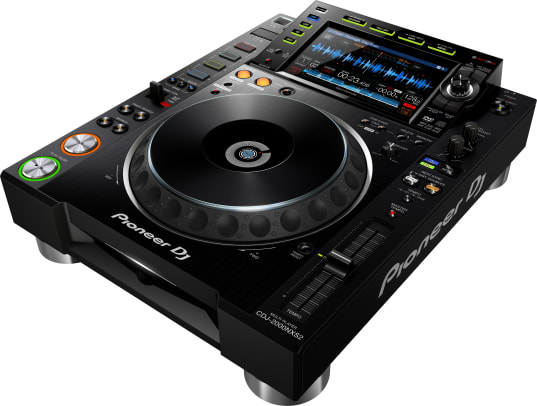 The CDJ-2000NXS2 has a seven-inch touch screen that lets you have more control of different features and shows track information such as the phase meter, wave zoom and needle countdown. One of the best features about the touch screen is being able to use a Qwerty keyboard, keyword search and track filter modes to search for tracks faster. It definitely comes in handy when you find yourself in a time crunch.
With eight illuminated hot cues that have four color options, this CDJ gives you all of the creative freedom you could ever hope for. And if you end up using rekordbox dj, you can use the memory cue to set, name and color code them too. The Quantize FX also makes working with hot cues easier. It'll snap them and your loops to the rekordbox beat grid and you won't have to worry about that part of your performance sounding right.
Taking sound quality to a whole other level, the CDJ-2000NXS2 has a 96 kHz/24-bit sound card and supports a wider variety of file formats like FLAC, Apple's lossless audio (ALAC), mp3, wav, AAC and AIFF. And with an improved digital signal processing (DSP) and Digital Out, it's basically guaranteed that your output will be nothing less than crystal-clear, high-resolution audio. 
What makes this an even more versatile DJ player is how it's compatible with other widely used professional DJ software like TRAKTOR PRO 2, Serato, djay Pro and rekordbox dj. Since it supports the USB-HID control of these programs, there's no need for a control disc. 
To get a better sense of how some of your favorite DJs go about using the CDJ-2000NXS2, Laidback Luke delivered this DJing tutorial: 
XDJ-XZ - Advanced Lower 
If you're not quite sure if you want to journey into the world of CDJs and DJ mixers just yet, Pioneer DJ's soon-to-be-released, all-in-one DJ system is a fun alternative to the CDJ-2000NXS2 and DJM-900NXS2 setup. Not necessarily a step on the learning ladder, the XDJ-XZ is still worth considering if you're on a budget and still want to be able to perform high quality mixes in clubs, bars and in your own studio.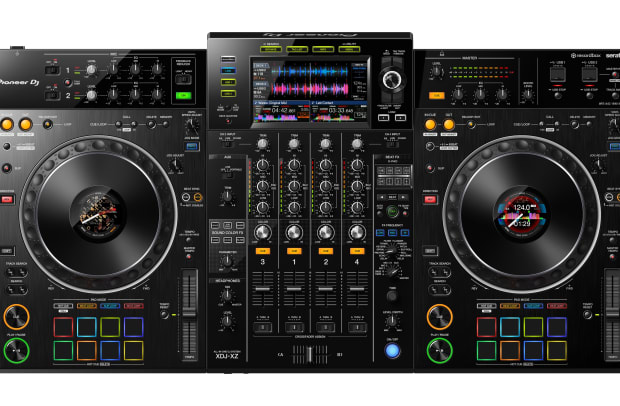 This DJ system has similar features to those of the DDJ-1000 and CDJ-2000NXS2. It has full-size jog wheels with LED screen jog displays, six Sound Color FX, 14 Beat FX and a seven inch touchscreen where you can browse music libraries. It's also compatible with rekordbox dj and, in early 2020, Serato.
With four channels, the all-in-one DJ system supports Pro DJ Link. This means that you can add other DJ equipment like CDJs or DJ samplers to its third or fourth channel. And like the other DJ equipment, the mic output sound is just as clear. Its Feedback Reducer also ensures that there won't be any "howling" affecting the mic.
The best part about the XDJ-XZ is that it's easy to transport and set up at whatever gig you're playing at. Unlike the CDJ-2000NXS2 and DJM-900NXS2 setup where you'll be carrying three separate pieces that you'd have to connect, this DJ system's single-unit design and grab handles is considerably less work. 
If want to learn how to DJ or you're in the market for new DJ equipment, Pioneer DJ and their different skill level products is your best bet at learning how to mix and master your skills.