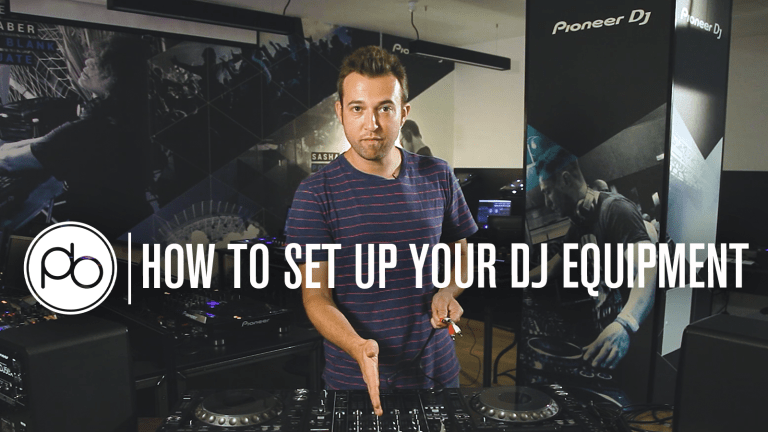 Watch Point Blank Music School's Comprehensive Guide to Setting Up Your DJ Equipment
Point Blank Music School shows you step-by-step how to optimize your first set-up.
So you've bought your first set of decks, or maybe you've finally upgraded your equipment or even just added some CDJs for the first time… happy days! 
Of course, now you have to set them all up, and despite Pioneer's continued commitment to making their tools as easy to use as possible, to get the most of out of your new toys you need to set them up properly. 
Luckily, Point Blank's lead DJ instructor Ben Bristow is on hand to show you both the basics and a few tricks to fully optimize your set-up. NB: Though he is using top-of-the-range equipment from Pioneer, much of this video applies to decks and mixers of all makes and models. If you fancy learning to spin tunes, Ben himself teaches many of Point Blank's DJ Courses in London.
Check out the video above for a comprehensive guide to setting up your DJ equipment. As Point Blank's lead DJ instructor, Ben Bristow has set up more than his fair share of DJ studios in his time, so you can be sure that if you follow his advice you can't go wrong.
 In the video, he covers the basics of which inputs and outputs to use on your mixer. In this demonstration, Ben uses a Pioneer DJM 900 Nexus, along with two Pioneer CDJ 2000 Nexus'. He plugs everything into a separate LAN hub also to allow for perfectly quantized effects – meaning your mixer will automatically match the tempo of your effects to your tracks. 
Later we learn the slightly more fiddly trick of enabling the fader start function, allowing you to start and restart a track from its queue point using the crossfader – especially useful for scratch DJing. Another lesser-practiced trick is to update the firmware on your CDJs, which will ensure there are no compatibility issues with Rekordbox.
We hope this is a useful tool for anyone setting up new equipment or those wanting to make sure everything is performing optimally. Get loads more advice, and comprehensive instruction in whatever style of DJing you're interested in, with a DJ Course at Point Blank. They offer these in London, Los Angeles, Ibiza and Mumbai, and if you're using virtual DJ software you can even study online. For more information or to speak with an admissions advisor, contact them using this form.
Connect With Point Blank Music School
Website: pointblankmusicschool.com
Facebook: facebook.com/pointblankmusicschool
Twitter: twitter.com/Point_Blank
YouTube: youtube.com/pointblankonline
Soundcloud: soundcloud.com/point-blank