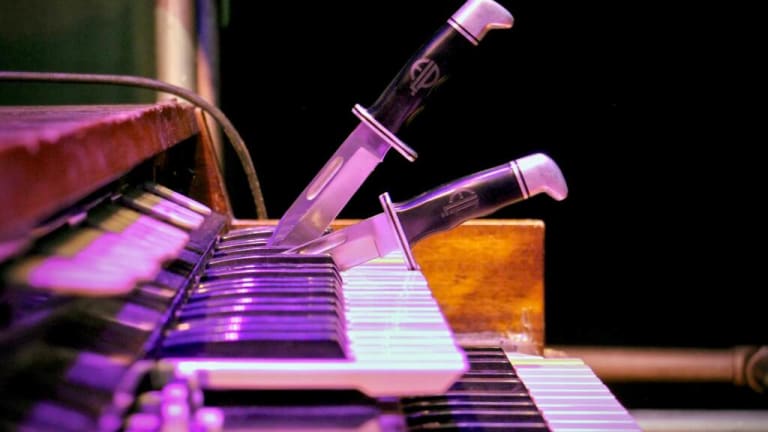 This Random Pennsylvania Warehouse Preserves Electronic Gear Used by Kraftwerk, Jimi Hendrix, More
The Electronic Music Education and Preservation Project houses 30,000 square feet of iconic amps, synthesizers, guitar pedals, mixing boards and more.
Located about an hour north of Philadelphia, Harleysville, Pennsylvania is not exactly an EDM destination town. However, a warehouse in the town of 9,500 is reportedly the resting place of a treasure trove of rare electronic music artifacts used by legendary artists from the 1930s through the late 80s.
The nearly 3,000-piece collection was started 20 years ago by Vince Pupillo, a longtime fan and player of electronic music. Over time, he became known as "the guy who would buy instruments that otherwise might be thrown away," according to a report by WHYY. 
"I did whatever I had to do to get those instruments under one roof and preserved," Pupillo said. "A lot of musicians and folks in the music industry, they want to preserve their legacy, and they see what we're doing."
Today, Pupillo presides over a 30,000 square foot warehouse that moonlights as the Smithsonian of electronic music.
Among the exhibit's ranks are a Sennheiser vocoder owned by Kraftwerk, the guitar pedal used by Jimi Hendrix at Woodstock, and the 10-foot-tall Moog system hauled on tour by rock & roll keyboard legend Keith Emerson. Even a Con Brio ADS 100—one of the world's first digital synthesizers—is on display after being used to make the 1982 soundtrack for Star Trek II: The Wrath of Kahn.
The space is also home to a recording studio, museum and learning center operated by the Electronic Music Education and Preservation Project (EMEAPP). Founded in 2017 by Pupillo, the non-profit organization oversees research initiatives, in-person performances and exhibit tours. Its "Artist in Residency" program even helps individuals visit, study and utilize the collection for personal projects.
"There are really wonderful, human stories behind those instruments," Gotye (of "Somebody That I Used to Know" fame) told WHYY. The Grammy Award-winning musician currently sits on EMEAPP's Advisory Board. "They're often so surprising and unlikely that they feel like an antidote to what feels like the same narratives we hear again and again in the culture."
While the warehouse is currently open by appointment only, you check out "sonic test drives" of its various artifacts here. You can also register as a free member.