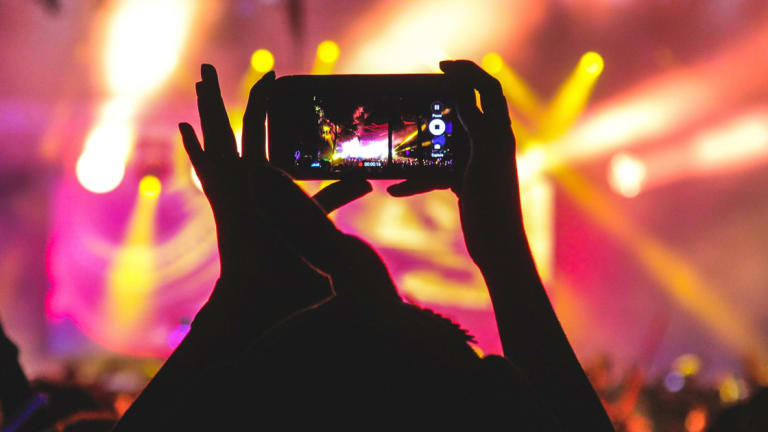 Hot Samsung Tech to Match Your Summer Festival Outfits
Samsung's current tech ecosystem is perfect for concerts and festivals.
This summer marks the 10th anniversary of the Samsung Galaxy smartphone, and with it comes their latest ecosystem of phones, wearables and headphones that are must haves for any serious concertgoer. 
Here's our top 5 go-to tech must-haves for concerts/festivals:
5. AKG N700NC Headphones
AKG's latest wireless over-the-ear headphones are great for the commute to and from the venue. With a push of a button you have the option to instantly tune out the rest of the world and get into the concert/festival zone with its adaptive noise canceling feature. However, for us, our favorite part about these fashionable wireless headphones (especially with all of the EDM we listen to) is their amazing bass response. 
4. Galaxy Watch Active
If you're curious how many steps you're racking up from dancing and walking all over the festival grounds (or how much sleep you'll actually be getting after the night's adventures), Samsung's lighter and sleeker Galaxy Watch Active can help with that. 
Although health and sport active people will love its health app and auto workout detection, our favorite feature is its stress level detection. Mental health is pretty important to us and what's really cool about this is that you can take Breath Sessions to get yourself to a calmer and more relaxed state. 
3. Galaxy Buds
Another option if you don't like over the ear headphones is the Galaxy Buds. Much like the N700NC, they also have an adaptive noise canceling feature and a long battery life of 13 hours. 
What makes this rank higher is its comfortability and splash-resistant technology. With three adjustable eartip and wingtip sizes, it's hard for these to fall out of your ears regardless of how active you are. So dance the night away and don't worry about building up a sweat, either. Being splash resistant, the ear buds can handle some water and sweat.
2. Galaxy Watch 
The Galaxy Watch, with its rotating bezel that makes navigating through apps easier and its digital analog watch face that can always stay on (battery life lasts for days on a single charge), is the more stylish option of the two Samsung watches. There's also a Bluetooth and LTE version, which makes it a standalone phone and messenger.
Paired with the Galaxy Buds, the LTE version also makes listening to music as hands free and easy as possible. When you're out for a jog or going to a festival, you don't need to take your clunky phone to stream music on Spotify, to message your friends or use Samsung Pay. You might want to take your phone just for some spectacular photos, though. 
1. Galaxy S10, S10+, S10e (with Samsung Pay)
Samsung's Galaxy S10 is one of the most elite smartphones on the market and offers a lot of features, but for us concertgoers the best thing about this Android is its ability to capture our favorite concert/festival moments. With five different cameras (three in the back and two in front), you have plenty of photo and video options:
Back:
12mp Wide Angle
12mp Telephoto
16mp Ultrawide 123º angle (our eyes can only see 120º!) with the option of an Ultrawide Panorama
Records HDR10+ video
Front:
10mp Selfie Camera
Records Ultra HD video
If you're not a professional photographer or videographer, you can still take stunning photos and videos. The smart camera can identify 30 different scenes, it offers composition tips like if the photo is level and if the shot looks good, it has photo options like changing the lighting and blurring the background which you can try in real time before you even take the picture, and it has a super steady camera option.
After you're done getting that perfect picture and you're ready to share it with the world, Samsung partnered with Instagram for Instagram Mode which makes it easy to take a picture and automatically post to the app.
And if you like to edit your videos before posting them, Samsung also partnered with Adobe for a video editing software just for your phone, Adobe Premiere Rush CC (Ru), which makes it easy to do some advanced video editing. 
Another cool and useful feature when you're out and about at a festival and you don't necessarily want to go all the way to a charging station, you can use a friend's Galaxy S10 to charge your phone (we tried charging an iPhone and it worked too). You can actually use it to charge your other Samsung devices like the Galaxy Buds too. 
Like Apple Pay and Google Pay, Samsung has their own mobile payment and digital wallet service, Samsung Pay, that works on your Galaxy wearables and phones. The biggest difference though is that it's accepted everywhere unlike its competitors. So you can go cashless at any concert or festival without the worry. 
When it comes to finding an item you're looking to buy, all you need to do is take a picture of it and the Amazon app will automatically pop up with it ready for you to purchase. With using Samsung Pay, you can also earn points for gift cards or towards other Samsung devices. 
Bonus: Galaxy Tab S5e
Although there's not much use for a tablet at a concert or festival, the Galaxy Tab S5e is worth mentioning for when you have to fly or drive to another country or state for that event. Usually when you're traveling you end up bringing a laptop for work and tablet for fun.
With the Galaxy Tab S5e you have the versatility and balance between work and play, so you don't need to bring a laptop at all. It has a desktop feature and, if you buy a keyboard for it, you can still do work and watch movies. For that matter, it's definitely less bulkier and lighter than bringing a laptop.