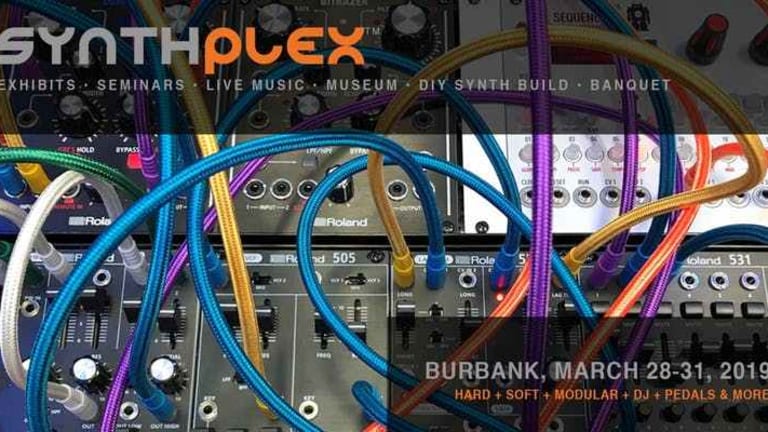 Synthplex, L.A.'s First Synthesizer Festival, to Debut in March
L.A.'s first-ever synthesizer festival promises a four-day event with speakers, workshops, a pop-up synth museum, and more
If there's one piece of gear practically synonymous with electronic music, it might just be the synthesizer. Popularized in the 1970s, synthesizers are used by DJs, producers, and composers alike to create much of the sounds heard in music today.
Now, synth enthusiasts can pay homage to the versatile instrument at the premiere of Synthplex, a four-day festival in Los Angeles featuring speakers, workshops, a pop-up museum and daily performances.
Several high-profile names in the synth community are on the bill to speak including Dave Smith (one of the most recognized MIDI inventors), Chris Meyer, Marc Doty, and festival co-founder/Grammy Award-winning synthesist Michael Lehmann Boddicker.
Though the central focus is on all things synthesizer, Synthplex has something for everyone and a heavy emphasis on education.
Composers, songwriters, producers, sound designers, and musicians make up the bulk of guest speakers and many are set to provide informative sessions on a variety of music industry topics. Additionally, over 30 artists of all genres will perform and stream live throughout the weekend on DubLab radio.
But perhaps the most exciting parts of the festival for eager synth heads will be the DIY synthesizer building workshops, or the chance to play with rare and unique synthesizers at the pop-up synth museum. Proceeds from the pop-up synth museum will benefit the Children's Music Fund, and festival organizers hope to select a new recipient for donations each year.
Synthplex™ will take place from March 28th - 31st at the Los Angeles Marriott Burbank Airport Hotel & Convention Center. More information found on the event website.
Follow Synthplex:
Facebook: facebook.com/synthplex/
Twitter: twitter.com/synthplex/
Instagram: instagram.com/synthplex_burbank/