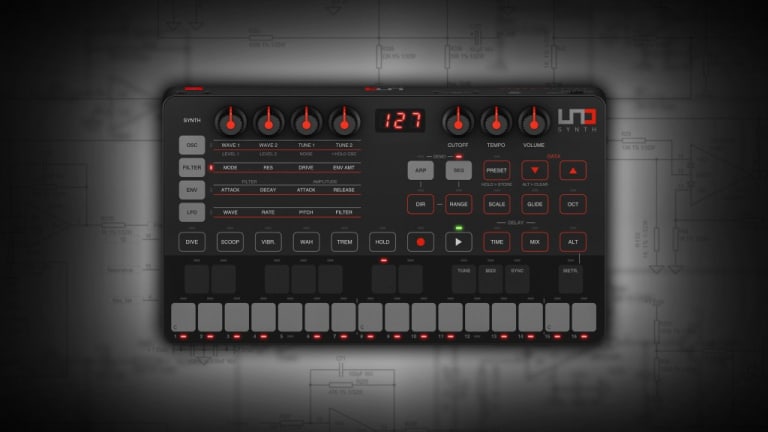 TEST DRIVE: UNO Synth by IK Multimedia
In the first edition of "Test Drive," I take a look at the ultra-portable synth from IK Multimedia, the Uno Synth.
While it's nice to have an "in-the-box" laptop solution for your music making needs, it never hurts to have a tangible instrument that you can bring anywhere you go. If you find yourself in the position of adding such an instrument to your collection, the new synth by IK Multimedia might suit your needs. 
With a 27-note keyboard, a 16-step arpeggiator, and a variety of effect and modulation parameters, the pint-sized (14 oz) powerhouse they call the UNO Synth may be what you're looking for. EDM.com was fortunate enough to get my hands on an UnoSynth recently and run it through its paces. In the first installment of the TEST DRIVE series, we'll run through some of the specifications, features and overall performance of a product. 
KEYBOARD
Before you touch a knob, the UnoSynth has 100 built-in presets (80 of them re-writable) that you can test out. Most of the presets are par for the course in terms of standard instrument presets. Not every sound is going to inspire the next hit track - but for the beginner or even novice user, there are plenty of presets that can help lay a foundation for your sound design needs. 
A great feature that's included within the synth is 13 built-in musical scale modes that users can operate to their heart's content. For example, if you get sick of using the basic chromatic scale setting, you can spice up your playing by switching the scale to the Spanish Gypsy scale. Having a variety of scales to pick from can be beneficial to any user as it expands your tonal palette and gives you different qualities that a typical chromatic keyboard may not give you at first touch.  
ARPEGGIATOR
This is without question our favorite part of the synth. The Arpeggiator is well designed, intuitive and fun to tinker with. You can have anywhere from one to a handful of notes that can be included in an arpeggiated pattern at any time.  Direction and range buttons can be used to adjust the arpeggiator.
STEP SEQUENCER
It should be noted that every preset has a built-in, 16-step sequencer ready to be played with by the user. With three different ways to record a sequence (step record, alt record and real time record), the synth gives you the ability to experiment with different types of sequencing. The step recording function provides you with all of the typical functions that any other step sequencer would give you. The real time recording function is self-explanatory. A metronome is available to use in the real time recording function and can be turned off at any time.  
Finally, the alt record function is only used to change specific functions in the sequence instead of the sequence itself. For example, you can edit a specific part of the sound to each step in this function. If you want to change the tuning of a step while the sequencer is going, it allows you to do so without effecting any other step in the sequence.  
SYNTHESIS
The Uno Synth has a 4x4 oscillator matrix that provides you with a litany of functions to shape your sound. The top left button is the oscillator function which allows you to change the waveform and tuning used for that synth. For example, you could change your wave form to a sawtooth shape and detune it a few half steps to give you drastically different sound.
The other three buttons below the oscillator are filter, envelope and LFO. These functions control your typical ADSR (attack, decay, sustain and release) functions along with other uses such as the drive of the envelope or the rate in which the LFO is used. 
MODULATION EFFECTS
Above the keyboard are six built-in modulation effects that can be used at any time. These effects range from a tremolo to a hold function. To further explain what each effect does, here's a brief overview of what each of them do below.
Dive: Enabling this button will send the frequency down to whatever pitch you're playing. 
Scoop: This button does the opposite of the dive function as it raises your frequency up to pitch. 
Vibrato: Adds modulation to your pitch akin to playing an instrument with vibrato (wavy sounding pitch). 
Wah: It gives you the stereotypical "wah" sound that is commonly used with guitar and bass players. 
Tremolo: This function modulates the volume of your signal.
Hold: This function sustains a note and holds it in place while you experiment with other effects of the synth. 
These functions are easy to use and can be used at any time to help color the users sound. They all have a quality sound to them and can be great tools to use, depending on your performance.  
Now that we've covered the parts of the synth and their specific functions, here are the full specifications to the synthesizer and everything included with it. 
SPECS:
True-analog audio path
7 different LFO shapes 
100 factory presets (80 available to be changed by the user)
16 step sequencer (length can vary from 1 to 16 steps)
27 note chromatic keyboard with the ability to play 13 different scales
Battery or USB powered (requires 4xAA batteries)
4 octave arpeggiator
Can be used on its own, with a DAW or used in conjunction with other controllers
Built in effects include delay, dive, scoop, vibrato, wah and tremolo
Has audio in/out, 2 midi mini jacks and micro USB connections
Editor software that can change the parameters of the synth
Extremely portable (weighs 14.1 oz)
Verdict: For the price, we were very impressed with what IK Multimedia was able to fit into this portable synth. While it may not be the go-to production tool for everyone, it still serves a variety of purposes. For example, its arpeggiator could provide a great spark of creativity for any producer looking to shake of a bad case of writer's block.  
Between its size, versatility and price point, IK Multimedia has a good product on their hands and they will definitely find a solid market for those looking for a quality synth at a good price.  
The UNO Synth retails at $199.99 USD and can be purchased through most major retailers. Find more info or purchase the synth here.