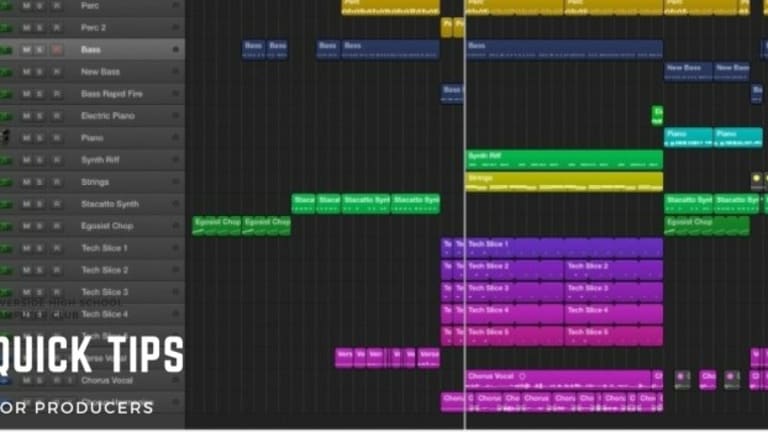 3 Tips to Help Organize Your Project in Logic Pro X
Have a sloppy project file? Here's 3 tips to help clean it up in Logic Pro X!
Sloppy project file? Here's three tips to clean up that Logic Pro X project!
Producers, let me paint a familiar picture for you. You're in the middle of a new track, generating some great ideas. You get to the point where you're doing final mixes and all of a sudden, you can't find a specific track! It's the classic case of the "missing track". When inspiration strikes, the last thing we may think of is keeping our project file clean. Music always comes first and if we think of something that can help enhance the track, that will take priority over anything else. One downside to such a situation is our lack of detail in terms of keeping the project file clean.
While every producer's workflow is unique to their own needs, it's important to keep file organization in mind. Not only does an organized project file help your own creative workflow, it can also help others who could be looking at the file as collaborators or engineers.
With that said, I have three tips that you can use to help clean up the project file in your DAW. While I'm using Logic Pro X as the example DAW, the tips in this article will also work with most of the other DAW's out there. Let's get started.
TIP #1: Color code your tracks! 
Perhaps it's just a pet peeve of mine but when I watch videos of producers breaking down their tracks and EVERY track is the same color, I shake my head in disgust. Regardless of the DAW you use, they will offer a variety of different colors that you can utilize to organize your project file.
Watching a producer use the same, stock color for every track is like going to a buffet and only getting a slice of pizza. If you have something at your disposal that can help organize your project file, do it! In terms of color coding, one thing you could do is assign a color to a particular instrument. For example, all of your lead sounds could be red while your bass sounds can be blue.
To further separate the different parts, you could also assign the same color to a particular bus. Your life as a producer will be so much easier if you can instantly separate different tracks because of the color that they're labeled. Being able to use a different color for each instrument/part will instantly give your project a cleaner look and a better workflow.
TIP #2: Use Track Stacks to condense your project
Another thing you could do to keep your project file organized is to use track stacks. In Logic Pro X, there are two different types of track stacks. Those would be Folder stacks and Summing stacks. Both are equally effective in keeping tracks organized but there is one big difference between the two. While folder stacks group tracks together, summing stacks do that along with providing an auxiliary track that can serve as a bus.
Let's say that you want to group all of your different lead tracks together in a stack. You can do that AND create a corresponding lead bus to route those lead tracks through with a summing stack. I use this technique quite often and I've found that it has sped up my workflow significantly. Depending on how you want to set up your project, both types of track stacks can bring a great deal of organization and structure to your project file.
For the Ableton users out there, grouping tracks together will serve the same purpose as the track stacks would in Logic.
TIP #3: Don't forget about the markers
For my final Logic Pro X tip, I'd like to remind all of you that the Marker function could be a gem of a tool in terms of organizing your project file. Depending on how you use the DAW, the use of markers could be commonplace or a complete non-factor. A common song writing tool for some users, the marker tool could also be used to keep your project file organized. If you choose not to use track stacks or color coding to keep your project file tidy, markers could be a viable alternative for navigating around your song with fewer headaches.
For example, if you have the different parts of the song laid out and want to keep all of the parts in a certain section of the song next to each other, you could use a marker to tag that part of the song so it'll be easy to find later on. Most producers get to a point in a project where they'll have so many tracks in the file that they could easily lose track of where they're at.
With the help of Markers, the producer can always find what part of the song they're currently working on. For those of you that are new to Logic Pro, you must make sure that the "Show advanced tools" option is selected in the "Advanced preferences" section. From there, the markers will be found under the "Global tracks" pull down button.
Conclusion
And there we have it, folks! Three easy and effective tips to help keep your Logic Pro X project file clean, organized and optimized for a smooth workflow. For those of you that aren't users of Logic Pro X, I hope that you can take something from these tips and apply it to your own workflow in another DAW. Sometimes it's the little things that can make a big impact and keeping that project clean could be the difference between a song destined for success or a song stuck spinning its wheels.