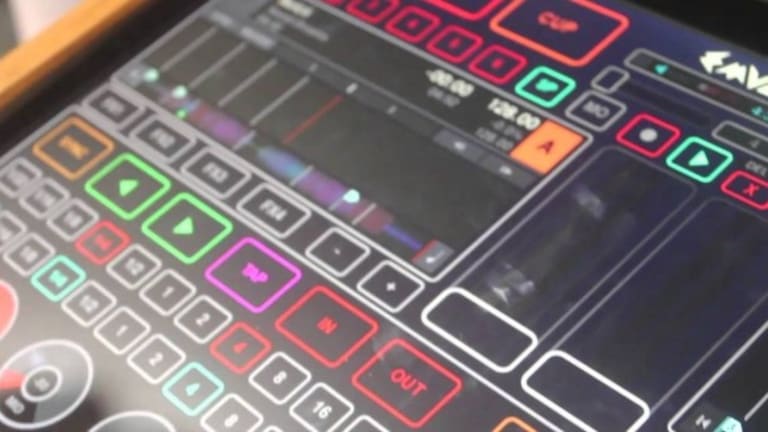 Can Touchscreen Controllers Revolutionize the Art of Live Performance?
Touchscreen controllers may soon be changing the way we think about live music.
When we go to a show, we have a good idea of what we're in for. A crowd jammed packed with fans, insane stage set up and revolving lights galore. Despite all of the attention being focused on the light show and insane sound system, not many fans notice the kind of equipment the artist is using to perform. Granted, the vast majority of producers use the same setup when they perform live. It has become common for clubs and festivals to setup a mixer and a pair (or more) of CDJ's for the artists to use. Most artists will use this provided set up with little problems. On the other hand, some artists just want to buck the trend and do their own thing.
While we're accustomed to seeing the typical "DJ set" from our favorite artists live, we get the occasional "live" act that prefers to use a mix of MIDI (Musical Instrument Digital Interface) controllers and actual instruments to perform their set. This may very well become a trend as we're starting to see more mainstream artists (ex. Chainsmokers) perform more of a live act instead of just DJ'ing. Regardless, the capabilities for live performance nowadays are endless. One option for performing can involve using a touch screen controller. You may be asking yourself, "Wait.. You can actually do an entire show using just an iPad?" Coming from someone that has actually done such a thing before, I can say with certainty that it's possible. Today, we're going to go over a few different applications that you can use on a tablet or a touchscreen computer that will enable you to perform hardware free.
Touch OSC
A well known app in the world of production and live work, Touch OSC is an app that enables you to create or modify templates that can control different software on your wireless device. This app is synonymous with Ableton users but the app can also be used with Logic Pro X, Traktor and many others. Want to control your mix on the go? Do you need more flexibility handling FX? Do you want to launch clips from your wireless device? No problem. You can create a template in Touch OSC to handle all of those functions. This app can also be programed to control lighting programs and transport functions on DJ applications like Traktor Pro 2. This handy little app can be found on Apple's app store for only $4.99. Don't worry, Android users, a version of the app is also available on your native device. Want to learn more about Touch OSC? Their website is listed below.
Jazz Mutant Lemur (IOS)
Jazz Mutant Lemur is a hardware controller that was made popular thanks to Daft Punk and their use of the controllers in their "Live 2007" setup. Like Touch OSC, Lemur is an extremely versatile app that can be used to control a variety of different software and uses within those programs. With Lemur iOS, you can map everything from step sequencers to special FX. The company is known for their power and versatility instilled in their products so you know that the Lemur iOS app will be a well crafted program. The app can be found on the App store for $24.99. Want to know more about Jazz Mutant? Their website is listed below.
Touchable
The touchAble app (now on version 3) is a program that specifically controls a variety of functions within Ableton Live. I can list the amazing things that touchAble can do but instead, the link below will show you the different ways people have been using the app with Ableton. While it may not have the software versatility that we see in Touch OSC and Lemur iOS, it's an extremely useful app for the loyal Ableton users out there. A mini version of the app can be had for $9.99 with the iPad version available for $24.99. To find out more about the company that makes touchAble, the link to their website is listed below.
Smithson Martin Emulator
The last app I'm going to talk about today is the Emulator by Smithson Martin. This app can be used on either Windows/Mac and be used with a countless number of software. The Emulator is most notably used by Infected Mushroom (an interview about them using the controller is listed below). While this app has capability to do so much, I've found that quite a few people like using this app with a DJ software like Traktor Pro 2. Artists can create templates with the exact number of cue points, loops and fx that they will need throughout their set. This can be a big life saver as most hardware controllers only have so many options for those functions. While previously mentioned apps like Touch OSC can handle some of the same functions, the Emulator takes things to a whole other level.
On top of software control within the app, Smithson Martin also offers a full sized controller called the "Elite" that is essentially the king of all touchscreen applications. Every function needed to run on your software can be handled by the Elite. The Elite comes with a case and easy plug n play system that enables you to show up and get ready for your show in a matter of moments. It's a truly incredible piece of equipment. The Emulator Elite runs anywhere from $6,000-12,000 (depending on the model) so perhaps that controller is a pipedream for most of us. Fortunately, the Emulator app can be had for $9.99 a month with the first month free. Mac users will have to use an external touchscreen with this device but rest assured, the extra piece of gear will be worth it.
In conclusion, the opportunities to perform with touchscreen controllers are just beginning to take flight. If you're a live performer that wants to add something exciting to your live set, why not include one of these apps for added control? While some of the apps I talked about have been around for awhile, I feel like we're at the point where the technology within these touchscreen applications are on par with the software that they control. Issues with latency or crashing devices are getting resolved thanks to new updates within the applications themselves.
Using these applications don't have to be considered a "gimmick" anymore. The only limitations with these apps can be your own imagination. While the traditional mixer and CDJ's remain the industry standard for DJ's, don't be surprised if more producers start to experiment with live setups that include wireless controllers. We live in a world where we communicate using wireless devices so why not use the devices to perform our music?