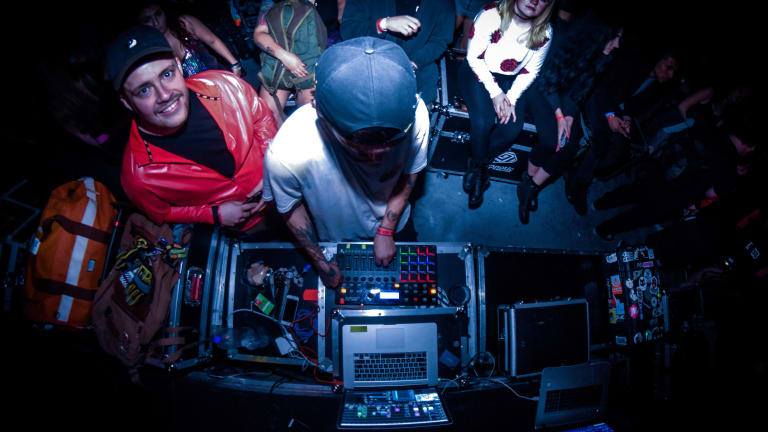 Ever Wonder What It's Like to Be an EDM Visual Jockey?
We talked to Josh Upton about what it takes to be a VJ in EDM.
Today we take a ride along with a visual artist who operates the stage lights and animated masterpieces that accompany the music from our favorite DJs. We all love to become entranced in the pretty lights, here is a peek behind the booth where the lights originate. Josh Upton gives us a crash course on the details behind being a Visual Jockey.
Catching Josh in mid-project was quite impressive. His studio was equipped with a variety of hardware items that looked similar to DJ equipment and a large screen TV configured to mirror his laptop display.
So, how does it all work?
"It's basically video manipulation through Resolume arena (media server) software. I combine segments of visual artwork that I acquire from my library and/or from the artist that I help build a show for"
From here, Josh and other visual artists will upload clips to the LED wall at the concert to put on the show for the audience, syncing up to the music in real time. The general idea is to combine clips, visuals, logos, illustrations, and animations for a mix that matches the DJ's music. The mashup is much like how a DJ would put different kind's of music together, including smooth, timely transitions.
"I'm basically a DJ, but for video."
It sounds like you'd have to have a musical ear for this, right?
"Oh for sure. The way I approach the effects is almost like hitting drums, a lot of work for me, but also a lot of fun as well. I believe it makes for a much more live effect for the crowd too since I'm strobing, mirroring, splicing images and changing colors in real time. Sometimes I even feel like I get into the music more than the artist does."
What's your process to get ready for a show?
"It all depends really. If it's a show the night of, I'll spend 2-4 hours on the project. I'll listen to the artist's previous music and get a general idea of their feel, then put some videos together that compliment it. If it's a bigger show that is scheduled in advance, I'll have time to communicate with the artist and create a really special show. Next, I search for new effects, map the midi, and decide where I want to do my configuration. The idea is to fine tune the little details so that the show runs smoothly."
Wise preparation, maybe Josh took advice from the Spartans of the old days- " Sweat more in practice, bleed less in battle"
Josh's personal gear is an Akai Mpd 232 drum pad controller, midi, laptop and the Resolume software. He uses the drum pad to freestyle the strobes, effects, and transitions that he has queued up in advance.
"It's an everyday process, looking to increase show files, content creation, adjustments, adding new effects and seeking the next best additions that flow with the music."
Do you love what you do ?
"Oh yeah, it's my career. My home is there in a way. I feel connected to my imagination and enjoy flowing with the DJ, it's a feeling of knowing their music. I love jumping into their head to make the best show possible."
Do you hear the mix before the show?
"Often times, no. Nothing is ever really rehearsed. Usually, it's just the intro to their set, the rest you pretty much just wing it. Of course, I'll do my homework on the DJ's previous sets before to get a feel for their style and delivery."
It's crucial that VJ's knows the artist's style and music in order to complement their specific songs. During the build-up of signature hits, Josh has the ability to customize the dazzling displays based on the mood of the crowd or the feel of the melody in each moment.
"I just pay attention to their music and incorporate custom visuals for their own songs that the crowd loves them for. Maybe put the lyrics on up on the LED wall, format the clips to their preference, or queue up visuals while they are playing and just follow the beat."
The DJ may give the visual artist a sense of direction in some cases. For instance, if they want a more natural vibe to their set, cities with trippy aliens coming out of the sewers will likely not be included. Asking Josh where he gets some of his inspiration to create his own visuals, he said a well… off the record answer… ;)
Leaning towards the super crazy and funky-surreal influenced clips, Josh entices the crowd to be mesmerized with what he calls "paintings turned to animations, similar to cartoons, but better."
Josh has worked a series of nightclubs across the country for various artists, with duties of visuals and lighting design. Yes, he did seem to have a laser focus.
What artist have you worked with?
"I've worked with Hypnotic Productions, RL Grime's Club Cinema show, 4B + Acraze [in Tampa], Acraze [Orlando] , Bonnie x Clyde, Purge [LA duo] and have done some tours. Bear Grillz with Phase One company was my most recent one. I also worked with Kyro and Bad Royale during Wynwood Fear Factory 2017 in Miami."
Seeing one of these shows first hand, 4B + Acraze in Tampa was mind-blowing. The visuals danced in sync with the hype-style energy perfectly. The crowd marveled at the spectacle of music woven into visual sensations. Putting a face to the visuals and learning the magic behind the screens will certainly add to the experience of any show in the future. Thank you, Josh.
Check out his IG: @jollyjoshyvisuals