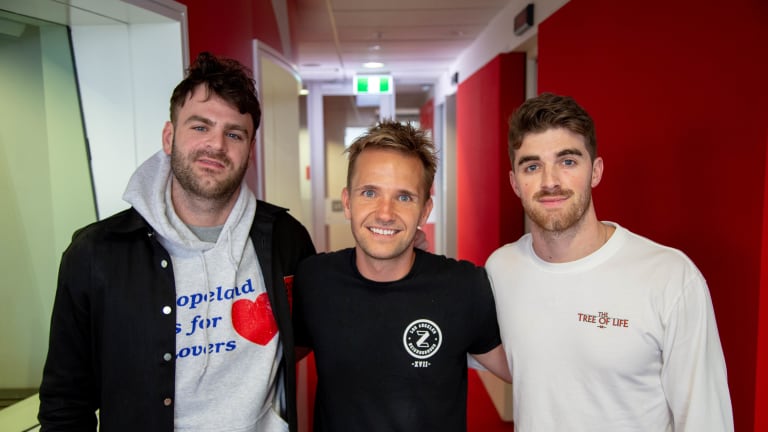 It's been a year and a half since The Chainsmokers (consisting of Andrew Taggart and Alex Pall) were on Smallzy's Surgery, the famous Australian radio show on Nova.FM. Last night, the duo joined Kent Small ahead of their headline sets at Ultra Melbourne and Ultra Sydney to discuss their collaboration with 5 Seconds of Summer, Australian music festival culture, Fyre Festival, and their secret collaboration with Blink 182 for their latest album. 
ON THE COLLABORATION AND TOUR WITH 5 SECONDS OF SUMMER
FESTIVAL CULTURE IN AUSTRALIA 
Smallzy spoke with the duo to get their opinion on playing shows in Australia. Taggart noted "I think you guys really love music here! From what I used to see in these old vintage videos of music festivals." Compared to festival culture in America, Australians seem to go full on mental.  
He elaborated, "I was just saying like in the hotel gym I'm like scared to go because last time I was here there was like a rugby team in there and It was like very intimidating to walk into their circle of energy that was going on! And that is what I imagine the festivals to be like, know what I mean!"
WHEN FESTIVALS GO WRONG FOR THE CHAINSMOKERS 
The duo almost found themselves in the middle of the Fyre Festival debacle. 
"What's crazy about Fyre festival, is that they like, killed on in the marketing... all they had to do was put on the festival," Taggart said. "Like, there's a lot of festivals down in the Dominican Republic and islands you know.. Housing is where they went wrong! Well, I don't know if that was only it!"
Tall added: "I mean if you put everyone in hotel rooms it may have worked, but it wouldn't have been the vibe, know what I mean? Even I was sold on it. I was like, we're swimming with pigs down here, and then you got like Bella Hadid who will be your best friend if you buy a ticket! I definitely sent a message to our manager when this started rolling but before things went south, and I was like, are we going to get a deal with this festival?! "
Though the boys got out of doing the Fyre Festival, they have had some unconventional festival experiences. 
ON THEIR COLLAB WITH BLINK 182
Recently the boys teased their collaboration with Blink 182. Speaking on the upcoming release they noted "We probably shouldn't have said that one until the song was done! But yeah we had a session with the Blink 182 guys and their lyrical style is so direct, we were so excited to do a session with them it was so exciting, and so like you're writing songs with your idol, it was fun and awesome and it's a sick song!"
The Chainsmokers will perform at Ultra Melbourne tomorrow, February 23rd, and at Ultra Sydney the day after, February 24th.
FOLLOW THE CHAINSMOKERS:
Facebook: https://www.facebook.com/thechainsmokers/
Twitter: https://twitter.com/TheChainsmokers
Instagram: https://www.instagram.com/thechainsmokers/
SoundCloud: https://soundcloud.com/thechainsmokers