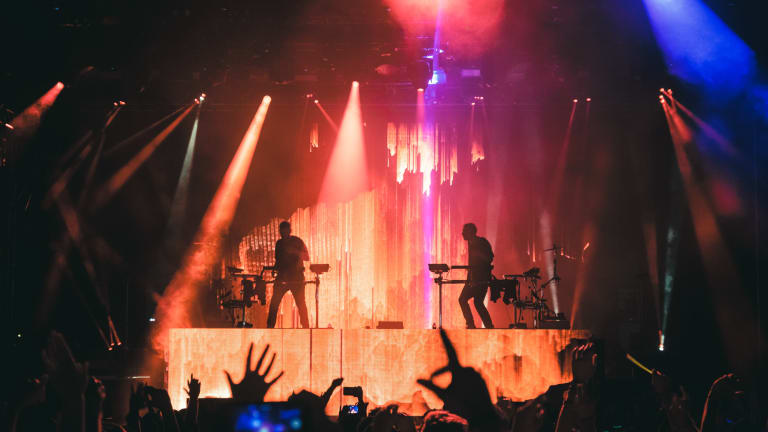 The Art Behind the Artists: Visuals, Stage Shows and Album Art Behind Your Favorite EDM Acts
Discover the visual artists who support some of the biggest names in EDM.
Though traditionally the electronic music scene has favored music over showmanship, the present industry has become a multimedia force to be reckoned with. Gone are the sets of yesteryear where DJs played in darkness with the occasional floodlight or a few lasers and LEDs. 
Today, no DJ is complete without a cadre of visual art in many forms. Artwork adorns their albums, posters, tours, set visuals and more. In fact, it's no great leap to say that the artwork employed by DJs (whether on their album covers or on their stages) helps establish their brand and their music.  
Read on to discover some of the visual artists who have helped define some of your favorite EDM acts. 
1. ODESZA
Since hitting the scene in 2012, the ODESZA duo (real names Harrison Mills and Clayton Knight) have reached professional heights that most can only dream of. From hosting their very own SUNDARA Festival to venturing maybe a little too far into the mainstream, ODESZA might best be known for their blockbuster A Moment Apart tour. 
The tour was built on the cinematic ethos of their album of the same name, and any of the thousands of attendees who attend their two-year tour were blessed by the incredible digital renders that backed the artists' sets. These renders were created in Cinema4D and Octane by the talented sibling duo Landis Tanaka and Luke Tanaka. 
Rezz
"Space Mom" A.K.A. Rezz (real name Isabelle Rezazadeh) is one of the fastest-growing names in EDM of the past few years. Although she's produced since the early 2010s, over the past few years she's released various EPs through labels like OWSLA and mau5trap, and her debut studio album in 2017. During her short tenure, Rezazadeh has collaborated with a glut of notable artists including Malaa, Underoath, Deathpact, and others. 
Those who are part of the Cult of REZZ are likely familiar with the drippy, wrinkly, spooky art that adorns her covers. This is the artwork of Luis Colindres, who has been with REZZ since the very beginning. Not only have the two worked on album art, visuals, and music videos together, but they have also produced a 60-page comic book to go with her album, Mass Manipulation. 
deadmau5
deadmau5 (real name Joel Zimmerman) needs no introduction. No stranger to fame, the Canadian-born DJ/producer has been the partner of many big-name collabs, and his acerbic personality has landed him in the spotlight more than once. He is an acclaimed producer whose work some consider the pinnacle of melding tech with music. 
Wit and music aside, Zimmerman might be most well-known for his iconic mau5head logo and helmets. Zimmerman first donned his helmet circa 2008, and since then has gone through a plethora of iterations, including the famed LED mau5head that interfaces with his entire set. 
But who created the logo that has inspired so much creativity? Well, none other than Zimmerman himself. According to deadmau5, he created his logo while tinkering around in a 3D modeling software: "Look I made a pacman... let's put some ears on it."
Zeds Dead
Also hailing from the great north, Zeds Dead are an absolute powerhouse who headline festivals and sell out venues wherever they go. Collaborating under the early moniker Mass Productions, in 2007 the duo released Fresh Beetz, their first and only completely hip-hop-oriented album. In 2008, the two renamed themselves Zeds Dead and released "Journey of a Lifetime" on MySpace, soon followed by their famed "Eyes On Fire" remix.
Zeds Dead have skyrocketed ever since - and though their sounds have encompassed at least half a dozen different genres, its inarguable to say that their music has always embodied a certain spookiness to it. Since 2014, they have worked closely with the Babekuhl studios to bring their signature flavor to the visual realm. 
Based in Sydney, Australia, Babekuhl is a design-driven production studio that has provided ZD with illustrations, tour poster, vinyl art, cover art, set visuals, and an overall brand identity for the duo and their Deadbeats label as a whole.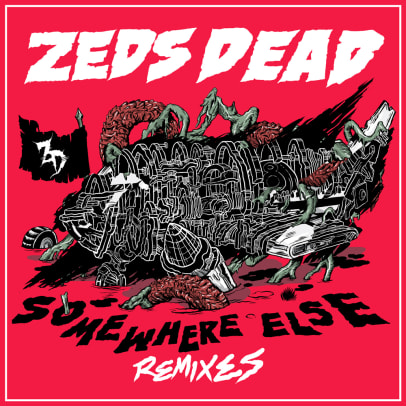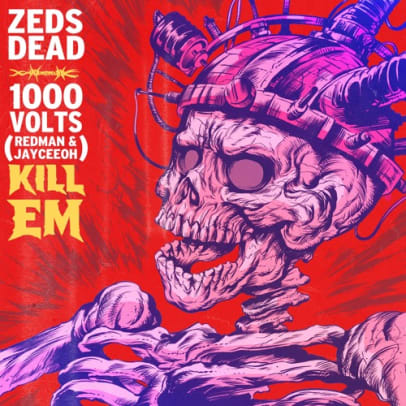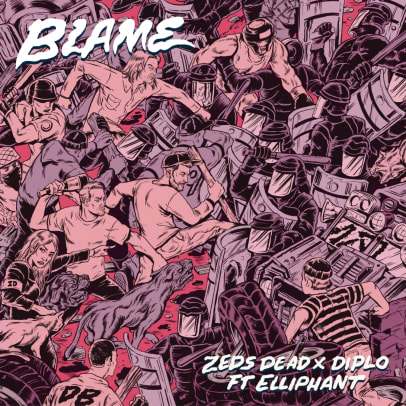 Porter Robinson
Having produced music since the age of 13, Porter Robinson is certainly no stranger to the importance of multimedia. Anyone who has been to his sets can attest to the broad scope of his visuals. They include references to MMOs, RPGs, other video games, tumblr, and internet culture as a whole. 
In 2016, Robinson released his hugely popular track "Shelter," and an accompanying six-minute anime short film. It was groundbreaking for its time, and for the video Robinson paired up with A-1 Pictures, a popular Tokyo-based anime studio responsible for titles like Fairy Tail, Sword Art Online (yes, all of them), Your Lie in April, and many others. 
Flume
In 2011, Australian DJ Flume (real name Harley Streten) burst into the scene with his EP, Sleepless. In 2012, he released his first album, Flume, and since then he has emerged as a pioneer of genres like future bass and lo-fi hip-hop. He has worked with a plethora of names in the music industry, and in 2016 he was awarded a Grammy for his album Skin. 
Those familiar with the album are no doubt also familiar with the iconic renders that accompany it. These geometric, cybernetic, metal-coated flowers are the work of Jonathan Zawada, who "aimed to explore ways of making the digital become organic and find tension points between comfort and discomfort." Zawada was also the visual and creative director behind the entirety of the 2017 Skin Tour that so defined that era for Flume. 
Brian Baker is a writer and photographer based out of St. Louis. You can find his portfolio here.