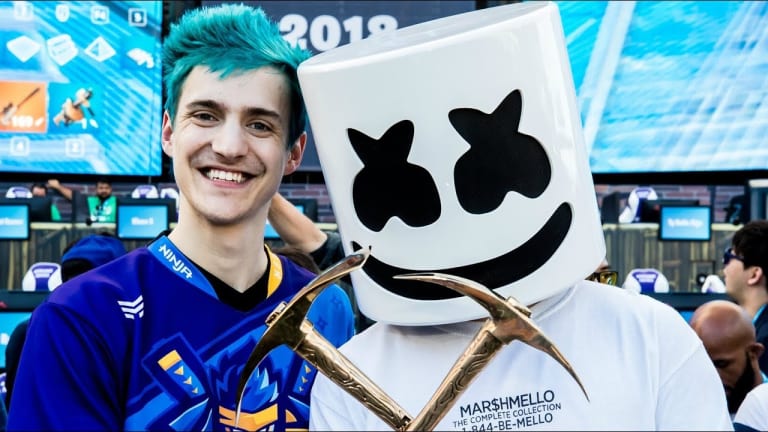 Is Gaming the Next Big Leap for EDM?
From Marshello's Fortnite takeover to Hardwell's very own mobile slot machine game, it's clear that gaming has become a vital frontier for electronic dance music
EDM is a big deal when it comes to soundtracks. It may not always feature towards the top of the music charts, but the genre is in constant demand when it comes to people who want to put together exciting soundtracks for television shows and movies - especially as the backing for an action scene designed to get the blood pumping. We've long seen big-name EDM artists accept invitations to curate or provide soundtracks of summer blockbuster releases, but there's another format which seems keener than ever to use the services of EDM musicians and artists, and that's gaming.
The biggest news involving EDM and gaming relates to the gaming smash-hit Fortnite, which has become as mainstream as mainstream could possibly be within the past twenty-four months. The massively popular battle game attracts millions of player from around the world, with many thousands of concurrent players at every hour of every day. That's a far larger audience than even the biggest summer music festivals can offer, creating an enormous opportunity for artists willing to think outside of the box and to share their music with an audience to which they don't typically cater. 
Marshmello was one of the first major performers willing to step up to the plate, and he was rewarded with an audience reported to have been in the millions. In a world where virtual reality technology is rapidly becoming commonplace, Marshmello's gig will surely prove to be one of many cyber-gigs that will take place in online games and environments such as Fortnite.
It's not just regular video games which have found themselves looking to EDM performers to further engage their audience, and the people behind Fortnite weren't even the first to have the idea. Online casinos like Amigo Slots and other betting companies beat them to the punch by several years. Keeping a player entertained and excited is vital to the success of an online slots game; the more engaged the player is, the longer they'll keep spinning the reels and making the casino money. Log onto an online casino, and you'll likely find that many of the games have EDM backing tracks. Hardwell has his own personally licensed mobile slots game already, but DJ Wild and Ambience also prominently feature EDM - although the performers responsible for soundtracking those mobile casino games have chosen to remain anonymous.
In truth, it's not just the online casinos which have found a use for EDM in recent times - traditional brick and mortar casinos are also capitalizing on dance music, and as usual, Las Vegas is leading the way. Sin City opened its arms to EDM in a big way several years ago, when names like Celine Dion and AC/DC disappeared off billboards and venue marquis only to be replaced by Tiësto and Calvin Harris. Vegas was dancing to a new groove, and the casinos were getting in on the action.
Moving back to the digital world, the connection between electronic gaming and EDM is a solid one, and working out how it started is a little like trying to work out whether the chicken came before the egg. Before the current era of super-powerful consoles and HD gaming, video gaming was a little more niche and nerdy. It was also a lot more limited in terms of what it could offer to players when it comes to a soundtrack. 8-Bit games couldn't store a full song or a soundtrack, but they were capable of producing electronic beeps that could pass for music if they formed a pattern. Some people believe that it was here - with innovative game designers pushing the limits of what they could do within their format - that EDM truly has its origins. 
We're certainly not suggesting that Space Invaders gave the world its first truly popular soundtrack, but we could make you a very solid argument that when Doctor Spin released the Tetris soundtrack in 1992, it did a lot for the popularity of a genre. It was quite a shock to find out that the legendary Andrew Lloyd Webber was the man hiding behind the Doctor Spin pseudonym. We may grudgingly have to accept that the man who gave the world Cats and Phantom of the Opera also has a place in the history of EDM.
As the technology behind video games evolved, so did the people working on the games - but they remembered the same techniques that they'd used from working with the 8-Bit format, and employed them again in more sophisticated ways. 8-Bit became 16-Bit, and the music became more layered and complex. If you go back and play an old Super Mario Brothers game, you'd have to admit that there are some similarities between the music you hear there and what we listen to today. It may be primitive, but it belongs to the same world.
The success of the Marshmello experiment makes it inevitable that more will follow. As EDM musicians struggle to get access to the stages they deserve alongside mainstream acts, it seems inevitable that the artists will go where they know there is an audience. It's likely that only a small proportion of the millions who 'attended' the Marshmello concert knew who the DJ was before the performance. They all know now. If EDM was born out of gaming, then perhaps it's fate that it should return to gaming. 
Whether it's games backed by EDM artists or games that showcase EDM inside their game world, it feels like opportunity and technology have combined to give DJs a new platform to perform on - and for that, we should all be thankful.