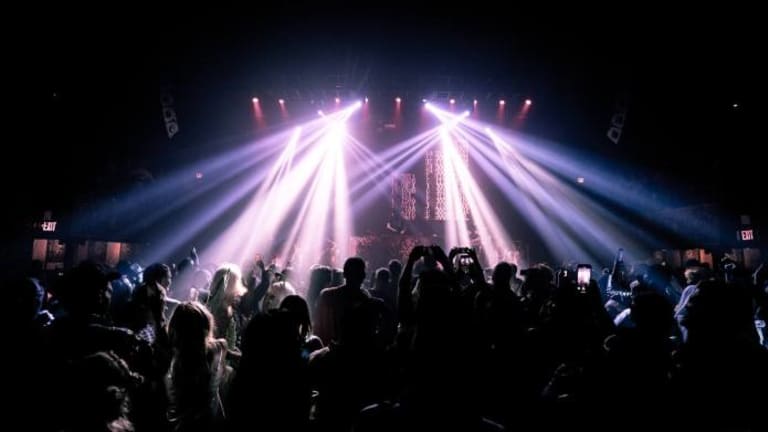 A Guide to California's Greatest Halloween Parties
Find the perfect party to debut that fresh Halloween costume you've been working.
In the mad dash to monster mash all over California for Halloween, the options are plenty. Exceptional festivals, masquerade balls, and sexy parties are just a few of the choices for how to get down. For anyone with a little extra gas in the tank and a yearning for costumed debauchery, the search may have already started for the perfect party or another evening plan. Fortunately, EDM.com already did the dirty work to scour the Los Angeles, San Diego and the Bay Area for the wildest electronic dance music events in the state of California.
Want to find a party near you? Read on and peruse a portion of the greatness available to tantalize and turn-up your Halloween weekend.
LOS ANGELES
Dark Karnival 2019: Dia de los Muertos
Date: Friday, November 1st
Location: The Mayan
With talent topping the bill like Dirtybird's Sage Armstrong with Syd Gris and EliKi from Opulent Temple against a backdrop of Day of the Dead shenanigans, the Dark Karnival was already set to be a top choice for the weekend, but stack up the lineup a veritable salsa bar of puckering authenticity and this one quickly becomes a must-not-miss. Top anticipated highlights include funk-infused flavors like Cruz Coalition's combo Loomer and OG GIO or Dirty Beetles' own boss bass droppers Lou E. Bagels and Madison Orange.
HARD Day of the Dead 2019
Date: Saturday, November 2nd
Location: LA State Historic Park

This is perhaps the perfect one-day halloween rave for those who consume music like it's being served up out of a firehose. The people at HARD really know how to throw a party. The lineup is exceptional, too, with performances scheduled from prime heavyweights like Dog Blood, Damian Lazarus, Tokimonsta and The Martinez Brothers - plus, a special showcasing of ZHU's BLACKLIZT project. For those who work part of the weekend, have a killer costume in the corner to show off, and a dance floor itch they absolutely need to scratch, HARD will be the only way to go.
Escape Psycho Circus 2019
Date: Friday, October 25th – Sunday, October 27th
Location: San Bernardino

For those seeking massive lineups and confetti cannons, the Escape Psycho Circus is probably the largest Halloween experience happening in the Los Angeles area. Insomniac is hosting juggernauts like Alesso, Bicep, Boombox Cartel, Borgore, Chris Lake, Claptone and deadmau5 - just to name a few. The event will also host a never-before-seen B2B set between Chris Liebing and Charlotte De Witte, plus a three-way set between Dubfire, Nicole Moudaber and Paco Osuna. There's also an afterparty hosted by Eric Prydz at Exchange LA at the end of the night.
Love & Lust Halloween Erotica Ball
Date: Friday, October 25th
Location: Madame Siam
What's the most L.A. thing you can do for Halloween? Go to a 21+ costumed fetish party, of course. Drum and bass will be prepared for the festivities courtesy of Bad Martian, while Red Puma is slated to dish out his own gritty brand of dirty techno. Also on the decks is L.A. staple and house music sensation DJ Dan. Don't miss the sexy costume contest or the ten plus erotic stations setup in the Kink Lounge.
Minimal Effort: All Hallows Eve
Date: Saturday, October 26th
Location: Downtown Los Angeles
Minimal Effort's name only holds true in the sense that they make a lot of production power look really easy, especially when it comes to rocking an over-the-top halloween party. In the last few years their October soiree has been a source of infamy both for their collective, Minimal Effort, and the electronic music scene in the city. This year, the costumed bacchanal hosts Bonobo - who is set to deliver one of his rare and fabulous Outlier shows. The show includes Totally Enormous Extinct Dinosaurs and a seldom-seen performance by Jimmy Edgar and Machinedrum, who perform together as JETS. Rounding out the lineup is the mythical and majestic Öona Dahl, and that's just the upper handful on the bill.
Respect + Bassrush present Noisia
Date: Thursday, October 31st
Location: Station1640
For the true drum and bass fan in the city there really is no substitute for the landmark weekly event Respect. As one of the longest running events in the city and the only one of its caliber the Halloween edition is an experience that fans of the movement won't be able to overlook. Another reason this particular showcase is an essential experience for drum and bass fans is for the simple fact NOISIΛ tops the lineup. The superhero trio recently announced their plan to disband at the end of the year so for many this may be a last chance to see them together live.
Psytribe Freakshow 2019 - Mojave Masquerade
Date: Friday, October 25th to Monday, October 28th
Location: Oak Springs Ranch
A top recommendation for the proper psytrance fan is the Psytribe Freakshow. Complete with fireside chats all night and fresh showers in the AM with a steady stream of psytrance woven into a full weekend long experience in Apple Valley where two mountains meet, the Psytribe Freakshow has worked out weird to a psy-ence in the most incredible ways. The lineup sports acts like Treavor Moontribe, Terrakroma, Brian Sentient and more than a dozen others. Vibes are forecast to be tastefully alien.
Factory 93 presents Stephan Bodzin (Live) w/ HOSH at Exchange LA
Date: Friday, October 25th
Location: Factory 93
While technically not a halloween party, the undisputed lord of minimal techno that everyone knows Stephan Bodzin to be should still place Insomniac's party at Factory 93 on the top of any technophile's to do list for the weekend. Toss in acts like HOSH and Davi as openers even though they are more like end-of-level bosses, and the entirety of time from doors opening to curtain fall is likely to haunt your dreams for at least a year or two.
✞ Hollywood Monsters Ball ✞
Date: Saturday, October 26th
Location: The Belasco Theater
With a description of electronic music offerings that includes everything from "darkwave and synthpop in the main room to industrial and EBM in the side room," one can't help but wonder what other surprises await in the "secret underground ballroom" of The Belasco Theater. Attendees and staff are encouraged to don costumes of "famous monsters" or "fetish outfits," so there's also that.
SAN FRANCISCO
Sunset Sound System Halloween Costume Boat Party 2019
Date: Sunday, October 27th
Location: San Francisco Belle, Hornblower
With a name that has everything in it except the word "jamboree," the Sunset Sound System Halloween Costume Boat Party doesn't exactly roll off the tongue, but it more than makes up for that based on the way it slides into your earholes. John Tejada and Reggie Watts are combining forces to deliver a live showcase of Wajatta. If being in a costume party on a boat wasn't fun enough, this one is hosting a "synthesizer seance." You're welcome.
Wormhole x Soundpieces x The Great Northern pres: Halloween w/ Truth + more
Date: Thursday, October 31st
Location: The Great Northern
If you're really just looking for a chance to melt your face by a speaker, Wormhole has got you covered. Of The Trees, Meso, Khiva and Truth are just a few of the walloping wonders on the lineup. As one of the most celebrated havens of bass music in the bay area there really is nothing quite like the trippy triple threat presented by Wormhole, Soundpieces and The Great Northern.
DRAG ME TO HELL - A Club Called Rhonda Halloween
Date: Thursday, October 31st
Location: Virgin Hotels, San Francisco
With 13 floors, three stages, and a night full of drag in a hotel-wide takeover hosted by the fab Juanita MORE, it's sure to be a sassy good time. Add free-flowing champaign, cocktails and food through the evening and boom - You've got yourself a dinner party fit for a queen. The music lineup is coming soon.
Stranger Things Go Bump In The Night
Date: Friday, October 25th
Location: The Great Northern
Acts like multi-instrumentalist remix master Amtrac and Eddie C, the titan of slo-mo disco, will lend a smooth downtempo atmosphere to the loft at Stranger Things Go Bump In The Night. The party features an outdoor '80s-style silent disco and a VOID Sound system in addition to cosmic "gateways to other dimensions, demigorgons, Dungeons and Dragons, and extraordinary surprises." 
DUSK to DAWN: Halloween with Lee Burridge, Sasha & much more
Date: Friday, October 25th
Location: The Midway SF
The four-armed collaboration between Opel Productions, The Midway SF, The Vau de Vire Society, and Deep Blue Events is one of the most anticipated Halloween house music parties in the Bay Area this year. Names like All Day I Dream virtuoso Lee Burridge along with four-time DJ Mag award winner and Grammy nominee Sasha are miraculous experiences alone. They've also tossed in four music areas, costumes, and more than a dozen other badass bastions of the underground house music scene to bring the heat. Tip: Don't miss Clatorie or the post-event FOMO will swallow you whole.
SAN DIEGO
YOUtopia: BOOtopia
Date: Wednesday, October 23rd to Sunday, October 27th
Location: Edwards, CA
For the Burners, there's the San Diego regional Burning Man event called YOUtopia. Each year it takes on a different theme and this year they're calling it BOOtopia. The name isn't the best representation of Burner cleverness, but the camps that show up to participate are always top shelf for their gifts and the music they bring. In typical Burner fashion, the lineup has not been announced but if you like bass tunes, house music, and a gaggle of lovable weirdos this one might be the Halloween you're looking for.