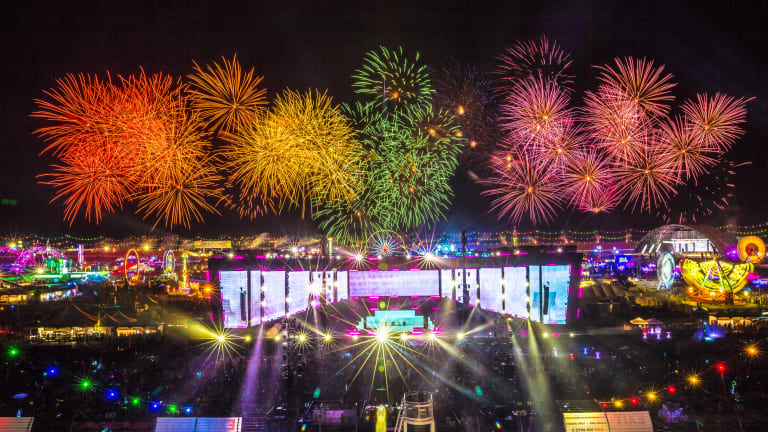 4 Takeaways From Pasquale Rotella's Heated EDC Las Vegas Reddit AMA
"The Insomniac team and I work so hard over here and care so much only to have taken a loss on this attempt to bring joy."
In the wake of the contentious postponement of EDC Las Vegas, the festival's proprietor, Pasquale Rotella, walked the plank in a heated Reddit AMA today.
Despite confirmation from Rotella that the initial May 2021 dates of EDC Las Vegas were firm, he eventually went on to announce that the festival would move to October. The tough decision was made after Rotella said the event wasn't viable for May due to its inability to align with Nevada state officials' reopening plan and vaccination pipeline.
Here are four takeaways from Rotella's revealing AMA.
He addressed a controversial statement
When Rotella first announced that EDC Las Vegas would move forward with its planned May dates, he told prospective attendees, "Book your flights, hotels & shuttles" in an Instagram post that has since been deleted.
The statement proved to be a controversial one for obvious reasons. In response to a question from a fan who asked Rotella how he plans on "taking responsibility for the millions of dollars your fans lost in nonrefundable flights/hotels," the Insomniac founder and CEO said:
Your question is based on a misconception that I announced EDC when we knew it was not happening. I've never moved forward with a show unless there was a clear path for the show to take place. EDC in May was no different. Regarding flights and hotels, when I first suggested that Headliners begin looking at travel arrangements in my Instagram post on March 25, I encouraged everyone to review the cancellation policy on their flight and hotel reservations before booking just in case. Thankfully, many Headliners were able to do just that. For those who missed that post or were unable to go that route, we will continue to work with every single ticket holder who has reached out to help them mitigate their loss one by one. It's great that you and others have brought this question up, but I hope it brings you ease to know that many of the people who initially reached out to us with travel issues have been able to go back to the airlines and hotels and successfully resolve their issues.
EDC Las Vegas could technically still happen in May, but it won't
In an effort to further allay the backlash, Rotella explained that the postponement could have been much more devastating.
Had he risked moving forward, placing blind hope in the state's mitigation plan, there was a good chance he would've had to pull the rug out days in advance. Pushing all his chips into the unknowns of the Nevada vaccination rate could've had "catastrophic" consequences, he said.
Technically, EDC can still happen May 21-23, but finding out a week before that not enough local residents got vaccinated would be catastrophic, and we could not take that risk.
The days in between the confirmation and the postponement
Rotella confirmed the May dates of EDC Las Vegas on April 8th, after Insomniac submitted a robust safety proposal. He says that date was when "high level" Nevada state officials informed him that social distancing ordinances would be lifted, a development he called "the major hurdle we needed to overcome to make EDC possible."
Despite his safety plan's compliance with the state's COVID-19 measures, which Rotella maintains were to take effect on May 1st, Clark County went on to introduce new mandates that threw a wrench in its viability and timeline. He shed some light on the days in between his initial confirmation and the eventual postponement:
I would never move forward with EDC without a green light. Even though our initial safety plans were not approved due to a lack of social distancing, because of our ongoing discussions with high level officials, we were advised by April 8 that social distancing requirements would be lifted in time for EDC to take place, which was the major hurdle we needed to overcome to make EDC possible. Our safety plan was in compliance with the State's new safety measures that were to take effect May 1. However, on April 20, the County's mitigation plan introduced new criteria beyond our control that required a certain amount of the local population to be vaccinated. Given the vaccine hesitancy that's currently out there, we couldn't risk the threshold not being met in time for EDC. As soon as this became evident, I made the decision that very same day to postpone the event and let all of our Headliners know as soon as possible.
He denied accusations of an "insurance play"
Many fans believed that the decision to postpone EDC Las Vegas was made for insurance reasons, despite the absence of any evidence to support such a claim.
Considering the cataclysmic impact of COVID-19 on the live music industry, Rotella says it would be "ludicrous" to assume festival promoters have any kind of pandemic-related insurance policies. Responding to a fan who levied accusations of an "insurance play," Rotella vehemently denied the idea and rebuked such claims as "conspiracies."
There is no "insurance play" to be had for us or any other event company during this pandemic. Insurance policies don't cover COVID cancellations or postponements, and the entire live event industry has been devastated over the past year. The Insomniac team and I work so hard over here and care so much only to have taken a loss on this attempt to bring joy. I'm not looking for any sympathy here, but for us to get accused of these types of things is absolutely ludicrous. Check out this post for an accurate timeline on what happened and please try to stop with the conspiracies.
You can read Rotella's Reddit AMA here.
FOLLOW EDC LAS VEGAS:
Facebook: facebook.com/electricdaisycarnival
Twitter: twitter.com/EDC_LasVegas
Instagram: instagram.com/edc_lasvegas