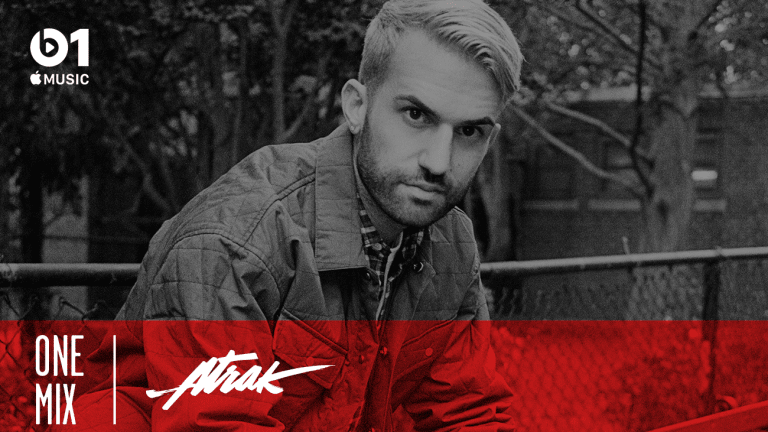 A-Trak Brings His Expert Turntablism to Beats 1 One Mix [INTERVIEW]
Fool's Gold head honcho and world-champion DJ, A-Trak on this week's One Mix.
EDM's favorite turntablist, A-Trak, returns to Beats 1 this weekend for their weekly radio show, One Mix. Rap, trap, pop, house and funk, A-Trak blends whatever floats his boat. On his One Mix, you're strapped to hear new tracks from A-Trak himself, Roger Sanchez, Silk City, Kurd Maverick, and more.
Tune in here, exclusively on Apple Music.
Air Date: Friday 8th February, 2019 - 21:00 LA / 00:00 NY / 05:00 UK
Growing up in Montreal, Canada, A-Trak (real name Alain Macklovitch) scratched vinyl for the first time when he was 13 years old. Toying with his father's record player kicked off his love affair with turntablism. Soon after, he learned to scratch on more advanced DJ equipment.
At 15, Macklovitch became the youngest DJ ever to win a DJ-battling world championship at the 1997 DMC World Championships. Before he turned 18, he was the first to win five world championships. Not to mention, Macklovitch traveled the world, performing at DJ competitions, clubs and music festivals in countries like Australia, Japan, South Africa, and Norway.
Though he enjoyed early success in the world of pro DJing, it wasn't until a chance encounter with famed rapper Kanye West that Macklovitch caught mainstream attention. In 2004, West stumbled upon Macklovitch performing in a London record store. Immediately impressed with his skills behind the decks, West drafted Macklovitch as DJ for The College Dropout tour, and later worked with him on his LPs Late Registration and Graduation in 2005 and 2007, respectively. Macklovitch even introduced West to Daft Punk's music, seemingly influencing West's growing affinity for experimental electronic sounds.
In 2007, Macklovitch launched his own label, Fool's Gold, with a dance-infused Southern rap mixtape titled Dirty South Dance. Fool's Gold grew as a cultural phenomenon, fuelled by Macklovitch's own propensity for blurring the lines between rap and electronic music. The label is responsible for developing artists like Flosstradamus, Kid Cudi, Danny Brown, A$AP Rocky, Travis Scott, Action Bronson, and Flatbush Zombies, giving them stages at the label's uber-popular "Day Off" events. Headquartered in Brooklyn, beyond promoting exciting music, Fool's Gold functions also functions as a clothing line and art gallery.
Label aside, Macklovitch spurred his public image through hosting a successful travel website, writing articles for The Huffington Post; running campaigns with Nike, Adidas, Grey Goose, Converse and Cadillac; and gracing the covers of popular magazines like Billboard and Complex. Rolling Stone also included him in their roundup of the "50 Most Important People in EDM." Not only that, but his hit remix of Yeah Yeah Yeahs' "Heads Will Roll," and disco-house collaboration with Armand Van Helden, "Barbra Streisand," still get airplay.
From a talented teen with a love for scratching records to a streetwear culture icon, succesful label head, and globally renowned music producer, Macklovitch's career in music has hit all the marks. Before his One Mix, we caught up with the Canadian artist to dive into his musical tastes. Macklovitch revealed his guilty pleasure record, dream collaborator, perfect sunset track, and more. Read on to see what he had to say. 
EDM.com: First show experience?
A-Trak: My first show was a graffiti festival in Montreal, there were a few local DJs jamming and I did a short turntablism set. I was 14.
First time you brought your mom to one of your shows?
Very early on. I needed a chaperone!
The artist who inspired you to become a musician?
My brother [Dave 1 of Chromeo].
Go-to places for new music?
I like to say, "we all have the same internet." I dig in the same places as everyone. But that being said, I also love trading music with fellow DJs.
Guilty pleasure record?
Any Tyga record.
Desert-island dance record?
"I Wanna Be Your Lover" by Prince.
All-time favorite festival?
Coachella 2014 with Duck Sauce.
Biggest misconception about dance music?
That it's all about drugs.
How often do you get out and have fun, and where do you go?
Honestly, I have fun at all my shows and I love going to watch my friends play, too. But I also like discovering new spots. Last week i went to a jazz club in New York and had a great time.
City with the most underrated dance scene?
El Paso, Texas.
Industry prediction for the next year?
A house record will hit number 1.
Best piece of advice for new producers?
Producing is making decisions, so make decisions that you think will stand out.
Dead or alive, who would be your dream collaborator?
Herbie Hancock.
What was the first album you ever bought?
Dah Shinin by Smif-N-Wessun.
Name one remix that you think is better than the original
Todd Terry's remix of "Missing" by Everything But The Girl.
What song would you want (god forbid) played at your funeral?
"Get a Hold" by A Tribe Called Quest.
What's the perfect sunset track?
"Sunlight" by The Magician.
What song do you listen to cheer yourself up?
Stevie Wonder's Songs In The Key Of Life album.
Follow A-Trak:
Facebook: facebook.com/atrak
Twitter: @atrak
Instagram: @atrak
SoundCloud: soundcloud.com/a-trak