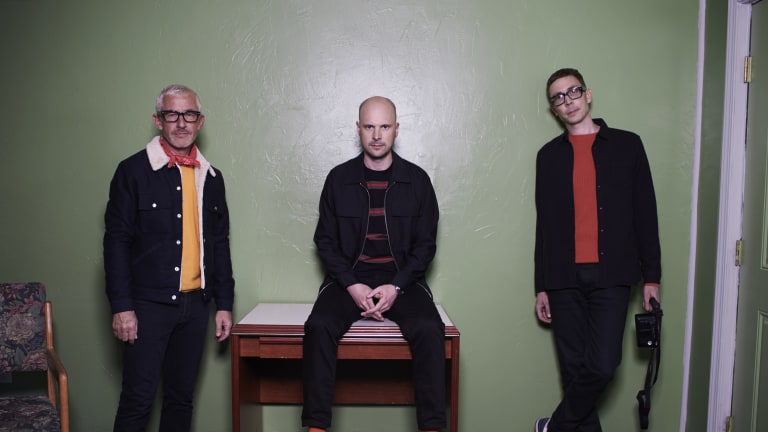 Trance and Yoga Are the Ideal Combination for Above & Beyond [interview]
Yoga before their epic Steel Yard performance is the one right?!
Above & Beyond are set to return to London this weekend, promising the most wonderful trance extravaganza, whilst also throwing in a yoga session for good measure.
We sat down with Jono Grant, Tony McGuinness, and Paavo Siljamäki to talk about their best memories of UK shows, the forthcoming 300th episode of their weekly podcast, Group Therapy Radio, and the strangest location they have done yoga.
How excited are you to play the Steel Yard show?
We're all really looking forward to it. It's always exciting to play in our hometown and we're bringing our full Common Ground show that we've been road testing to perfection so it should be a great night.

How impressive is the Steel Yard structure?
I've not seen it in real life but I've seen pictures and we've talked about it - it's really impressive. It's great to be able to do a full-on show in a London park for a change.
Speaking of massive arenas, do you prefer playing in them or a more intimate setting?
They both have their charms, for sure. The smaller shows are a time for trying out new things and really getting a sense of what works close up. The big shows are where we pull out all the stops production wise and just go for it.
What have been some of the standout memories from your UK performances?
We have fond memories of all our UK shows, from when we started at Passion and Turnmills, through the MOS days, Brixton, Wembley Arena and recently the O2. We're really honoured to have been supported by our UK fans for such a long time. Our show in aid of the Little Something at Wembley was very moving.
What is the overriding emotion you feel when playing to UK crowds?
Happiness, I guess. When we started all the big acts were from overseas and there is always a world of new artists worthy of people's attention, but our UK fans are very vocal and very loyal. Coming from these islands (mostly!) we really appreciate their support.
What's the reaction been like to your fourth studio album Common Ground?
I think it's been really positive. We've pulled together all our longest serving vocalists on one album for the first time and there's been a lot of good feelings about that, and the songs seem to have connected already. We are all very flattered.
12 years on from your first album, how have you progressed as artists?
I think we've got a better idea of what it is that we do and how it seems to affect people, so in some ways, we've become more focused on that. But the world has changed completely: we started out as paid remixers putting tracks out on our own label when we couldn't get them signed to majors. Now we do everything ourselves, we have over 30 staff running our labels in what is a true 360-degree music company, with over a hundred artists signed and releases every week.
What plans have you got for the 300th edition of Group Therapy Radio?
We're going to a different continent this time, Asia, where things are changing very fast. ABGT 300 will be in Hong Kong in September across two days and we'll be broadcasting to the world from there.
How proud are you to have hosted a weekly podcast for that long?
It's a wonderful thing to have your own vehicle to speak to the world every week about new music that excites us, that will become part of our show or released by the labels. To be able to keep in touch with people's lives (it's certainly a two-way street) is incredibly important for us and for our whole operation.
What can you tell us about upcoming releases on Anjunabeats?
We've recently had two big album releases from ilan Bluestone (his debut album, Scars) and Spencer Brown and are awaiting the delivery of Andrew Bayer's third album, which is awesome.
How excited are you for the yoga set?
This should be special. I'm curious to see how it works in the UK - we're a famously reserved nation, but I'm sure the combination of Nadia Narain and some gorgeous music will make it a wonderful time.
Where's the most ridiculous place you've done a yoga session?
The first one we did at Burning Man was pretty awesome, looking out across the white sand with all those people was something we'll never forget.
Above & Beyond will be headlining Steel Yard London @ Finsbury Park this Saturday 26 May joined by the likes of Gabriel & Dresden, Eli & Fur, Genix, Grum + more. Tickets available go to www.creamfields.com/steelyard for more info.