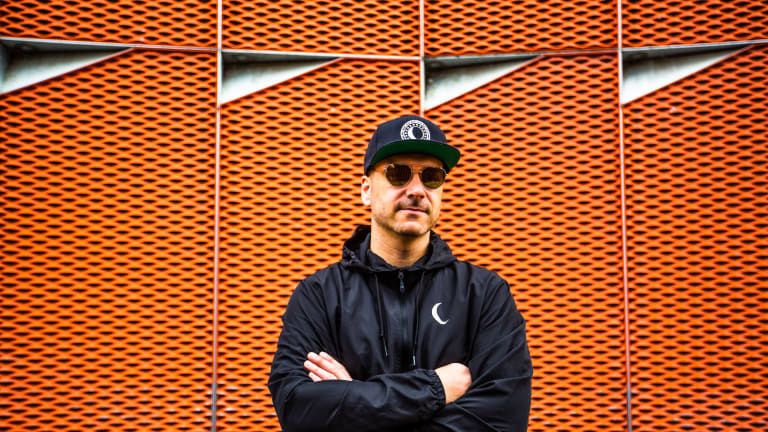 AC Slater on the Nostalgia Behind Latest Album, Hi8 [Interview]
The Night Bass creator's second album pays homage to the earlier sounds of house music.
A few years ago, AC Slater changed Los Angeles nightlife for the better. In pursuit of a happy medium between the growing EDM festival scene and underground house music, the DJ/producer started hosting weekly Hollywood soirees. Dubbed Night Bass, the parties focused on the edgier, bass-heavy side of house music, garnering a massive following along the way.
Today, Night Bass is a reputable record label with a growing talent roster that includes names like Petey Clicks, Jack Beats, Wax Motif, and Bijou. Earlier this year, the brand took to the streets of Chicago, the birthplace of house music, for its first-ever music festival, Night Bass City.
The inaugural event sold out, positioning itself as one of Slater's defining moments of the year. The other was his latest release, the bass house master's second full-length album, Hi8.
Paying respect to the sounds that came before him, Hi8 hints at fidget, blog house and UK garage without losing that signature Night Bass tone. The twelve-track LP sees the label head team up with other label acts like Chris Lorenzo, Jay Robinson, and Sinden. 
Ahead of his upcoming takeover at The Steel Yard in London, and an autumn Australasia tour, the Night Bass architect took time to talk to us about his latest album. The candid chat shed light on the origins of the album as he hinted at what's ahead for Night Bass City. 
EDM.COM: We're huge fans of that early '90s piano-driven house sound. "Feeling Awake" delivers on that, and it's also a rare find in Hi8. How did the track find itself in the album?

AC SLATER: I've always loved pianos and rave stabs in dance music, so I've usually got a project or two going on my hard drive with that sort of vibe. This one just hit me right and I ended up finishing it up for the album. I feel like it's important to show all my musical sides.

The album showcases a wide array of genres, yet it manages to stay cohesive. What genres did you dabble with while in the studio?

It's cohesive because there are some common threads through all the songs on the album. Every song has at least a hint of nostalgia to me personally. There's also a lot of influences from all my favorite genres over the years; whether it's garage, old school rave, rap or whatever. That all gives it some common ground.

The album's namesake comes from the Hi8 tapes that you've kept since your teenage years. You recently took a trip down memory lane watching that footage. Change is constant in life, but what's one thing that has remained the same since your teenage years?

I didn't realize what I was building up to from the era of those tapes. I was 15 in the early tapes, but already obsessed with music and creating videos and mixtapes to spread the things that I loved to other people around me.
Fast forward many many years later I'm just doing the same thing but on a bigger scale. I'm literally still making it up as I go along. That has not changed one bit. There's no rule book or guide to what we're doing.

Is there any advice you'd give a young AC Slater knowing what you know now?

For the most part, I wouldn't give young me any advice. I feel like finding your own way and finding your own passion is one of the most difficult and rewarding parts of life.
I would say don't doubt yourself. Don't listen to people who tell you that you can't do anything. Maybe I'd tell myself to invest in Apple early on. haha.

Earlier this year we were treated to the first-ever Night Bass festival in Chicago, "Night Bass City." What did you take away from the inaugural event? Can we expect another one next year?

It was an incredible dream come true. I was really soaking it up the whole time and trying to be present and enjoy every moment of it. We put a TON of work into that thing to try and make it as perfect as we could. 
The Night Bass fans are next level with their support. It really was a beautiful day with our Night Bass family. You can definitely expect more to come in 2020!

The UK Night Bass fanbase also have something to look forward to at The Steel Yard as part of Free From Sleep. What can you tell us about the show and the team at FFS?

This is our biggest UK Night Bass show to date. The Steel Yard is such a sick venue and we've locked in a really dope lineup. There's a lot of our newer artists we've been working with as well as legends like Mike Skinner and Jack Beats.
Vibes are guaranteed to be through the roof and we'll have a nice selection of merch there for our UK family. excited that we worked with FFS on it!

I never got my hands on one of the Pride shirts, but I was extremely happy to see that proceeds went to The Trevor Project. How did that partnership happen?

I wanted to do something positive for the community. The Trevor Project is a very important cause; crisis intervention and suicide prevention in young LGBTQ kids, so we reached out to them to partner up. We ended up selling the shirts out and brought some attention to the cause so that was great. I definitely want to do more projects like that.

I know we've got to let the album breathe a bit, but what can AC Slater fans look forward to as we close out 2019?

I will be on tour in Europe, Australia, and New Zealand from October to December, with a few festival shows in the US mixed in. Early next year I start the North American Hi8 album tour.
FOLLOW AC SLATER:
Facebook: facebook.com/djacslater
Twitter: twitter.com/djacslater
Instagram: instagram.com/djacslater
Soundcloud: soundcloud.com/acslater