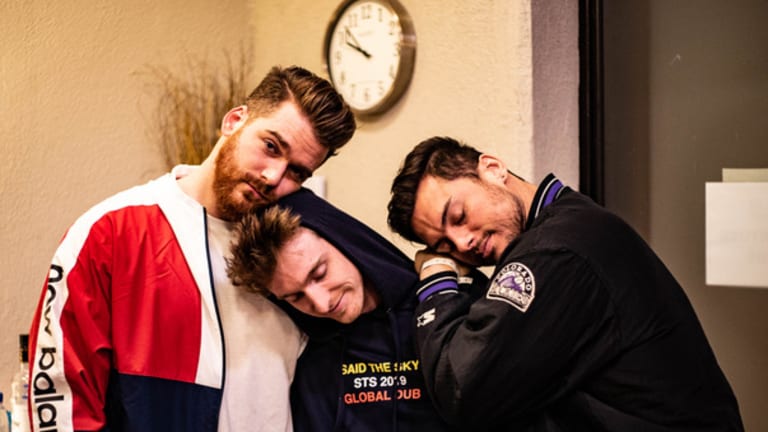 Adventure Club and Said the Sky Have Made the Sadboi Collab of Your Dreams [Interview]
"Already Know" is the first song ever released by the pair of melodic dubstep acts.
For melodic dubstep sadbois, "Already Know" is the stuff dreams are made of. 
The single is the first collaboration from genre pioneers Adventure Club (real names Leighton James and Christian Srigley) and Said the Sky (real name Trevor Christensen). With vocals from Caly Bevier, the track was released through Ultra Records.
Now, with fall tour dates and song releases in the works, Adventure Club and Said the Sky are set for a big end of 2019. Until then, keep reading for EDM.com's interview with the artists about the creation of "Already Know," the evolution of "sadboi" music, and their dream collaborations. 
EDM:  "Already Know" is your first collaboration together. Can you tell me a little bit about when the seed for this song got planted, and what the creative process looked like? 
AC: We have been huge fans of Said The Sky since his first couple of releases. Trevor hopped onto to one of our Death or Glory tour shows and we started just chatting about what a collab would sound like. Once tour was over, Christian and I had this one vocal from Caly that just stood out to us as being perfect. The song came together rather quickly; it was really natural to write.
STS: The Adventure Club guys are OG melodic dubstep! I've been down to collab with them for as long as I've been producing electronic music. Christian and Leighton sent over the vocal from Caly and it was just the right song, right time, right everything to finally make it happen.
EDM: I feel like this song fits perfectly into your "sadboi" genre. How do you feel "sadboi" and melodic dubstep have evolved?
AC: It's a great blend between the "lovestep" that we started making in 2012 and the sadboi dubstep that has taken over these past years. I love where the genre has been taken. The track is kind of a hat tip to both eras of music.
STS: "Already Know" was definitely a homage to some of the early melodic dubstep sounds that don't really fit in my solo music. It was really fun to revisit some of those throwback elements. Also, I love that "sadboi" is really starting to be considered a genre, haha.
EDM: What do you want listeners to get out of this song? What did you, as the producers, get out of it?
AC: A mix of pure nostalgia, bliss - and honestly, we're going to get a little sappy here - but we wanted the song to feel like what's contextualized in the lyrics. The feeling of already knowing that you're crushing, and there's nothing you can do to stop it.
EDM: What was this one like to perform live together for the first time?
AC: We premiered this at Red Rocks Amphitheatre. It was just an epic moment and place to premiere our first song together.
STS: Yes! Red Rocks is such an iconic venue, and being able to play the song out together for the first time at such a historic venue was a huge moment. I couldn't think of anywhere better for that to have happened.
EDM: Why do you think collaborations are important for artists? Are there any artists that you'd like to see working together in the future? What is a dream collaboration for each of you?
AC: I think it just pushes the boundaries of the genre, especially when some of the new talent collaborates with some of the producers who have been around for a little bit. It's what really keeps sucking listeners back in, cause you're just like, "Ok, I wonder how these two artists are going to bridge their sounds." We're huge fans of Cat Power and Fleetwood Mac. Those would be dope collabs. I'd like to even maybe get some Tears for Fears in there.
STS: Collaborating gives me the opportunity to step outside of my comfort zone and make a song that I wouldn't usually make for Said The Sky. A collab doesn't just appeal to my listeners, but to the other artist's listeners as well. It's great to be able to reach new audiences by blending two styles together and giving fans the best of both worlds. Lately, I've been really into Jeremy Zucker, so I would love to work with him. Also, Owl City basically goes without saying at this point.
EDM: In one sentence, describe the sound of Said the Sky and Adventure Club together.
AC: Future Nostalgia.
This interview has been edited and condensed for clarity.
FOLLOW ADVENTURE CLUB:
Facebook: facebook.com/AdventureClub/
Twitter: twitter.com/adventureclub
Instagram: instagram.com/adventureclub/
SoundCloud: soundcloud.com/adventureclub
FOLLOW SAID THE SKY:
Facebook: facebook.com/saidthesky
Twitter: twitter.com/saidthesky
Instagram: instagram.com/saidthesky
SoundCloud: soundcloud.com/said-the-sky