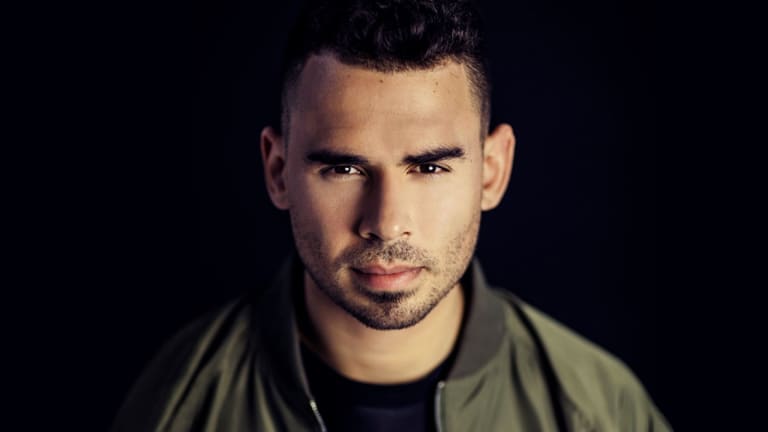 Afrojack Releases "One More Day" and Talks About His Upcoming Tour [Interview]
With ten years under his belt Afrojack continues to be an inspiration to DJs all around the world.
Not only has the worldwide sensation Afrojack announced a long-awaited North American tour, he also just dropped "One More Day," a new collaboration with Wall Recordings' newest members Jewelz & Sparks. If you loved "Bed Of Roses," you're going to instantly love this sweet new release too. 
We were lucky enough to speak with Afrojack about "One More Day" and what went into making it along with some behind the scenes of what he's all about when it comes to music. 
EDM.com: You've been in the industry for ten years, now that's quite a milestone! Over that time you've achieved so much like headlining major festivals, being ranked in DJ Mag's top ten DJs year after year and producing instant hits and remixes that even won you a Grammy. Out of all those things, have you accomplished all of the dreams you had for Afrojack? Is there something even greater that you hope to achieve in the near future?
Afrojack: This actually was a lot more than just my dream. My only dream was to be a DJ and a producer like I never dreamt of playing festivals or touring around the world and all that stuff. So it was all a very nice bonus. I'm very happy with what I'm doing with Afrojack and it's always been this way. I'm just a guy who likes to make music, likes to tour and you know I like to party. But that's what I'm gonna keep doing and I'm also very focused these days on artists' development. So signing undiscovered talent and teaching them the ropes basically.
With Wall Recordings you always help your artists out, like you provide them with their own studio space and living quarters, you give them advice on their music and you even bring them to festivals and clubs to help promote them. 
Yeah, most people don't know this. They don't know how far I go in this. But yeah, you're right about the living quarters and everything. 
I think that's pretty great because it's hard for people to find that too on top of everything. 
That's what I try to do. I see kids down in the dumps and they don't have the money for the right laptop or the right plugins. Well if we make a deal to work together for a few years like I believe in you, I'll invest in you. I'll promote you, I'll give you a place to stay, I'll give you the right laptop. Let's go, let's have some fun. 
So out of the artists that you have on your label, what artist do you think really grew with you and would be the next big thing you think?
Well, of course, looking back, there's already some major talent that sprouted from the label like when you're looking at Quintino and R3hab's success, like who we started with years ago. Mostly if you look at people that are signed now like Ravitez, he's booked a lot of solo shows. We just signed Jewelz & Sparks a few weeks ago. I'm also working with some other people, but right now we're really in the building phase of the new artists so there's only so many people we can sign at the same time because I need to be in the studio with them and when I say "we," it's mostly me handling everything through Wall. Right now the main focus is really on growing Ravitez and Jewelz & Sparks and letting them tell their story to the fans. And of course, we're looking into some new talent. We got some space. But basically if you see the Jacked stage at Ultra or Tomorrowland that's basically the people we're working with and some of them are signed and some aren't. Mostly it's talent that we support. Talent that I feel like "you should check them out, they're dope." 
That's a really cool thing you got going with everyone. And talking about Jewelz & Sparks, you came out with "One More Day," what was the most fun you had working with them on this track?
I've been in the studio with them for a couple of weeks and working on this song was fun. It's actually funny, I've known their music for a very long time and they always made sick love tracks. And then they send me this vocal demo that they already made and was like, "Yo that was the vocal demo of 'One More Day.'" And I was like, "Who made this?" and they were like, "We did." "You guys can make this music?" "Yeah," and then they started playing me all kinds of other songs they did around their club music. I think that's always what's the most fun, the most surprising music is the most fun. And they actually are very good at making pop, trap, they make all kinds of music. They're very talented producers so I think that was the most fun for me to figure that out. 
So you're going to have this tour, the One More Day Tour, and you're going across North America, Canada and the Dominican Republic, how excited are you to party it up with the fans and is there anything you'd like to tell them in preparation for these epic shows?
Well, of course, I'm bringing some friends to the tour, Ravitez will be there, DISTO might jump on...he won't DJ but he'll be hanging around because we've been talking to him too. You can expect a lot of new music, but mostly it's been awhile since I did American tours so I'm very excited to be able to hang out with the fans and just party it up again. I've been very busy producing and doing all kinds of different stuff out here in Europe and Asia because the markets are popping right now and America has been going into some sort of music metamorphosis where everything changed from dance music to hip-hop. But I feel like it's very much time for America to take it back to the dance stuff. When the EDM movement started back in 2010 and 2011 everything was purely about dance and then over the last couple of years it got very like, "Oh let's make a dance-pop song." I was guilty of that too of course with a couple of songs like "Give Me Everything," which is fun, but people are down with EDM and they're jumping on the hip-hop bandwagon now. So we can have our own parties and they can go to hip-hop shows and do whatever they want. I'm actually kind of happy with that situation.
Your "Bed Of Roses" track kind of has that dance-popish thing going on, just a little bit and "One More Day" is kind of a different sound. You always have an innovative and creative process when you're making these new sounds. So when you're in the studio what's your inspiration for creating something new that might not be the genre you originally worked with?
That's the most challenging aspect of producing, but I tell you honestly it's my choice. Like it's very easy to make a song like one of those other songs. It's only very difficult to make a song that's unlike any other song, you know? That's like what I had with "One More Day." When you listen to the drop, there's no other song with that kind of drop, like halftime fall to the floor drop. There's a lot of trap drops, there's a lot of reggaeton drops, but no one is dropping fall to the floor at halftime. For me, it's very fun when we can find these ways of being innovative and at the same time making it sound very natural. I don't really care to achieve mainstream success for them. I just care that it makes people go like, "Oh shit that's so cool, I never thought of that!"
You know I didn't know you were into techno too with your alias Kapuchon?
Yeah, I don't even know how to pronounce it, you can call it Kapuchon. Basically, it's a Dutch word for the thing that hangs off your hoodie, like the thing that you put on your head. It's because I always wear a hoodie, so. 
So how'd you get into the whole techno scene at one point then?
That's where I started. No one knows that, but when I started going out the first thing I ever heard was house music. That's how I fell in love with dance. Then when I started there was no big room and EDM stuff like the whole term EDM didn't exist. It was just house music. I went out to the club to check Sharam out, I was a big fan of Dubfire. A lot, of course, the old school guys Louie Vega, even DJ Snake, like he'll probably hate me saying this, but I used to play a lot of his records and it was so much fun. I used to be able to warm up in clubs from ten to twelve or ten to one until the head DJs came on. This was back in 2006, 2007, 2008 and a half. 
Oh okay, that was when everything was just starting to have that boom here with EDM. 
Yeah, that was around the time I was trying to mix house music with electro with pop. That's how I got "Take Over Control" and "Give Me Everything."
With those songs, they're always on the radio all of the time. Do you ever get tired of hearing them over and over again?
No, it's still cool. Every time I hear a song I made on the radio, I'm like, "Ah that's pretty cool, I made that. I'm so happy they still love me."
Ah everyone still loves you, you're a big name.
I always say, "You're only good as what you're working on. Not even...you're not as good as your last record. You're only as good as your next record." 
That's a good way to go by. So you have Jacked on Sirius XM which you just had the 300th episode last summer and you played a live set at Tomorrowland, how much preparation do you put into a radio show as opposed to a festival set? And how do you decide what music you want to play?
For radio shows there's a couple of companies that make the mix. So I just send them the tracklist and tell them to make the mix. 99% of all these DJ mixes you hear are made like that. Actually, I think out of the 99%, 80% of the artists don't even watch what's going on. It's just a way to have some more input on the radio and be able to promote your music on the radio. Like I send tracklists every week, but honestly, it's not my priority you know. My priority is getting these records in, like "One More Day" is coming out and when we get the remix I want to premiere it on Jacked radio. When I get something crazy or when I get something fresh I send it and go, "You gotta put this in." This is the main thing. That's what it's there for.
So then when it comes to festivals how much time do you put into it and what do you plan to get people all hyped up?
So I used to do nothing. Absolutely nothing. I would just go by what I was DJing on a daily basis and then I started making some mashups and it was so much fun that these days I think my sets are prepared like, I work on them for two, three weeks in advance for the big festivals. Basically, for Ultra I start three, four weeks in advance so you can also get the production right and the fireworks and you get in all the cues. And then that set I take around the world and I keep adding and changing stuff and then when it goes to Tomorrowland I prepare two, three weeks and of course EDC I prepare like a few days. It's different though because EDC is a very American festival and Tomorrowland and Ultra are more international festivals with a more international crowd. So it's a very different way of DJing. 
It's very funny like if you play, you know that new song "The Drop" like the very hard trap/dubstep whatever it is. That's a dope-ass record right, if I play that in Europe people are looking at me like what is this, I don't get it. It's a like a very big cultural gap between America, Europe, and Asia. They all have their own flavors. Like if you go to England, there's no point in playing trap. Everyone wants house music, bass music, a little bit techno oriented. But then when you go to America you start playing deep house. It's very slow on the come up, but if you play a trap record everyone loses their shit. It's very versatile around the world so that's what makes it interesting to re-prepare your DJ set every time again. So a lot of time goes into preparation, but also like a lot of times I'm trying to make a mashup and I can't find the right drop, so then I just make my own drop and then later I end up using that drop for my own song. So it's also part of my club record producing work life so to speak. 
When you were playing at Ultra Music Festival in March you brought out VASSY to play your song "Lost" and it just recently reached #1 on the Billboard Dance Chart. When it comes to collaborating, how do you go about finding such great talent to work with?
Actually "Lost" was a very special one because that was like, in my opinion, when I heard the original demo, like she already wrote the demo, that was the best song she ever wrote. Not saying the most successful, VASSY has an amazing voice, but she's so good at writing that you can't always hear her voice come out. Then when she played me "Lost" I was like, "Yoooo this is the shit." This is like "Be" from Steve Angello and Laidback Luke back in the day. But like Rowetta's "Reach Out" kind of vibes. So when I heard that I was like, "Yo this is something else." That's also sort of what I try to go by when I'm working with people for collaborations. I'm not trying to spot the hit like oh this can be so big, I'm just looking for "yo this is dope." It's the only thing I want to have feeling like shit this is so crazy. I want to get excited. And that doesn't have anything to do with commercial success. That's why it's very difficult for me with my records to pinpoint what's going to happen. So then if I see that a record that I thought was dope also reaches #1 on Billboard, I'm like yeah that's dope, then it's double dope. 
You've been in the music industry for ten years and you got all that music to think about, what is your all-time favorite Afrojack song?
Not necessarily my all time favorite song that I know, but definitely my favorite Afrojack song is "Take Over Control," still to this day. That must be the most Afrojack sounding record ever. 
If you haven't already, be sure to get your tickets for the One More Day Tour here. You definitely don't want to miss it!
Special thanks to Nick for taking the time to chat with me! It was a pleasure learning more about Afrojack and we can't wait to see you on tour!
Follow Afrojack: