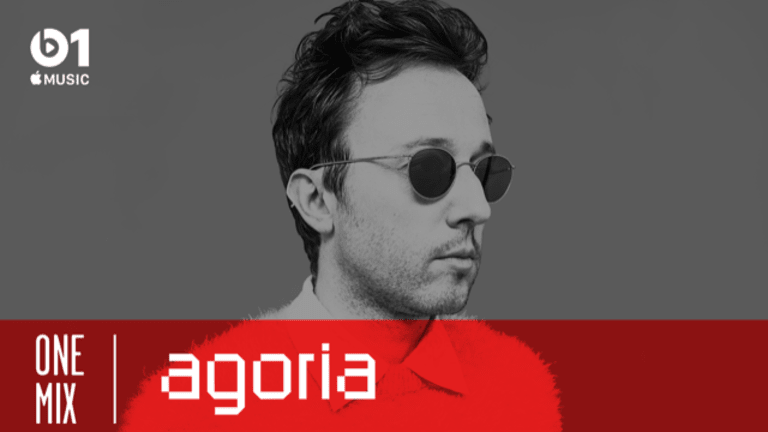 Enigmatic French Producer Agoria on Beats 1 One Mix [INTERVIEW]
With five albums, his own festival and label, and music sent to space in partnership with NASA, Agoria has had an interesting career.
"In your lifetime, how many lives will you live?" asks French producer Agoria. The cryptic question beckons listeners to find out as he makes his debut on Beats 1's weekly radio show, One Mix. Expect tracks from Agoria's recently released album Drift, plus tunes from Cinthie, Glowal, and Tame Impala.
Tune in here, exclusively on Apple Music.
Air Date: Friday 3rd May, 2019 - 21:00 LA / 00:00 NY / 05:00 UK
Agoria (real name Sébastien Devaud) grew up in France exposed to music from an early age as his parents threw plenty of parties with varied records, ranging from bands like Magma and Vangelis to classical music from Satie, Chopin, and Bach.
When he was about 10 years old, he began mixing records at his parents' parties, moving onto DJing at friends' shindigs by the time he turned 14. Discovering Detroit's very own Jeff Mills at 16, Devaud stumbled upon the soul-sucking sounds of techno.
Naturally, Devaud went on to make his own tunes. From jazz-inspired songs and melodic soundscapes to no-nonsense techno, Devaud's style ebbs and flows, refusing to be bottled in. Take a listen to his recent album Drift to hear for yourself.
Of note, Devaud has released five full-length albums over the course of his career, founded his own label Infiné, his own festival Nuits Sonores, and crafted music for space transmission as part of a campaign with Sonar and NASA.
Ahead of his One Mix, Devaud gave us a glimpse into his musical affinities, sharing his dream collaborator, favorite throwback track, and more. Read on to see what he had to say.
EDM.com: First show experience?
Agoria: 1994, Teleportation in Lyon.
First time you brought your mom to one of your shows?
The second edition of Nuits Sonores.
The artist who inspired you to become a musician?
Detroit techno in general.
Guilty pleasure record?
"Tarzan Boy" by Baltimora.
Desert-island dance record?
"Capitaine Abandoné" by Gold.
Dream B2B partner?
Prince.
Favorite BPM?
121.3476977887544499877 precisely.
Piece of gear you always need on the road?
My glasses.
All-time favorite festival?
Chamonix Unlimited.
Biggest misconception about dance music?
House music was actually born in the garage.
How often do you get out and have fun, and where do you go?
I go buy ice cream every day and then I watch the cars and the birds.
City with the most underrated dance scene?
Why don't we dance nowadays?
Industry prediction for the next year?
2020 will Drift.
Best piece of advice for new producers?
Have fun.
Dead or alive, who would be your dream collaborator?
Quincy Jones.
What is one of the unique experiences you've had backstage?
What happens backstage stays backstage!
A unique travel experience you've had?
Might be into my mind actually.
What's your favorite throwback track?
"Everybody Dance Now" by C+C Music Factory.
What's one track that fans always lose their mind to?
My track "Boomerang."
What was the first album you ever bought?
Inner City.
Name one remix that you think is better than the original
No clue.
What song would you want (god forbid) played at your funeral?
I don't believe in gods, lives and deaths.
What song do you listen to cheer yourself up?
Mark Ernestus meets Suzanne Vega meets Sly and the family Stone.
Follow Agoria
Facebook: facebook.com/agoriaofficial
Instagram: @agoria
Twitter: @agoriamusic
SoundCloud: soundcloud.com/agoria