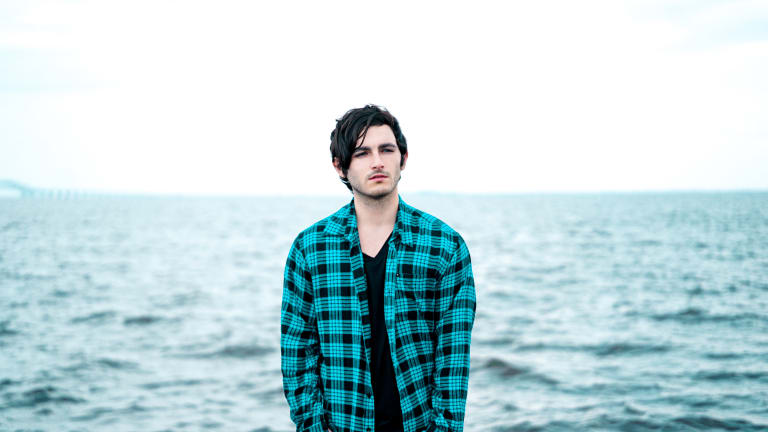 Rising Talent AJ Salvatore's Latest Track Is Made For The Summer [INTERVIEW]
The young producer is just getting started.
If you love indie-pop with a definite electronic touch to it, AJ Salvatore is an artist you definitely want to keep your eyes on. The Orlando-based 22-year-old has already managed to captivate millions; despite having less than a handful of tracks out, his excellent production and songwriting along with some catchy melodies and vocal features have allowed him to sign with Trackrecord AI (Universal Music Group) and later with HERØ Records and RED MUSIC (Sony Music Entertainment), see his songs reach the Global Viral 50 Charts and perform at EDC Orlando. 
We have the pleasure of premiering his latest release, where AJ Salvatore teamed up with talented NCS vocalists Harley Bird & Valentina Franco, whose emotional duet, takes "Alone" to a whole new level. The production is what we've come to expect from AJ Salvatore: smooth chords, catchy vocal melodies and an atmosphere that takes you straight to the beach. 
We had the opportunity of sitting down with AJ Salvatore and talk about "Alone", his production process and going to school to do music. 
EDM.com: First of all introduce yourself to us. Who are you and how long have you been involved with music making/songwriting?
AJ Salvatore: Hey! So I'm AJ and I'm just a 22-year-old kid who spends too much time on his computer. I can recall being involved with music since my youngest memories, as I've played everything from guitar to drums to piano in a band at some point. Whether I was stealing my choir teachers sheet music in middle school or playing in a punk rock band, I always found myself surrounded by music and I knew that I wanted nothing more in life.
"Alone" sounds like perfect pop summer tune. Talk to us a bit about how the single came to be and your intention behind it.
Thanks for that! Well this track took almost a year to get perfect, as I went through recording and cutting the vocals of 5 or 6 vocalists. It was an arduous process to find the perfect balance of a male and female singer who complimented each other's timbre and overall energy, before ultimately going with the extremely talented Harley Bird & Valentina Franco. I was also constantly moving around the sections of the song, such as the breakdown and chorus, and re-writing the lyrics. I wanted to pay homage to classic pop tracks with the percussions I used, but stay fresh and current with the divergent song structure and modern touch. The finished product left me finding a home at HERØ Records who is a part of the Sony family and I couldn't have found a better label to release with.
What's your process like when producing? Do you have to be in a specific mood or environment or are you just able to produce on the fly?
My process for producing has always been erratic and I enjoy it that way! I mean I started out producing in the audio section of a video editing software before even knowing what a DAW was. I like to approach each track as its own unique piece of work. Sometimes I'll start by writing the lyrics first alongside the vocal melodies, sometimes I start with the chord progression, or sometimes it's just a matter of picking up a guitar and finding a hook. I do believe it's important to be in the right state of mind when working on music, because if you're forcing yourself to write or not feeling well then your music will definitely reflect that. You learn quickly to work in any environment when you're traveling a lot and trying to make the most of your time. 
You have graduated from Full Sail University with a degree in recording arts. How do you think your education has helped you in comparison to DIY bedroom producers? Also, what advantages do they have that you don't? (Meaning how has their way of learning helped them in a good way compared to yours).
Full Sail for me was a significant experience that I appreciated having the chance to attend. It was great to get my hands on physical gear, such as offboard compressors and consoles and learn from instructors that have had endless experience. I think being able to directly ask an industry veteran any question is something that can help teach how the music industry works quickly. At the same time, I think the DIY producers have the better approach at finding a unique style by getting to grow and not be bound by the standards you are taught in a school. While they both have their pros and cons, I believe that it's all about practice at the end of the day and what you put in is what you'll get out.
What would your advice be to someone who's just starting out with production, as well as to someone who is slowly trying to build his career online?
The best advice I could probably give is that you can't do this alone. If you're just starting out it's important to connect with other producers to trade knowledge and surround yourself with a community of like-minded people. Not only does it make it more fun, but you learn even quicker. You need to network, network, and network some more and always make sure you aren't the best person in the room, otherwise you're befriending the wrong people. You'll quickly learn there's always room for improvement and a person who stands still will be left behind as the scene moves forward. Challenge yourself every day!
What's the biggest milestone you've hit so far in your career?
It's hard to weigh out different milestones, but I think one of the most memorable was the moment I discovered myself in the US Viral 50 on Spotify. I thought it was a mistake when I saw my name in the charts at first, but I quickly found my track "Better" flying up the charts each day and peaking at #19. I went to bed every night for that entire week with the feeling you have when you're a kid and your birthday is the next day; I didn't know what to expect next!
What's next for you and your career?
I have a ton of originals lined up with some very talented and accomplished vocalists that I've been lucky enough to work with and I'm excited to release these on a consistent schedule now. I started working on official remixes as well that are more bass heavy and will start putting these out soon. I also plan on starting to get back into performing by early next year, so I've been keeping pretty busy!
Follow AJ Salvatore
Facebook: https://www.facebook.com/ajsalvatore
Twitter: https://twitter.com/ajsalvatore
Instagram: https://www.instagram.com/aj_salvatore/
Soundcloud: https://soundcloud.com/ajsalvatore