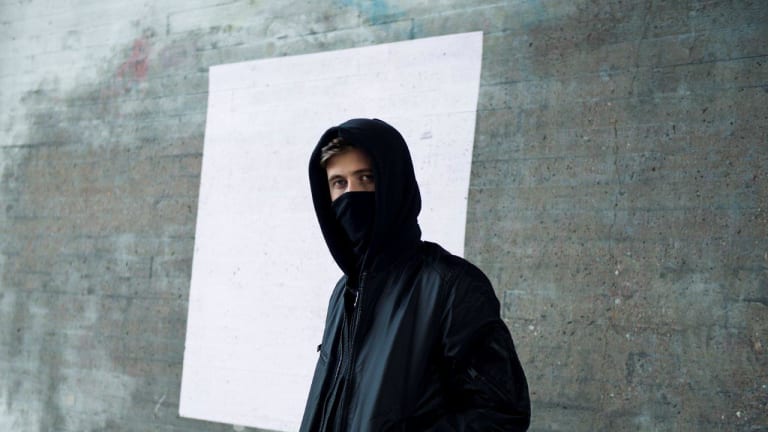 Alan Walker Talks Production, New Sound and Vision Ahead of Debut Album [Interview]
The "Faded" star's debut album, Different World, is out on RCA Records December 14th.
Alan Walker's indistinguishable sound has flabbergasted fans around the globe. His iconic hit "Faded" on NoCopyrightSounds has been a highlight track amongst the gaming community. It even went platinum in 10 countries. 
EDM.com sat down with the Norwegian electronic music star to hear the story behind his debut album, Different World, and learn more about his simple production techniques.
EDM.com: Congrats on the debut album! How excited are you about this release?
Alan Walker: I'm super excited. I never really thought I would end up in a situation where I would be releasing an album. I guess that's the outcome of releasing a single every three to six months. At the same time that I've been working on that album, I've been able to kind of show a new side of myself as an artist. I can use my voice as an artist to speak out to my fans and followers. But other than that, I'm really excited about the upcoming album. I think it's going to be pretty cool and there's going to be a few new songs.
At first listen, it's obvious that you put so much time, attention, and detail into everything. What ignited that fire to put this together? Did you just think, "It's time?"
Well, the plan to drop an album was something that kind of popped up. I started noticing my library of unreleased music increasing as time passed. I was releasing every three to six months. I really liked that and increased the number of tracks. Now, I've been working on finalizing some songs. Some of them are up to three years old because they've just been laying around, but most of them are new.
Were there songs/projects that you added a little to or did you completely revamp them? 
There's one song on the album that I started working on a very, very long time ago. I started working on it again and I was like – I opened up the project and I thought, "Okay actually this is really cool." I also wanted to renew the song because it was kind of like the old, very typical Alan Walker style. It's still the common Alan Walker stuff but a little bit more renewed, I would say.
It's great when albums have an intro, interlude, and outro. This heightens the listening experience and really helps break things up to tell a more diverse and immersive story. What's the story behind Different World? 
First, I had the World of Walker thing which was basically a tour that I had, and the trilogies and I felt like also that name was starting to get a little bit used up, so I wanted to try something new. Sofia Carson, CORSAK, K-391, and I did "Different World," which was also something that reinforces a topic that can be a nice way for an album to interconnect or take on a spirit of its own. [Different World is] the lead single and the name of the album because it sounds cool and really clicks with my brand, my – I would say, my universe - as an artist and as a person. I think it's really cool to do something that I feel so passionate about.
You tried a lot of different styles throughout this album. This diverse sound must have to do with the wide array of artists with whom you've worked. For you, how does collaborating with these artists affect the sound and refine your sonic vision? 
When you have any collaboration, everyone wants to make it in their own specific way. When we three producers working on one song, then you all have to meet in the middle. I felt like that's what we did on Different World. It's very distant from, for example, what K-391 and I usually make. I'm really happy with the result and that it's very different from the typical Alan Walker you usually hear. The message I got to send out through the songs was also very important in a nice and cool way.
Every song on Different World has something memorable, whether it be a melody, rhythmic element, or even a simple percussive sample. When writing your music, do these elements just come to you or are they something you have to sit down and play with until something does come together? 
It's a variation of a few things. Sometimes it's something I hear, or sometimes it's something that randomly pops up in my head. Then I either record a voice memo or just write the melody at the time. For example, for the songs on the album some of those melodies I started writing, then I just tried to make them as catchy as possible. I love melodies that are catchy. I want them to just stick to my brain. I just want it to be kind of annoying for myself at the same time it's really good.
Is there a track or melody on the album that really sticks out to you?
It's a song that's called "Lily." It's with K-391. That song's melody, I would say, is a very standard four-chord progression song. The way it's sung - the way the melody goes - it's really catchy.
When it comes to music, is there a specific sound or vision that you aim for, or do you allow the sounds and styles to evolve and take shape on their own?
There is one thing that all of us try to maintain and that is the sound of Alan Walker. The way that I define the sound of Alan Walker is either by a saw lead or square lead. It's very typical once you find it. For example, Nexus, and I know it can sound pretty cheesy, but I think that's kind of become the whole sound of Alan Walker - and the way people identify a song as Alan Walker. A triplet here and there really helps. Those are things I try to emphasize in those songs. At the same time, I try not to do that or correct it. I try to develop my sound as an artist and effectively give the world an Alan Walker 2.0.
A lot of artists knock on the Nexus plugin, but you've embraced it and really made it your own sound. That's impressive as a lot of artists really struggle with finding their own sound. 
I know that it may be not the best choice, but I don't think that it has to be the best lead ever or it has to be self-made – like the lead and everything. It doesn't have to be 100% the made in Serum or Sylenth. I think you can just use preset, layer them together, and if it sounds good you have a perfect lead. If it works really well in your song, then it shouldn't be a problem to use it.
If it works for you, then why not use it? If something isn't broken, don't fix it. For you, you've found that happy medium and have made it your own, regardless of how simple it may or may not be. 
That's also one thing that's also been done, which is the fact that sometimes what's simple is what's best.
Catch Alan Walker on the Different World tour. You can purchase tickets here. 
Feb 1 - Vancouver - Commodore
Feb 2 - Seattle - Showbox SoDo
Feb 5 - Portland - Roseland Theater
Feb 6 - Eugene - McDonald Theatre
Feb 8 - Oakland - Fox Theater
Feb 9 - LA - Belasco
Feb 12 - Tucson - Rialto Theatre
Feb 14 - Houston - Stereo Live
Feb 15 - Austin - Emo's
Feb 17 - New Orleans - Metropolitan Nightclub
Feb 18 - Atlanta - Buckhead Theatre
Feb 19 - Raleigh - The Ritz
Feb 20 - Charlotte - The Fillmore
Feb 21 - Philadelphia - The TLA
Feb 22 – Brooklyn, NY – Great Hall – Avant Gardner
Follow Alan Walker:
SoundCloud: https://soundcloud.com/alanwalker
Facebook: https://www.facebook.com/alanwalkermusic
Twitter: https://twitter.com/IAmAlanWalker
Instagram: https://www.instagram.com/alanwalkermusic/