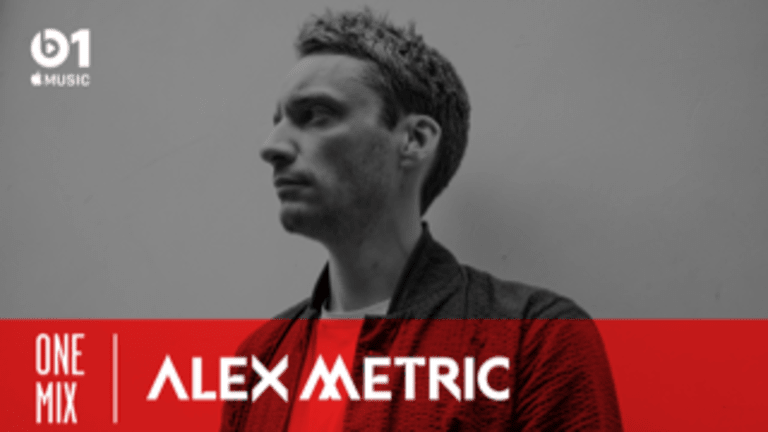 UK's Alex Metric on Beats 1 One Mix [INTERVIEW]
Expect a club-ready blend of electro funk, breaks, and house on Alex Metric's debut One Mix.
This week, Beats 1's weekly radio show One Mix hosts Alex Metric. Dubbed "Alex Metric, Past, Present & Future," The U.K. producer's mix will encompass an hour of originals, remixes, collaborations spanning his entire career. Expect a club-ready blend of electro-funk, breaks, and house on Alex Metric's debut one mix.
Tune in here, exclusively on Apple Music.
Air Date: Friday 22nd February, 2019 - 21:00 LA / 00:00 NY / 05:00 UK
Alex Metric (real name Alex Drury) was fond of music from a young age. Playing piano as a child and singing in bands growing up, listening to Oasis, The Verve, Primal Scream and Spiritualised, Drury embodied an indie enthusiast more than a dance music lover.
At the age of fifteen, he attended his first ever festival, T in the Park in Scotland. Going backstage and getting a taste of the music scene, he realized music was his calling. To please his parents, however, Drury took the conventional route, doing his A-levels and attending college - that is, until he got kicked out of college.
He then bid time playing in bands and working part-time in restaurants for three years, striving to somehow make a life out of music.
Dance music only came into the picture by a chance encounter when he missed his bus home one day. Drury took the time to explore a nearby record shop, where Fatboy Slim's Better Living Through Chemistry blasted through the speakers. In a past interview, he recounted, "I was blown away. There were guitars, these big broken beats and this mad energy. I bought it there and then. It was a massive turning point."
Daft Punk, Digital, and Stuart Price caught his ears next. Soon, Drury was blending his innate indie style with French electro and nu-disco sounds.
Acclaim began to amass in 2006, when signed to Adam Freeland's Marine Parade label. Drury went on to make club-focused music, garnering support from BBC Radio 1's influential tastemakers, Annie Mac and Pete Tong. In 2013, he released an EP on Skrillex's renowned OWSLA label, and not much later, went from underground productions to more pop-centric sounds with releases like "Heart Weights a Ton."
Drury has also officially remixed artists like Phoenix, Gorillaz and Depeche Mode, played popular US festivals like EDC Vegas, and toured with household stars like Zedd. In addition, just a few weeks ago, he won a Grammy for writing credits on Silk City's "Electricity,"
To get a little more insight into Drury's musical tastes, we caught up with him before his One Mix. From his favorite throwback track to his dream B2B partner, Drury had lots to share. Read on to see what he had to say.
EDM.com: First show experience?
Alex Metric: T in The Park festival in Glasgow, around 1995 or so.
First time you brought your mom to one of your shows?
She has never been to one!
The artist who inspired you to become a musician?
Tie between Noel Gallagher, Daft Punk and Stuart Price.
Go-to places for new music?
Loving Bandcamp for finding off-the-beaten-track kinda stuff.
Desert-island dance record?
"Blue Monday" by New Order.
Dream B2B partner?
Thomas Bangalter.
Favorite BPM?
124 BPM.
Piece of gear you always need on the road?
My laptop.
All-time favorite festival?
Glastonbury.
How often do you get out and have fun, and where do you go?
Usually to a pub with mates or away for a weekend out of London somewhere with my girlfriend.
Industry prediction for the next year?
Breakbeat.
Best piece of advice for new producers?
Finish stuff, don't just have a bunch of ideas lying around. Finish those tracks and move on.
Dead or alive, who would be your dream collaborator?
Noel Gallagher.
What's your favorite throwback track?
"Move Your Body" by Xpansion.
What's one track that fans always lose their mind to?
"Otic" by myself and Ten Ven.
What was the first album you ever bought?
The Simpsons Sing The Blues by The Simpsons.
Name one remix that you think is better than the original
Jacques Lu Cont's remix of "Mr Brightside" by The Killers.
What song would you want (god forbid) played at your funeral?
I don't want to think about that.
What's the perfect sunset track?
"Love Like A Sunset" by Phoenix.
Follow Alex Metric
Facebook: facebook.com/alexmetricmusic
Twitter: @Alexmetric
Instagram: @alexmetricmusic
SoundCloud: soundcloud.com/alexmetric