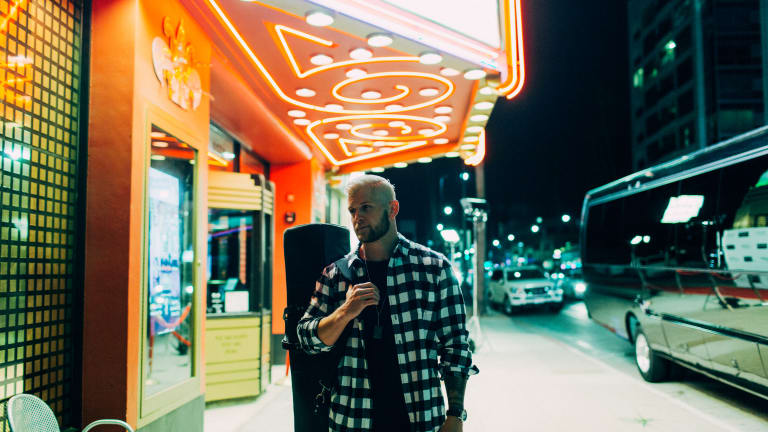 Meet The Successful And Very Meditative Trombonist: Alexander Lewis [Interview]
Alexander Lewis dropped a trombone-infused hip-hop EP, "OMNI".
Alexander Lewis is a multi-instrumentalist known for implementing his trombone into his production of music in various genres like trap and hip-hop. Hailing from Brackettville California, he paved his way to the east coast and attended Manhattan School of Music in NYC. He later met and became apart of "Candid Music Group" curated by his close-friends and producers JNTHN STEIN and Brasstracks. 
Being immersed in the nightlife of jazz music, Alex curated his very own signature art of music implementing live instruments into his own take of electronic jazz. Sooner than later, he started releasing remixes and original content turning heads and catching the ears from artists like Tokimonsta, RL Grime, and Alison Wonderland. Reaching close to over 10m music streams in 2017, Alex has become a favorite set to catch due to his production and live instrumentation performing as a live trombonist. Along with the release of his brand new EP OMNI, we had the chance to talk to Alex more in-depth about his musical career and what's behind his new release.
EDM: Were you always into making music since you were a child?
A:  I picked up the trombone when I was 11 and quickly after that got into jazz. Along the way learned a couple different instruments and in college started producing.
Why jazz? What makes this genre so attractive to you?
My grandma was a musician, she was also a trombonist and sang. She always had jazz playing in her house and I think growing up listening to big band music sparked my interest. My Grandma was and always has been my biggest influence.
I've noticed you played at various of places around the world like China and Europe. And, also playing at big festivals like Coachella and Lightning in a Bottle. What goes through your mind when performing at these big venues and for these vast crowds? 
The main thing that goes through my head is if I'm entertaining or energetic enough. I have crippling stage fright, and it takes a lot for me to step out on stage in front of a big group of people and put on a performance. I just want to throw the best possible show every single time.
I am sure a lot of our readers who are trying to get where you are now, are going to love knowing that. A lot of people think once you have the hang of things on performing you don't get nervous anymore. So, it's good you're mentioning that. 
 You just have to learn how to deal with it: you get better at that part. I have certain things that I do before a show that makes it easier for me to relax, and get into a headspace where I feel comfortable to go out and give the best possible performance.
That leads me to my next question, is there anything you do particularly to prepare yourself before you jump on stage, routine or anything special?
Deep breaths and meditation. I also like being in the green room when doors open - I find it relaxing to walk around the venue as the club fills up, and listen to the music that's being played beforehand. 
Do you have any artist influences growing up that help you in a way whenever you are making music?
 Growing up, I had a lot of influences from Jazz. JJ Johnson and Frank Rosolino, were my biggest trombone influences. I listened to a lot of Glenn Miller and Charles Mingus big band. My peers influenced me a great deal in my college years. I learned more from them than I did from my teachers. When I got into production I was heavily influenced by Team Supreme, Djemba Djemba, Mr. Carmack, and JNTHN STEIN. 
Your new EP OMNI is coming out this Friday on the 1st, could you tell us a little bit about what inspired you to create this and what makes it different than anything else you've released in the past? 
This is the first body that showcases my talent in a lot of different areas. The definition of OMNI is "without limits" and/or "all", and I feel this EP is a combination of different styles that I really love producing. There's some trap, hip-hop, there's a little bit of house and it flows all together in a weird way. My love for music goes beyond just one genre, and I think this project shows that.
Besides your EP, anything new and exciting your fans should be on the lookout this year? 
I can't say too much, but I am following up with a cover with Brasstracks. Were gonna be working a lot together this summer. Then, I have a track coming out probably middle or late August with a rapper that is a big influence in the trap scene. That's going to be the first single for the next project that I am already working on. Couple singles here and there followed up quickly by another project.