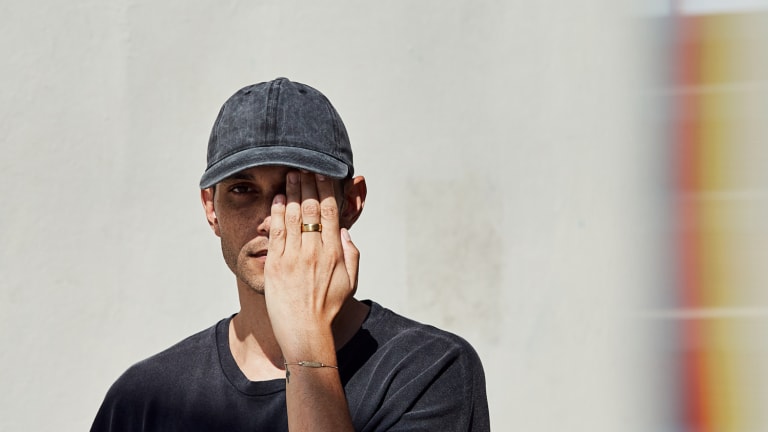 Anakim Releases 'Heightened Sensitivity' EP With Mau5Trap [INTERVIEW]
We got the chance to sit down with the extremely talented DJ hailing from Los Angeles to discuss his recent success in the underground house scene.
After graduating from Icon Collective, a California born star has quickly made a name for himself in the growing underground scene of Los Angeles. I got to catch up with Riccardo to see the story behind the magic that has become Anakim.
His forthcoming project titled 'Heightened Sensitivity' is an ode to the consciousness that is ever expanding inside of every living thing in this universe. The long-awaited project dropped on Friday, September 14 via mau5trap. "The concept of this EP is to do with spiritual awakening," says the Los Angeles based producer and DJ. "A major stage in spiritual awakening is a stage of 'Heightened Sensitivity' where one may feel a bit more in tune with nature, see a oneness in all things. You may also get quite emotional on hearing beautiful music or looking at a wonderful sunset. You may also start to see auras and orbs or hear sounds that others cannot hear. The title track was my depiction of this concept. Ascension, the extremely hard-hitting B-side is actually my favorite track on the EP. Ascension is the process of spiritual awakening that moves you into a higher level of consciousness ".
The EP release follows the recent mau5trap takeover of Day Trip - the annual Sunday funday party in Hollywood at Academy LA, where fellow label artists like ATTLAS and No Mana hit the decks alongside ANAKIM, performing all of the mau5trap classics. Best describing his music as a wealth of "intergalactic underground sounds," Anakim's mysterious sonic tones are the perfect accompaniment for interstellar travel. Hailing from CA, the producer has released singles on Artist Intelligence Agency, Krafted Underground, Deer Dear Records, Understated Recordings, and in the past year has made his debut at infamous Coachella Music Festival Yuma Tent, Holy Ship 9.0, the Fonda Theater, and The Observatory. The LA tastemaker also holds a residency at the beloved dance music sanctuary in Los Angeles - Sound Nightclub, playing alongside favorites like Sharam, Lane 8, Yotto, Jeremy Olander and more.
Check out the EP as well as a brief interview I had with Anakim below!
THE INTERVIEW
So what inspired you to start DJing and producing?
So this is actually a funny story. I The first rave I went to was EDC Los Angeles back in 2010, the last time it was in my home city. My friend asked me to go and at first, I was skeptical because I had never really been in the rave environment before. Once I was there I realized why everyone loved these shows so much. Never in my life had I been in a place where everyone was so accepting, anyone willing to strike up a conversation and always making you feel at home.
I spent the next 5 years attending dozens of raves across southern California. I started acting in Los Angeles and was getting jobs consistently but I really didn't feel that passionate about it as a career. I was distraught about what to do and remembered how all of my friends told me that they thought I would make a great DJ. In 2015, I miraculously ended up at Icon Collective Music Production School and the rest is history!
What are your biggest sources of inspiration for your music?
I would have to say that space, and the exploration of the unknown is what I try to soundtrack my music too. Painting images of the skyline and space into sound is what I'm really trying to achieve. By combining thought-provoking music with a 4/4 beat, I hope to impact those who are in the crowd.
What is your dream stage set up?
Eric Prydz already stole my idea! Just kidding haha. While I was at Icon I had a vision of having a full LED wall with 3D visuals being projected above the crowd and a few months later, I saw videos of him doing it with his new live show. That is probably the closest thing out there right now to what I'd have my mainstage set up look like. Plus lasers. Lots and lots of lasers.
Dream Festival?
I've already been so fortunate to play some of the best festivals in America so early on in my career like Coachella and Holy Ship so this is a tough one. For my dream festivals, I'd have to say that it'd be either ADE or Time Warp would be my top picks. Those two have always been in the back of my mind and I hope to be able to take them off my bucket list in the near future.
How about your dream venue?
That's a tough one but I'd have to say Gashouder in Amsterdam.
You have a 2 hour B2B with anyone, who do you choose?
Definitely would have to go with Carl Cox on that one if the set was more just with house music. For my techno side, I'd pick Nicole Moudaber. She has a really unique sound that is hard to come by these days. As for a set in the realm of progressive house, I'd go with Jeremy Olander.
How do you manage to make music, play events and live a healthy day to day life?
I've been very fortunate to find a balance between all of these things in my life. When it comes to music, I create best in the morning. I think that I work best spontaneously, I don't try to force myself to work on music for X amount of hours a day. When I am working on music, I definitely give it 110% of my attention though. On my free time, I like to spend time in nature and explore new restaurants in LA.